Everything you need to know about Halong Bay
09/04/2019
Everything you need to know about Halong Bay
Halong Bay is 170km east of Hanoi, near the Chinese border. It is located in the Gulf of Tonkin in Quang Ninh Province. Halong cover an area of 43,400 ha and has over 1600 islands and islets, most of which are uninhabitated and unaffected by humans. Halong Bay forms a spectacular seascape of limestone pillars and is an ideal model of a mature Karst landscape developed during a warm and wet tropical climate.
Historical research surveys have shown the presence of prehistoric human beings in this area tens of thousands years ago. The successive ancient cultures are the Soi Nhu culture around 18,000–7000 BC, the Cai Beo culture 7000–5000 BC and the Ha Long culture 5,000–3,500 years ago. Ha Long Bay also marked important events in the history of Vietnam with many artifacts found in Bai Tho Mountain, Dau Go Cave, Bai Chay.
500 years ago, Nguyen Trai praised the beauty of Ha Long Bay in his verse Lộ nhập Vân Đồn, in which he called it "rock wonder in the sky".In 1962, the Ministry of Culture, Sports and Tourism of North Vietnam listed Ha Long Bay in the National Relics and Landscapes publication. In 1994, the core zone of Ha Long Bay was listed as a World Heritage Site according to Criterion VII, and listed for a second time according to Criterion VIII. Since then this place is like something right out of a movie for tourist. The fact is that Halong Bay features a wide range of biodiversity, while the surrealistic scenery has indeed featured in endless movies.
Here are everything you need to know about Halong Bay

How to get Halong Bay from Hanoi?
Halong bay is located 170 km from Hanoi. The best way to get there by car, limousine bus or van. It takes around 3,4 hours if the car drive by old way. It takes around 2,5 hours by New high way. Or you can take seaplanes in 45 minutes. By this way, you will have opportunity to admire the magnificent view of Halong Bay's 1600 islets from above, along with thrilling water take offs/ landing.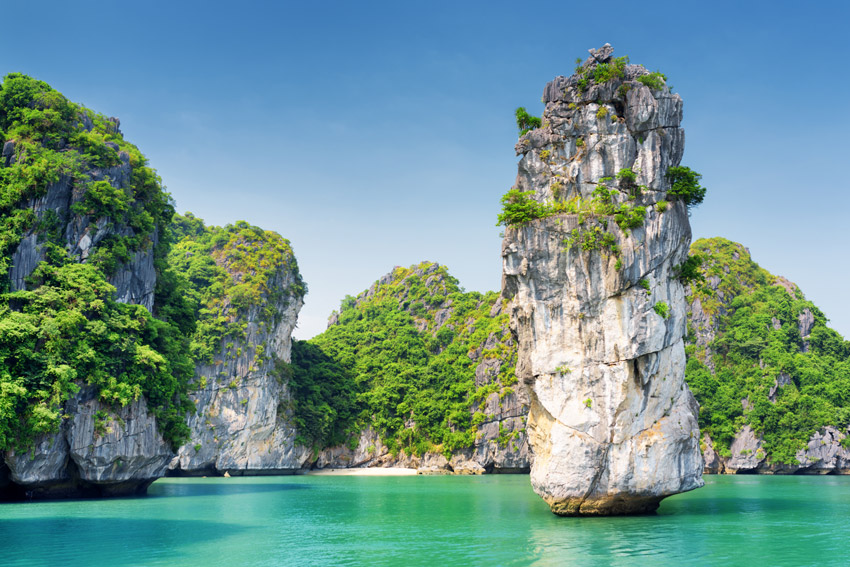 When is the best time to visit Halong Bay?
Halong Bay is situated in the Northeastern of Vietnam. There are 4 seasons in a year but it can be mainly divided into cold dry winter and hot humid summer.
The Winter is from November to March which lead to cold weather, getting colder in Jan, Feb… not ideal for swimming. The foggy days or strong monsoon are also visible this time. Despite of this season feature, this time rises as high season of Halong Bay tourism. The temperature is from 12ºC to 20ºC
The Summer is from May to early September. The Bay is sunny and hot for swimming under clear blue sky. There is light rain in some days and even unexpected typhoon that might cancel your trip. Temperature rises from 25ºC. Summer promotion rate can be found during this time.
The Spring ( March, April) and Fall ( September, October) seems to be the best time to visit Halong bay, the weather is cool and you enjoy the best time of the year.
It is fine to visit Halong Bay all year around. Even though there are some unexpected cases leading to trip cancellation. Each season will bring you a different feeling that you will never forget.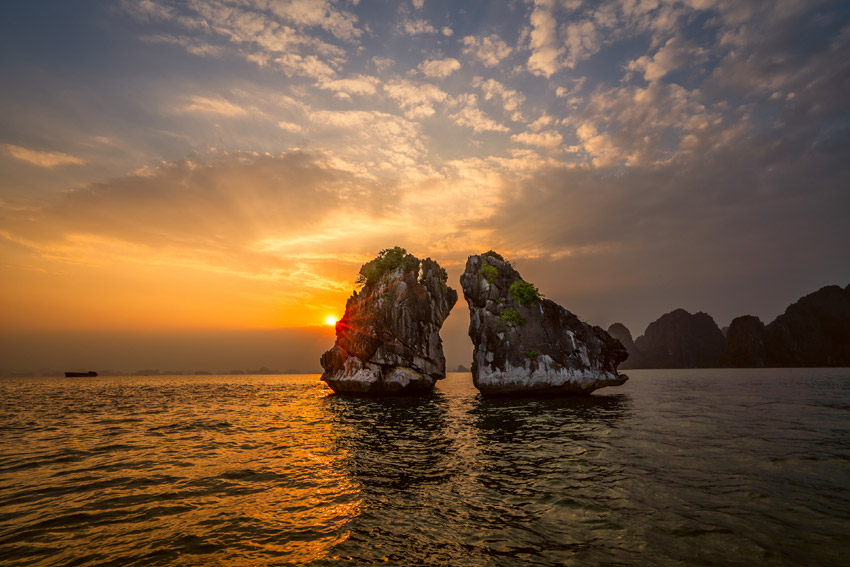 *** The Hotels
The accommodations ranging from guest house to 5 stars in Halong City. All of hotels offer unique experience. If you are seasickness, choosing staying at hotel is good idea and you can see the bay from a far.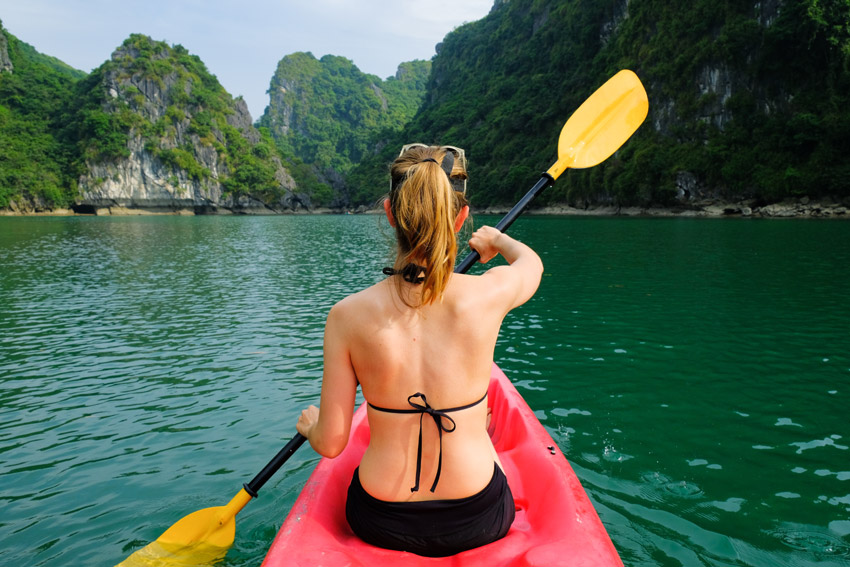 *** The Cruise
Halong Bay has hundreds of scattering islets and grottos. Cruising is the best way to have closer look and convenient to visit the attractions of Bay. Spending night on cruise is a interactive way of experience the World Heritage Site.
There are a lot level of cruise services in Halong Bay. Day cruise from 3 to 5 star. Taking night on cruise will save time to move in between hotel and attractions. You will not worry for food, entrance fee, transportation, activities, ect… because everything is included in your cruise package.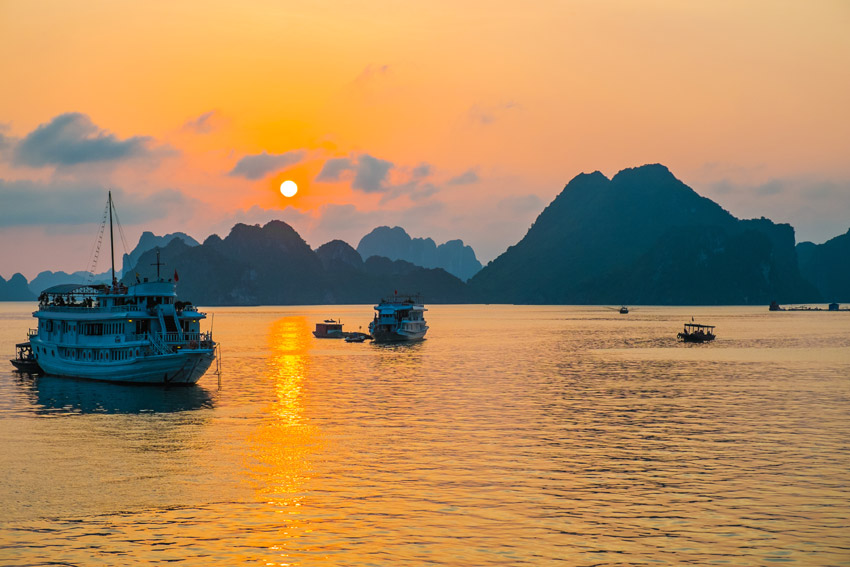 How to choose the right Halong Bay Cruise?
There are thousand of cruise in Halong Bay. It is the most important to choose and order an unforgettable Halong Bay trip.
To avoid the risk of getting food poison, safety, poor facilities, noisy people, rule staff, and so many other horrendous thing while in the middle of the sea and have no way to escape. We have the list the Best Cruise in Halong Bay which have good services, quality food, friendly and helpful staff and of course the crusie have license and allowance to cruise in Halong Bay by the Management Board of Halong Bay (There are many cruise operator without a license. It is not safe to travel.)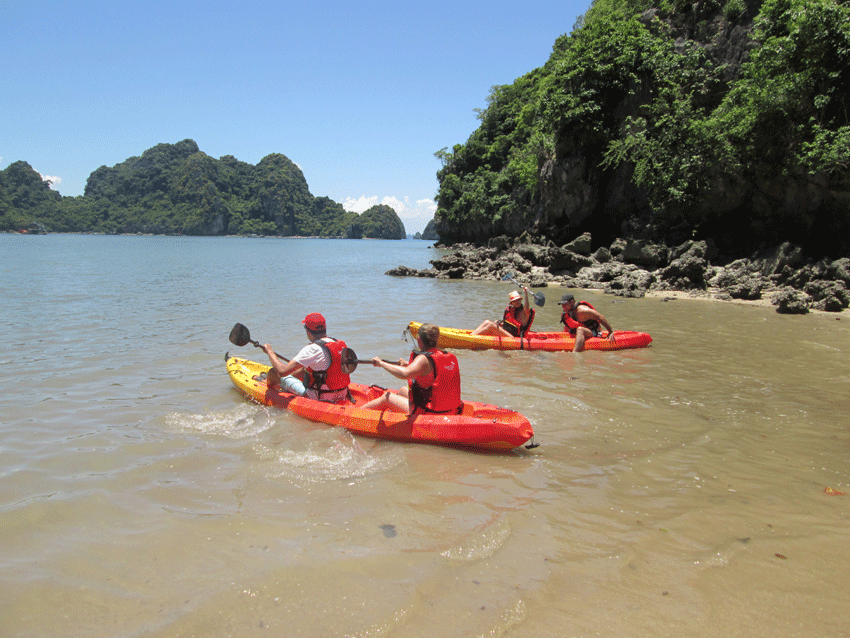 Here is everything you need to know about Halong Bay & Vietnam