Day 1 : Hanoi – Thai Nguyen – Ba Be Lake
Breakfast at your hotel. The guide pick you up and depart for Ba Be national park via Thai Nguyen, province of tea plantation. On the way, stop over for visiting some tea hills along the way in Giang Tien town. Have lunch on the way. After lunch, driving through Bac Kan provine to Ba Be. Visiting Cho Ra market, is famous local market. Arrival in Pac Ngoi hamlet where Tay people living. (The Tay people is one of the 54 Vietnamese group who still keep living very traditional style). Check in homestay and You will have a chance to enjoy the delicious dinner by Tay woman.
Meals: Lunch/ Dinner
Accommodation: Homestay in Ba Be Lake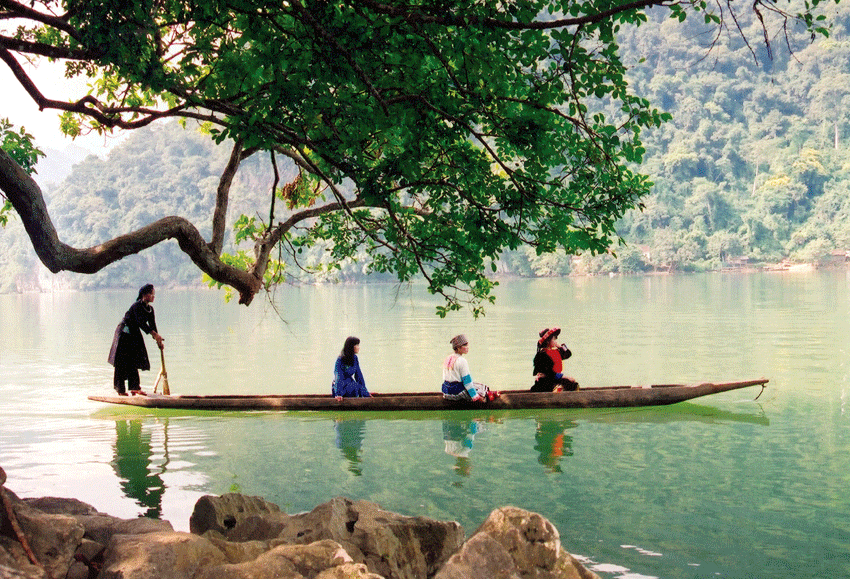 Day 2: Boat trip in Ba Be Lake
Wake up early to enjoy the fresh atmosphere with very green forest, river, lake, rice fields… After breakfast, you will take the boat trip to the Ba Be Lake to visit the Dau Dang waterfall. Have the picnic lunch here with a local family. Then continue the boating trip along the Nang river to get to "Dong Puong" cave. Visit the villages & school of the Tay ethnic people located along the river. At the end of day, transfer you back to Pac Ngoi hamlet for relax and dinner.
Meals: Breakfast/ Lunch/ Dinner
Accommodation: Homestay in Ba Be Lake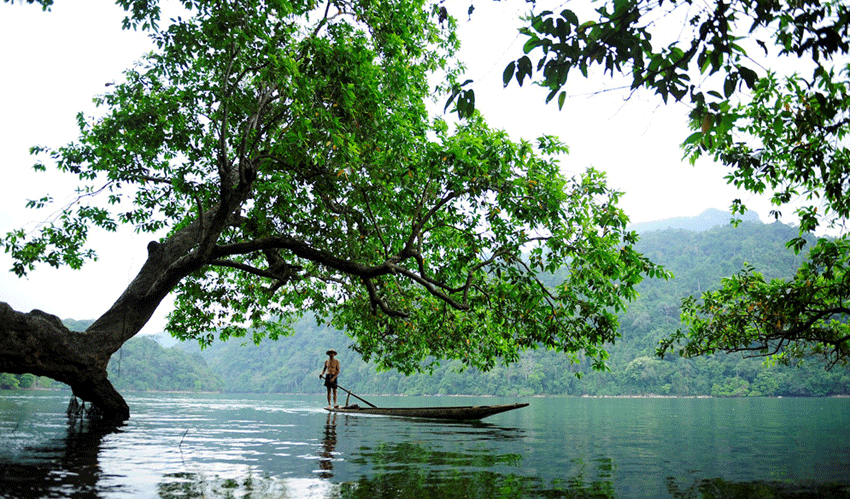 Day 3: Ba Be Lake - Ban Gioc Waterfall- Nguom Ngao – Cao Bang
Wake up early to visit the local market where you will see how the local people trading. After breakfast, depart to Ban Gioc Waterfall where you will have opportunity to admire scenic in insightful of Cao Bang and beautiful Ban Gioc waterfall on the Chinese border. This picturesque, cascading waterfall is 53 meters high and has an impressive span of 300 meters. The drive their offers unique landscapes, limestone karts formations soar from the verdant rice paddies of the surrounding farms of local ethnic minorities. Along the way, you'll see Tay, Hmong and Dzao ethnic minority groups. After visiting Ban Gioc Waterfall, driver to Cao Bang. On the way, stop over for exploring the expansive 2, 144 meter Nguom Ngao Cave. After that, driver direct to Cao Bang for overnight.
Meals: Breakfast/ Lunch/ Dinner
Accommodation: Hotel in Cao Bang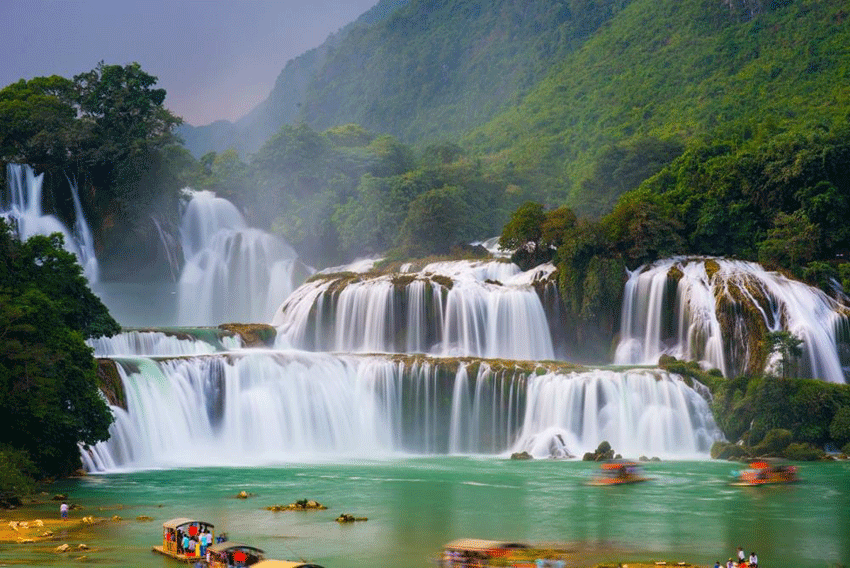 Day 4: Cao Bang – Meo Vac – Dong Van
Breakfast at your hotel. Depart to Dong Van via Meo Vac, is located along the Chinese border, some of the most picturesque villages in the northern tip of Vietnam. Arrive in Bao Lac, visit Khuoi Khon village-mostly inhabited by Black Lo Lo ethnic group who well known with their bronze drum and their attire.  Lo Lo women weave fabrics with which they make skirts. Lo Lo men, when searching for their future wives, often evaluate carefully their girlfriends through their ability to make clothing. Lo Lo people depend mainly on maize and rice as forms of income generation. After lunch, transfer to Dong Van, you will pass a scenic route will take you to the (is one of the four most beautiful passes of Vietnam)  from where you can enjoy a panoramic view of the Nho Que River. You might see one of the northeast's stunning sunsets. Stop for a while to see a river like a silky fillet looming in fog which brings tourists a pleasant sensation of a naturally romantic masterpiece. Arrive in Dong Van, check in hotel and free time for relaxing.
Meals: Breakfast/ Lunch/ Dinner
Accommodation: Hotel in Dong Van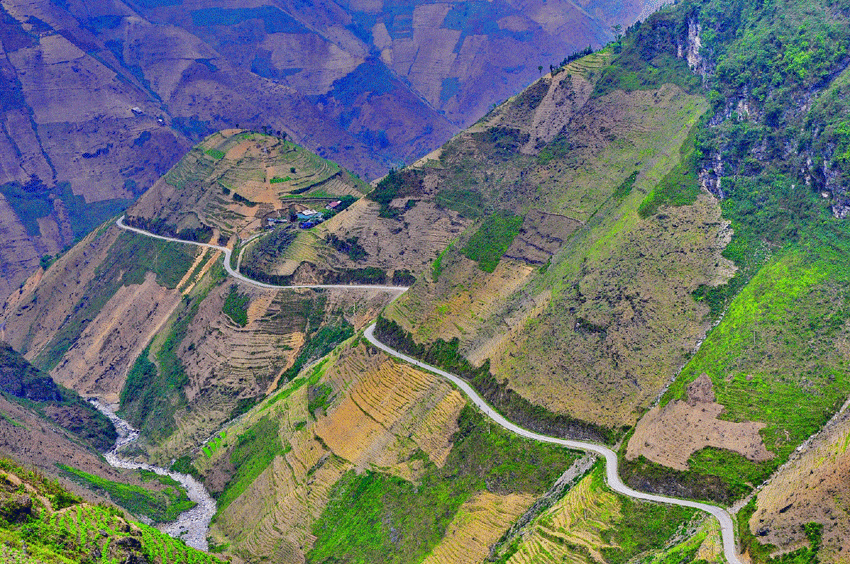 Day 5 : Dong Van – Ha Giang
Breakfast at your hotel and depart to Ha Giang. Driver to visit Lung Cu Flag Tower and walking through the Pho Bang town called by tourists "the town falling into the oblivion" inhabited by the Hoa and H'Mong people. The local people keep to their quiet lifestyle in the clay houses decorated with a pair of couplets written in Chinese scripts with wishes of good luck and prosperity. Continue visit to the Palace of H'Mong King " Vuong Chi Sinh" which is a symbol of the past glory of the H'mong people built in 1914. Having lunch in Yen Minh, then visit and admire landscape of mountainous , flower gardens of Tam Giac Mach and visit the house of a local family in Dong Van District. It has become an appealing destination for visitors to the mountainous province after it was used for the film of "Chuyen cua Pao" (The Story of Pao). Continuous to visit heavenly fate of Arrive in Ha Giang Quan Ba., check in hotel and free time.
Meals: Breakfast/ Lunch/ Dinner
Accommodation: Hotel in Ha Giang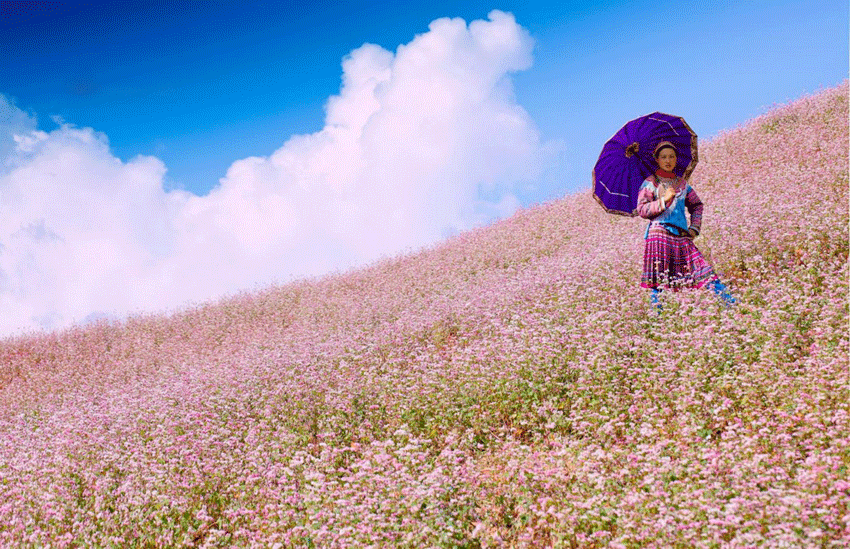 Day 6: Ha Giang – Thon Tha Village - Hoang Su Phi
Breakfast at your hotel, driver to northern province of Ha Giang to visit Thon Tha Village in Phuong Do Commune. It has a tiny population of about 550 people. You will explore an ancient village with 100% of the population of the Tay minority people, who live in traditional stilt houses. You will experience authentic culture with the Tay ethnic minnority people. After lunch, transfer you to Hoang Su Phi. On the way, stop over to visit Haven gate, ancient tree tea in Shan Tuyet Tay Con Linh Tea. Arrive in Hoang Su Phi, check in Panhou. Free time
Meals: Breakfast/ Lunch/ Dinner
Accommodation: Lodge in Hoang Su Phi
Day 7: Panhou - Nậm Nghí - Giàng Hạ - Panhou (Walking duration: 5h. Topography: +400m/-400m
Wake up early to discover the gardens of the eco lodge managed by the tays gardeners. Having breakfast at Pan Hou Village restaurant. 09:00 am: The local guide pick you up and Then you will start your hike to explore the nearby mountains through tropical forests and rice terraces.
You stop in a village of the Red Dao for lunch. By necessity, they have sculpted the mountain and its rivers to grow rice, the main food of their meal. These painful adjustments enable them to live in the heights and, by the way, offer you unique landscapes to contemplate. The cooler climate and fresh water in abundance also contribute to the growth of lush tea trees.
You keep walking in the afternoon through manioc fields, bamboo forests, tea plantations, then a village of Yao with Long tunic and finally Pan Hou.
Meals: Breakfast/ Lunch/ Dinner
Accommodation: Lodge in Hoang Su Phi
Day 8 : Panhou – Hoang Su Phi - Sapa
Breakfast at your hotel. Goodbye Hoang Su Phi for Sapa (220km). On the way to Sapa, stop over for visiting some villages of Dzao, Tay, Nung people. Arrive in Sapa. Drop you off at your hotel.
Meals: Breakfast/ Lunch
Accommodation: Hotel in Sapa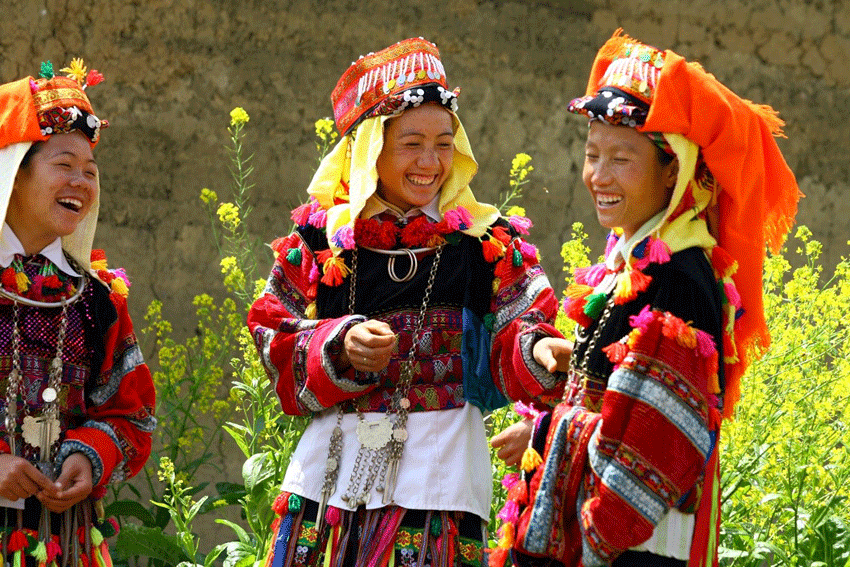 Day 9: Ma Tra - Ta Phin Village
After having breakfast at local restaurant, Walking through the town for about 20 minutes before turning to a dirt road to Ma Tra Village, where inhabited by Black H'mong ethic. Continue trekking up the village and getting through paddies fields will lead you to an ancient Catholic abbey, built by French colonists. Walk 2 km more to reach Ta Phin Village for exploring the daily life of Red Dzao. Here you have a good choices to buy woven and textile brocades, which is made by ethic people and having picnic lunch before exploring village and Ta Phin Cave and small hamlet of Black H'mong people. At the end of day, return to Sapa. Rest of the afternoonand evening at leisure.
Meals: Breakfast/ Lunch
Accommodation: Hotel in Sapa
Day 10: Lao Chai - Ta Van Village - Hanoi
Following a hotel breakfast, meet your guide in the morning and depart on a second trek from the town of Sapa to Golden Stream valley. Today's trekking offers more stunning views of rice terraces and gardens as well as Mt Fansipan, whose summit rises 10,312 feet (3,143 meters) above sea level.
After crossing a suspension bridge, marvel at the breathtaking scenery as you continue through the Golden Stream valley, stopping at Lao Chai village for lunch. After your meal, follow your guide on a walk through this village where Black Hmong people reside, and continue on to Ta Van village, home to the Dzay tribe. This part of the hike is relatively easy, though the trail can be quite slippery if it rains, so good footwear is recommended. You'll visit with some local families and learn about their daily lifestyle and fascinating culture, before departing to the main road to meet up with your driver and return to Sapa. After lunch, transfer back to Hanoi. Arrive in Hanoi, drop you off at your hotel.  Your journey with The Time Journeys is now complete…
Meals: Breakfast/ Lunch
Accommodation: Time check out is 12:00
Have a nice journey !
The time journeys can arrange additional customized trips for you if the above itinerary does not match your expectations.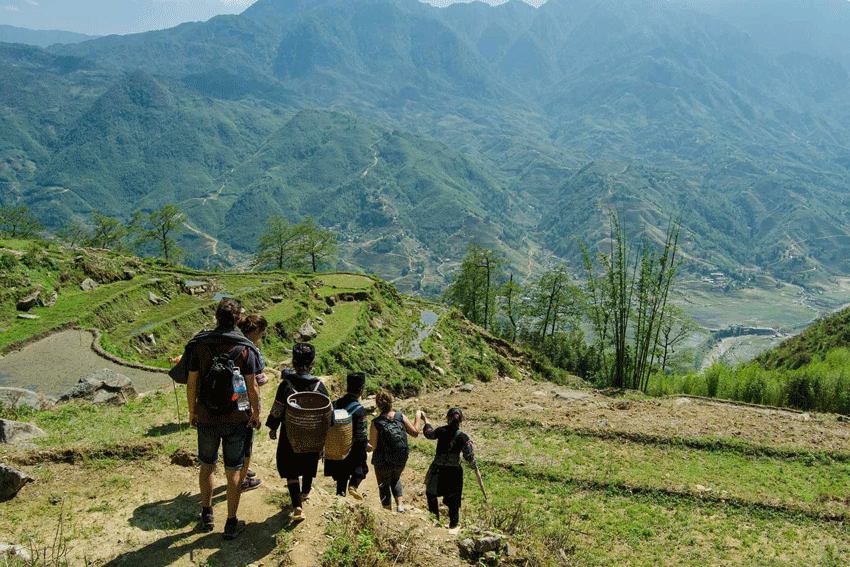 • Hotel accommodation sharing double/ twin room with daily breakfast.
• Meals as mentioned in the itinerary (B = Breakfast, L = Lunch, D = Dinner).
• Tours and transfers by private air-conditioned vehicles.
• Two way transfer airport in Ho Chi Minh City
• English speaking local guide
• All entrance fees as indicated in itinerary.
• Boat trips as mentioned in the itinerary
• Cold water and towel during tours
• Visa Arrival to Vietnam
• Visa stamp fee
• International air ticket:
• Other meal, drink, Tip to guide and driver, personal expenses