Day 1 : Arrive in Vientiane on flight ? (Client's own tickets)
Upon arrival at the airport and after clearing immigration and customs, meet with your guide with a welcome signboard marked "The Time Journeys's LOGO & your name" Then your tour guide will transfer to your hotel in centre. The rest of the day is at your leisure to explore city.
Meals: NA
Accommodation: Hotel in Vientiane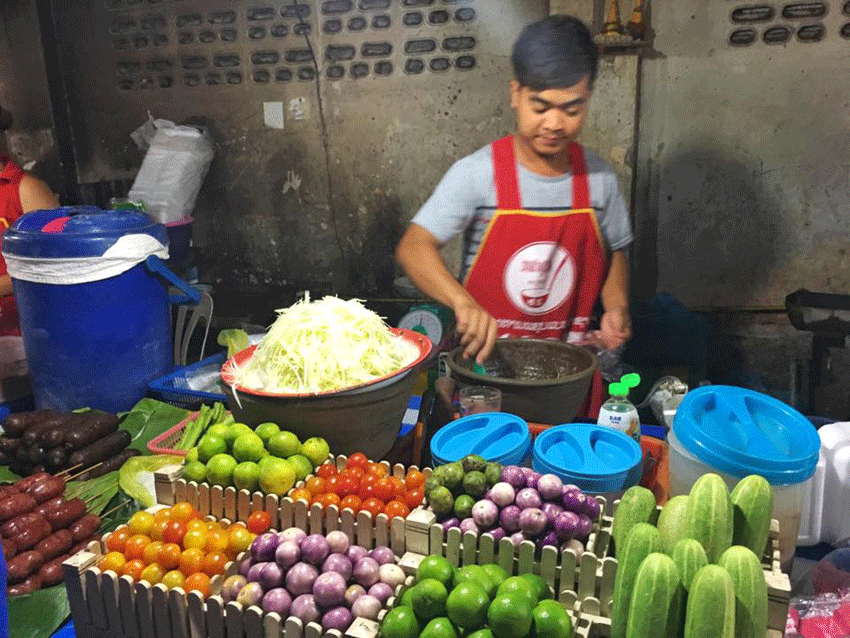 Day 2 :Vientiane city tour
After having breakfast at your hotel. The local tour guide will pick you up at your hotel and transfer you to visit Wat Sisaket with its thousands of statues of the Buddha. The official count is 6840. The Emerald Buddha, now found in Bangkok's Wat Prakeow, used to be housed in Wat Prakeo and it is here along with Wat Simuang that we will visit next.
The wonderful Golden stupa of That Luang is your next port of call. From there you will go to see The Triumphal Arch of Patuxai, constructed from concrete that was originally intended for the airport. It is known locally as The Vertical Runway. After that, bring you back to your hotel. Free time in evening.
Meals: Breakfast/ Lunch
Accommodation: Hotel in Vientiane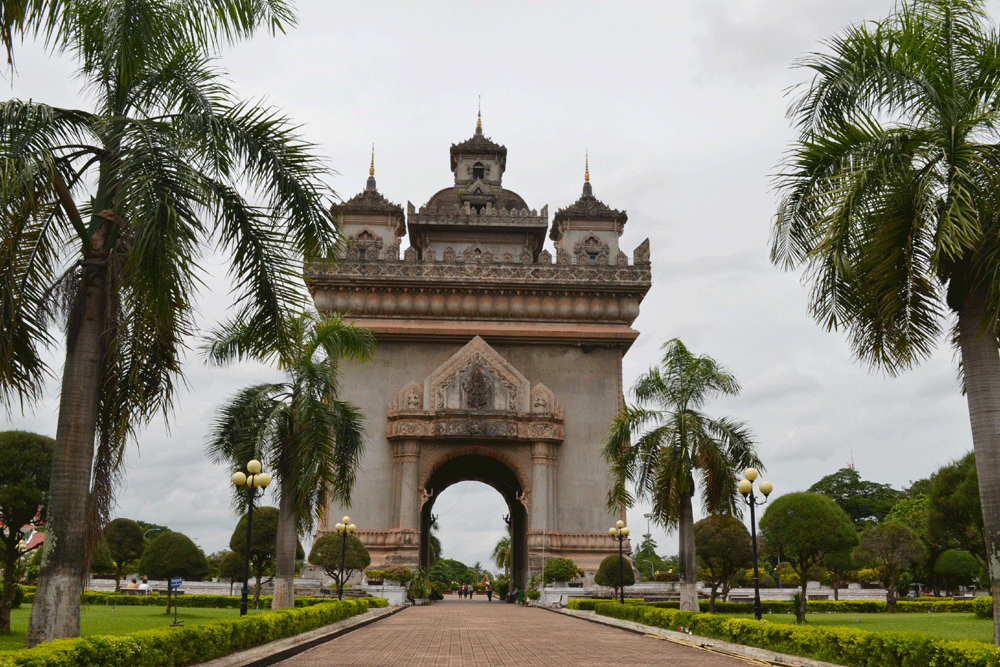 Day 3: Vientiane - Buddha Park
Today, you will take a trip by road along the bank of Mekong River to visit the Buddha park of Xieng Khuan, the park (28km East of Vientiane), containing a combination of hundred status of Hindu divinities and Buddha. En route, you will stop looms their stilt houses. Passing villages on the bank of Mekong through beautiful views of vegetable garden, tobacco plantation … etc. It's nice make photo stops and see rural life of local people. You also have a nice view of the Mekong friendship Bridge as the border between Laos and Thailand after visiting then Buddha park, we return along another road back to Vientiane.
Meals: Breakfast, Lunch
Accommodation: Hotel in Vientiane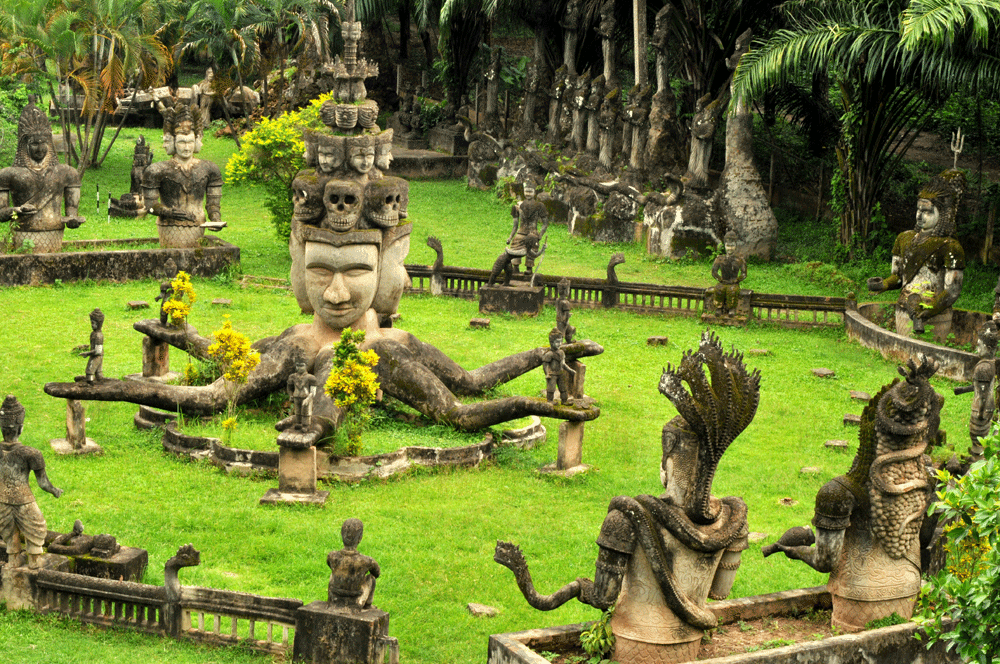 Day 4: Vientiane – Vang Vieng
After breakfast, We drive ahead to Vang Vieng, about 3 hours from the capital. Once a key military airfield during the Indochina wars, the town's central feature is the long-abandoned runway along the eastern side of town. On the west side, a small river separates the town from the nearby caves & mountains, which can easily be visited from town. Visit Jag Cave, Visit Mulberry Organic farm. Overnight in Vang Vieng.
Meals: Breakfast, Lunch
Accommodation: Hotel in Vang Vieng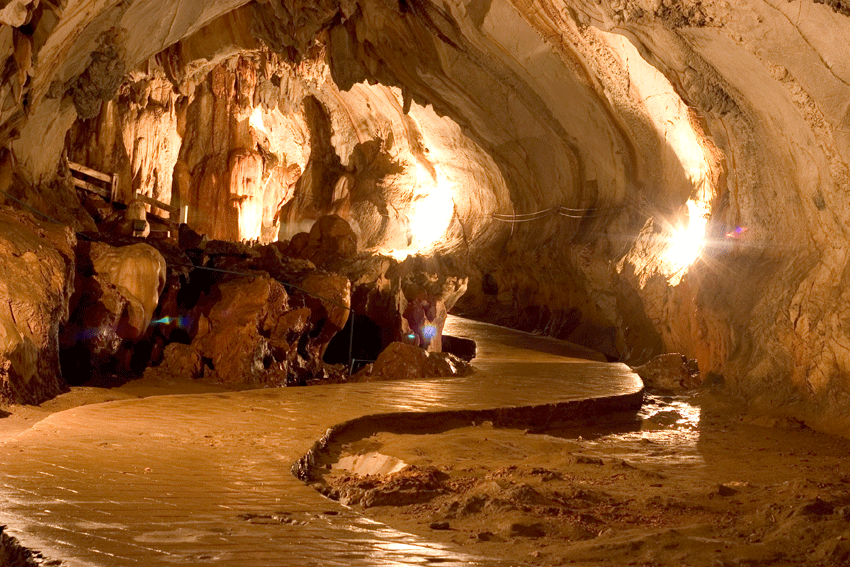 Day 5: Vang Vieng – Market – tham Jang Caves – Luang Prabang
After breakfast, Visit the local market and we drive to Luang Prabang, drive passes through splendid scenery and past many panoramic lookout points on the winding mountaintop road. There are several stops en route to take in the scenery. Arrive in Luang Prabang, check into the hotel, and enjoy an exploring the former royal capital & crown jewel of the ancient Lane Xang Empire (pronounced 'lan sang') – the Land of a Million Elephants. Shopping Night Market. Overnight in Luang Prabang.
Meals: Breakfast, Lunch
Accommodation: Hotel in Luang Prabang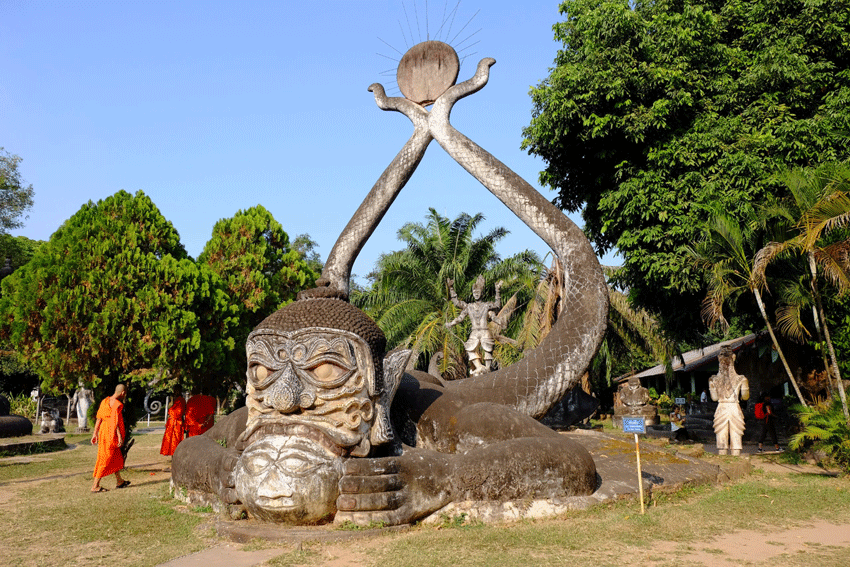 Day 6 : Luang Prabang city tour
After breakfast you will see Wat Visoun with its impressive stupa and the shrine of Wat Aham. At Wat Xieng Thong we will show you the famous "Tree Of Life" mosaic. The architecture here is typical of the Luang Prabang style with its low sweeping rooftops. Next you will walk up the 355 steps to the summit of Mount Phousi.
At the half way point you will see the Wat Tham Phousi shrine and at the summit you will visit the gilded stupa. Your Laos trip affords spectacular views of the city and The Mekong River. After descending, you will be taken to visit Hmong Market affording plenty of opportunities for purchasing souvenirs. Your first full day in Luang Prabang ends with an overnight stay at your hotel.
Meals: Breakfast, Lunch
Accommodation: Hotel in Luang Prabang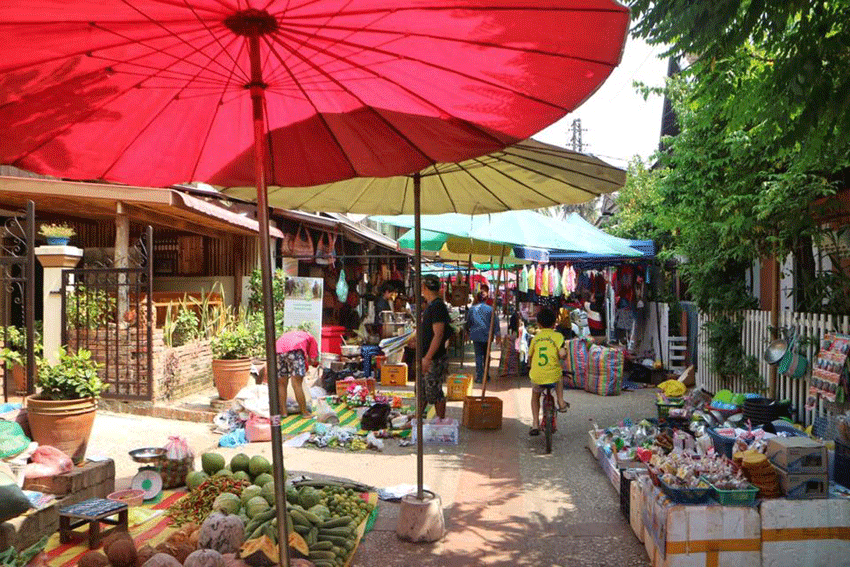 Day 7 : Luang Prabang – Hmong Village Trek – Kuang Si Waterfall
The guide will pick you up after you have breakfast at your hotel. Then driver shortly afterward (30km) to the magnificent Kuang Sii Falls. You will have free time to relax or swim in the beautiful warm waters. If you wish you may make the easy trek up to the top of the falls.
After returning we will go to the Black Hmong Village. Here the hill tribe people live an extremely traditional lifestyle. Handmade souvenirs can be bought and following this visit we will return you to your hotel. Free time for relaxing or shopping.
Meals: Breakfast, Lunch
Accommodation: Hotel in Luang Prabang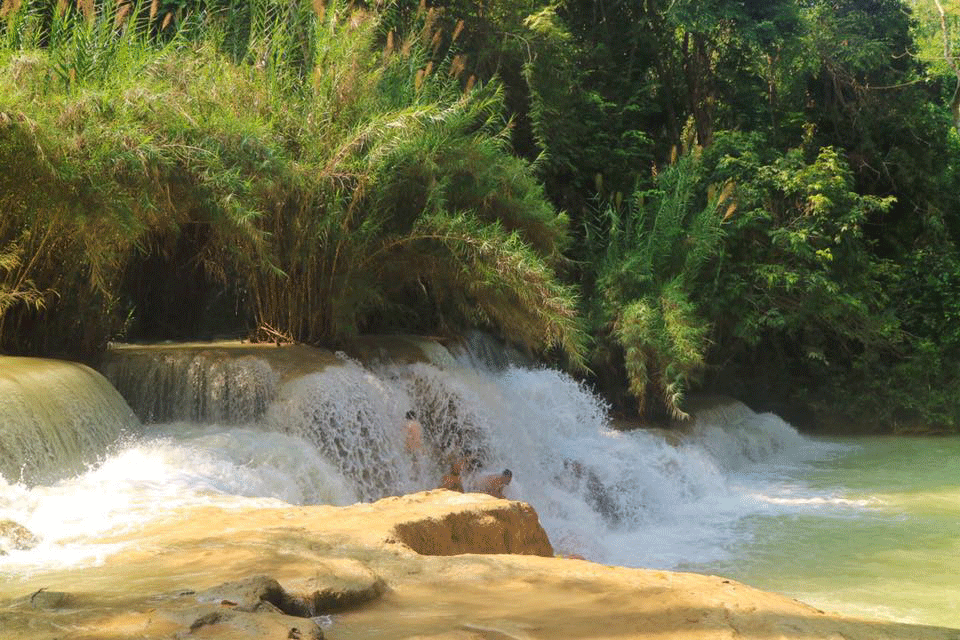 Day 8 : Luang Prabang – Pak Ou Cave
Today you will visit Pak Ou Cave. You will take a bot on The Mekong River to enjoy a cruise through magnificent countryside to the famous Pak Ou Caves. On the way we will take you to visit Ban Xanghai village. This is well known for its distillation of the local rice wine. We then travel on to the Pak Ou Caves. Crammed full of golden lacquered statues of the Buddha, they make a spectacular sight.
On the return journey we will escort you on a short drive to Ban Zang Khong. Here local people expertly hand weave delightful silk materials. At the end of day, return to your hotel for relaxing.
Meals: Breakfast, lunch
Accommodation: Hotel in Luang Prabang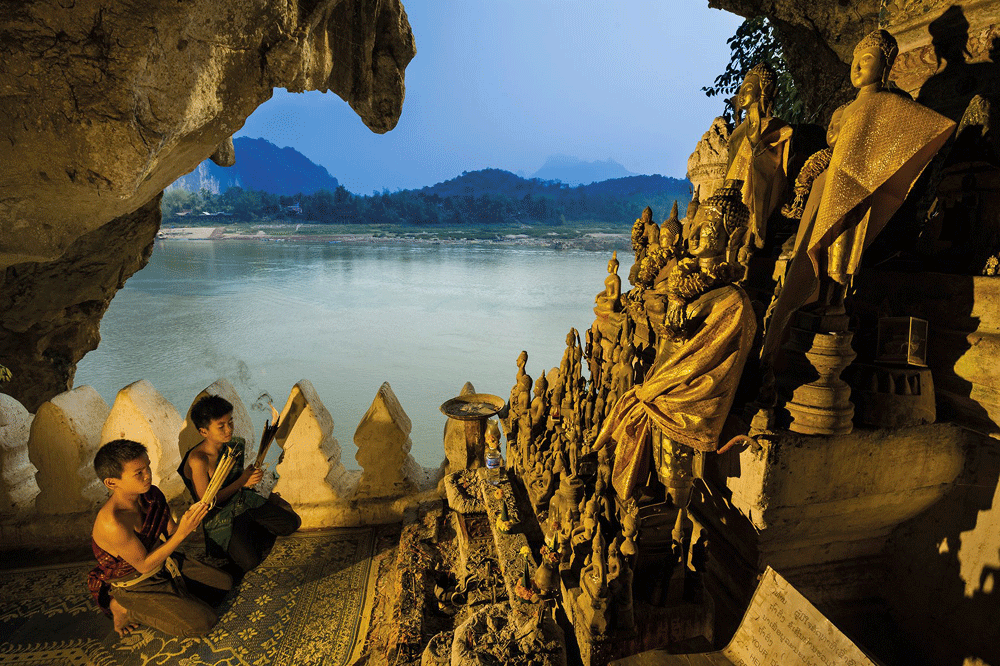 Day 9 : Luang Prabang – Pakse – Khong island
Breakfast at your hotel and free time until pick you up and transfer you to airport for a flight to Pakse. Arrive in Pakse, the guide will pick you and you will get on a private traditional boat for 2-hour cruise to Champassak. After arriving at the Champa Kingdom, we will travel by car to WatPhou which is the second World Heritage in Laos. WatPhou is the most outstanding destination to travelers when coming to Champasak. It is a mixture construction of Khmer style worshiping Hindu during the 9th century to the 13th century. In the afternoon, you will visit Don Khong – an area of 4000 islands which is the largest point of the Mekong River during the rainy season. Don Khong will bring you great experiences of walking or cycling through pleasant little villages. We end the day with a visit to the Khmer temple of Oup Mong at Ban Houei Tomo, located in the forest. Come back Khong Island via ferry in the early evening. Overnight on Khong Island.
Meals: Breakfast, Lunch
Accommodation: Hotel in Kong island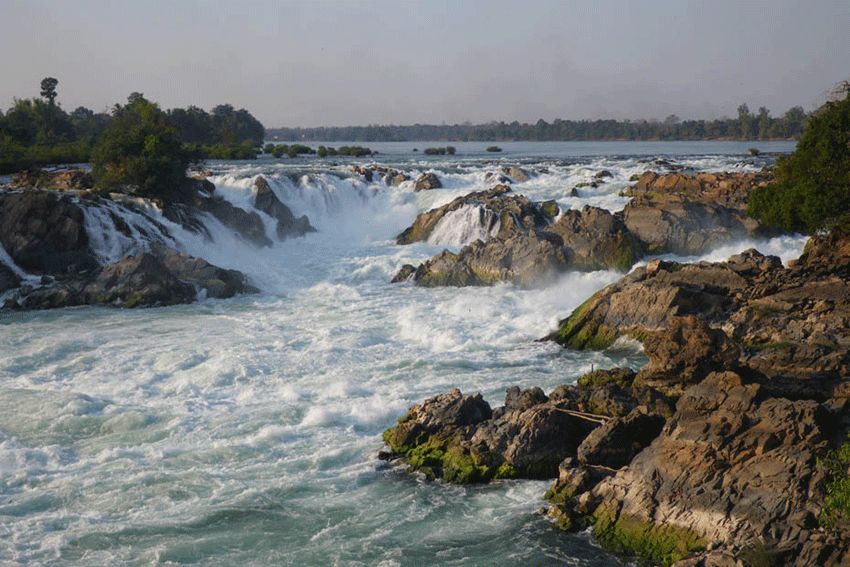 Day 10: Khong island tour
After having breakfast, we will travel to Don Khone with a long tail boat tour to have a sightseeing of the surrounding countryside. Then we disembark and go by bicycle to discover the island, visit the remains of the French period and the stunning Liphi Waterfall. We return to the mainland at the fishing village of Ban Nakasang and go further south to visit KhonePhapheng. KhonePhapheng is the largest waterfall in South East Asia connecting the two banks of the Mekong River with Champasak and Strung Treng province of Cambodian. Come here and you will understand why KhonePhapheng is called "Niagara of Asia". Then we drive back to Khong Island. Overnight in Khong Island
Meals: Breakfast, Lunch
Accommodation: Hotel in Kong island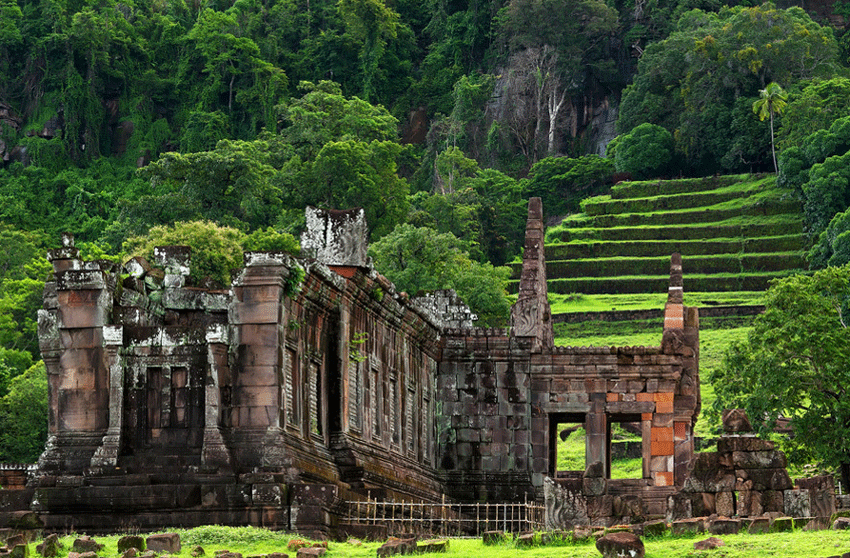 Day 11: Khong Island – Bolaven Plateau
In the early morning we will drive north to the Bolaven Plateau – the most impressive destination to travelers. The Bolaven Plateau has cool climate, fertile soil which is the suitable land for tea, coffee, rubber plantations of Laos. Next we make a stop to visit Houey Ten, a Katua village that's well known for knife making. We then arrive at a tea plantation before visiting Tad Fan Waterfall, an amazing twin chute waterfall.
In the afternoon, we have a visit to a coffee plantation, then move to Tha Teng Market, a colourful ethnic minority food market. Next we come to another interesting minority village, Ban Bong Neua, an Alak village, that boasts a sacrificial alter. We arrive at the stunning Tadlo Waterfall by late afternoon and head back to Pakse, stopping at Ban Houi Hun, an Alak weaving village, where they keep coffins under their houses, and at another picturesque waterfall, Paxuam. We return to Pakse by early evening. Meals on your own. Overnight in Pakse.
Meals: Breakfast, Lunch
Accommodation: Hotel in Pakse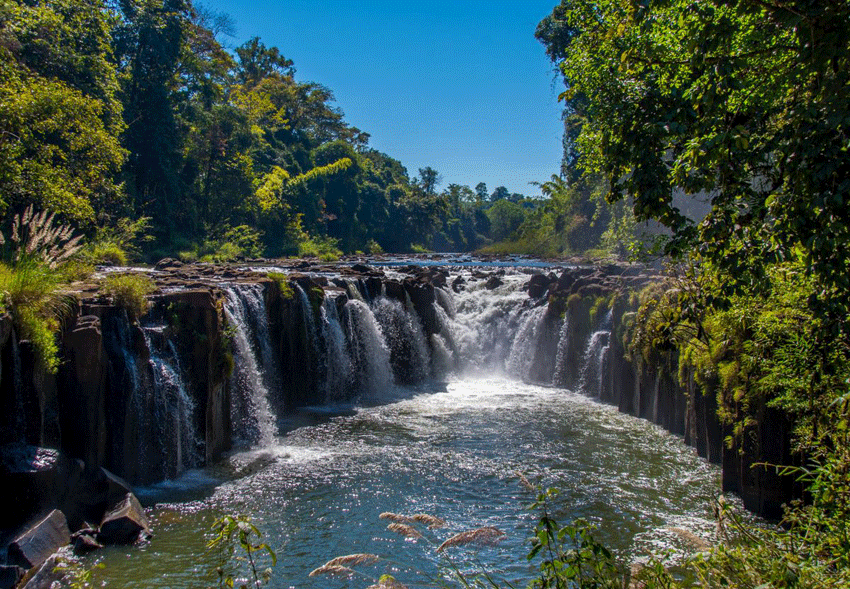 Day 12: Pakse Departure
After breakfast, free time for relaxing or shopping until pick you up and transfer you to airport for your departure flight. Your journey with The Time Journeys is now complete…
Meals: Breakfast
Accommodation: Time check out is 12:00
Have a nice journey! 
The time journeys can arrange additional customized trips for you if the above itinerary does not match your expectations.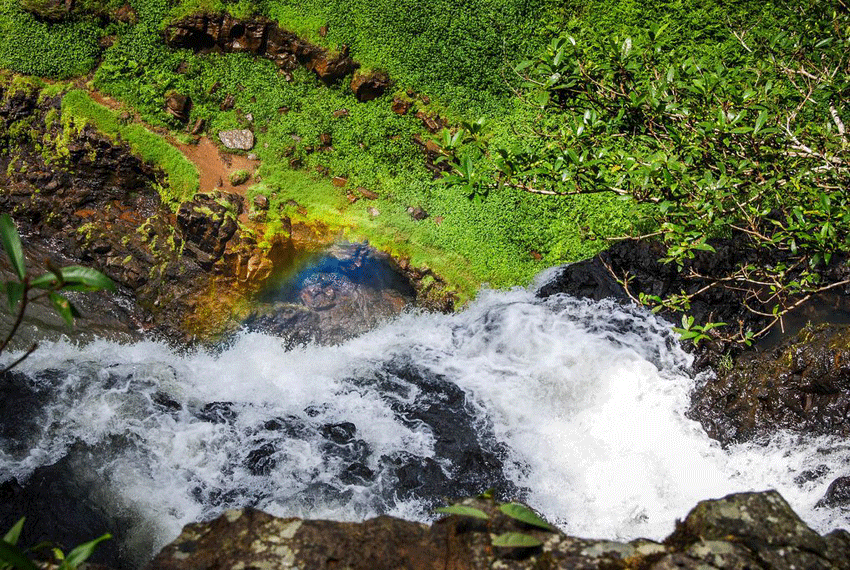 • All land Transports by air-con van
• Local Experienced English speaking guide
• Entry fees
• Mineral drinking water
• Private Boat trip to Ou Cave-Luang prabang
• Accommodations based on sharing room Double/Twin with daily breakfast
• Domestic flight as itinerary
• Laos Government Tax
• Visa fee upon arrival
• Insurance
• Personal expense does not include in program
• All domestic & International flight tickets