Day 1 : Arrive in Ho Chi Minh City on flight ? (Client's own tickets)
Upon arrival at the Tan Son Nhat airport in Ho Chi Minh City and after clearing immigration and customs, meet with your guide with a welcome signboard marked "The Time Journeys's LOGO & your name. Then your tour guide will transfer to your hotel in centre. The rest of the day is at your leisure to explore city.
Meals: NA
Accommodation: Hotel in Ho Chi Minh City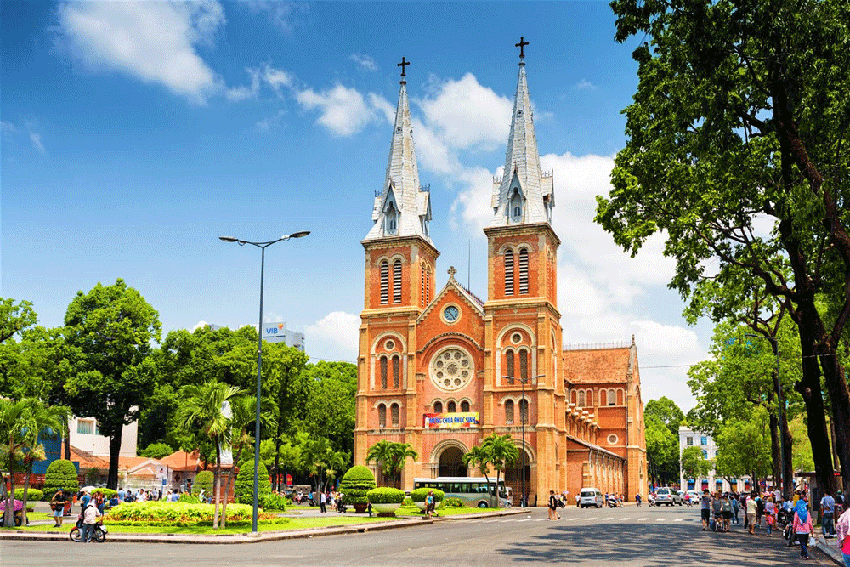 Day 2 : Ho Chi Minh City – Cu Chi Tunnels
Breakfast at your hotel, drive to the outskirt of Saigon to visit the Cu Chi Tunnels, located in an area known in the American War in Vietnam as the Iron Triangle, the remains of a real bloody battlefield, which is a complex network of tunnels built during the long years of wars. The walking visit of the tunnels is specially led by one of the former VCs who used to live and fight in Cu Chi during the wars, giving you an authentic look at the former Vietnam War to understand how the guerrillas lived and fought by visiting different bunkers for weapon, guard, Commander, meeting, kitchen, dinning, etc. After lunch in Cu Chi, driver back to Ho Chi Minh City for visiting the Post Office & Notre Dame Cathedral circa 1880, a highlight tour of the former Presidential Palace, once headquarters for the Saigon Government during the "Vietnam War" and the War Remnant Museum to have an overall picture of the most recent wars in country. Afterwards, continue the drive to visit Ben Thanh Market which is a big marketplace in the downtown area of the city and is one of the earliest surviving structures in Saigon since the French occupation. With over 3000 stalls in the market, there is nothing you cannot find in this oldest and busiest market in Vietnam.
Meals: Breakfast/ Lunch
Accommodation: Ho Chi Minh City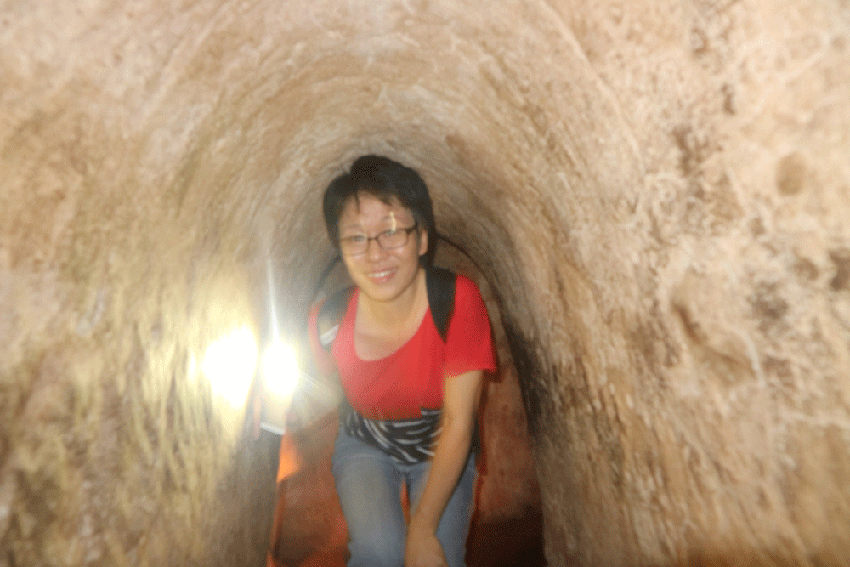 Day 3 : Ho Chi Minh City – Mekong Delta – My Tho – Can Tho
Leave Ho Chi Minh city, enjoy the scenic journey along the National Highway bordered by green rice fields. On arrived at My Tho, visit Vinh Trang pagoda, take a leisurely boat ride along the river, view stilt houses, fruit plantations and fishing villages along the river bank. Proceed to Tortoise islet, have lunch in the orchard garden. Then a boat ride to An Khanh – a less touristy attraction in Ben Tre, enjoy cruising on a hand-rowed sampan under the shade of the water coconut trees along natural canals. Have a short cycling tour (applied for private tour/if  time permitted) then enjoy seasonal fruit & honey tea to the sound of "Southern Vietnamese folk music", performed by the locals. Visit a family business which epitomizes the idyllic rural lifestyle, taste delicious coconut candy & observe the pastoral life as you roam through fruit plantations and villages. Then transfer you to Can tho. Arrive in Can Tho, check in hotel. Free time.
Meals: Breakfast/ Lunch
Accommodation: Hotel in Can Tho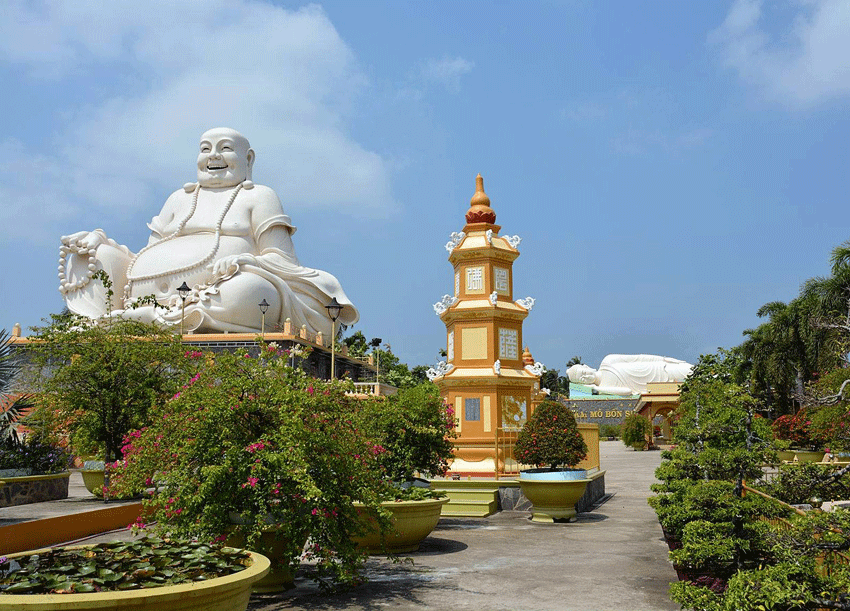 Day 4 : Can Tho – Cai Rang Floating Market – Ho Chi Minh City – Siem Reap
Early in the morning, Take a leisurely boat trip to explore the picturesque tributaries of the Lower Mekong river ( Bassac River), then proceed to visit Cai Răng floating market which are the liveliest in the whole religion. You will experience the flurry of vendor trading their wares as boats teeming with fruit, vegetables and household goods bly the wanter. Have you ever tasted Vietnamese vermicelli soup? Well, now go and see how it is made. Then wander around the village and meet the friendly local people and experience how to cross a "Monkey bridge" which is built by only o­ne stem of bamboo. Visit the orchard garden. After having lunch, transfer you direct to Tan Son Nhat airport for a flight to Siem Reap. Arrive in Siem Reap, the guide pick you up and transfer you to your hotel. Free time.
Meals: Breakfast/ Lunch
Accommodation: Hotel in Siem Reap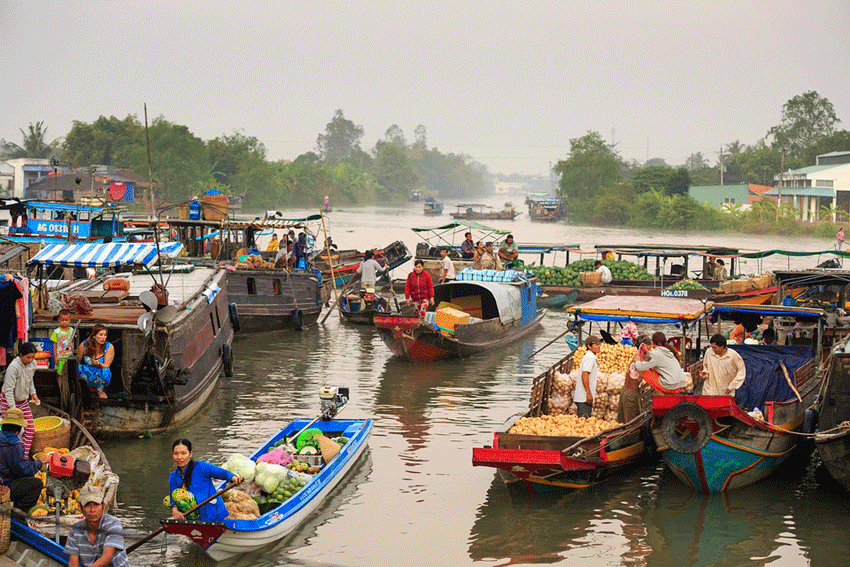 Day 5: Angkor Temple Highlighted
Breakfast at your hotel, the guide pick you up and transfer you to visit the picturesque Ta Prohm that had nearly disappeared into the jungle and remains overgrown, an oddly haunting and exotic scene. The magnificent roots of a tree, pushing between the huge stone blocks of the temple in a sort of embrace, evoke feelings that you may remember forever. And continue to visit the intricately carved Khmer ruins at Angkor Wat – one of the world's most impressive ruins.  The temple still owns fine Apsara carvings in Angkorian era art. Lunch is at local restaurant.
Afternoon, explore the mysterious Royal city Angkor Thom. City & Bayon Its 54-tower temple is an awesome sight. At first glance it seems a shapeless mass of stone, but further scrutiny reveals a face, and then another and another until suddenly you are engulfed by the silent, heavy, enigmatic and silent gaze through half-closed eyes, staring out from a primitive and remote time. Further, visit to the surroundings of the complex including the Baphou, Elephant Terraces, Lepper King Terrace and Royal Place area.
Meals: Breakfast/ Lunch
Accommodation: Hotel in Siem Reap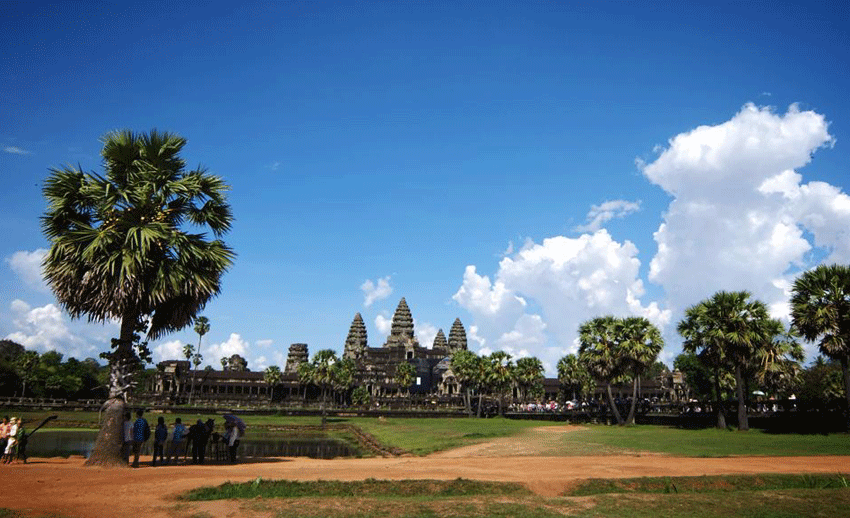 Day 6 : Angkor Outlying Temples
Today, after pick you up, we will drive to the rural outskirt 35km from Angkor area to visit the smallest, but magnificent, Banteay Srei built in the 10th Century and dedicated to Shiva. The temple was the birthplace of Khmer classical style architecture and the bas-relief work is the best example of Khmer classical art remaining. The pink sandstone structure bears a series of striking and beautiful sculptures, lintels, pediments and friezes. Khmers say the temple must have been carved by women for the details are too fine for the hands of a man. Drive on to Chau Srei Vibol which is a small charming temple on top of a hill which hardly sees any visitors – very few non-locals have heard of it, and it is set just far enough away from the main tourist routes.
Lunch is hosted at the local family. Continue to the ancient Khmer civilization site of Hariharalaya which flourished in the late 9th and earlier 10th centuries. These are the earliest temples in the Angkor area and are referred to the Rolous group we visit the main one called Bakhong temple.
Meals: Breakfast/ Lunch
Accommodation: Hotel in Siem Reap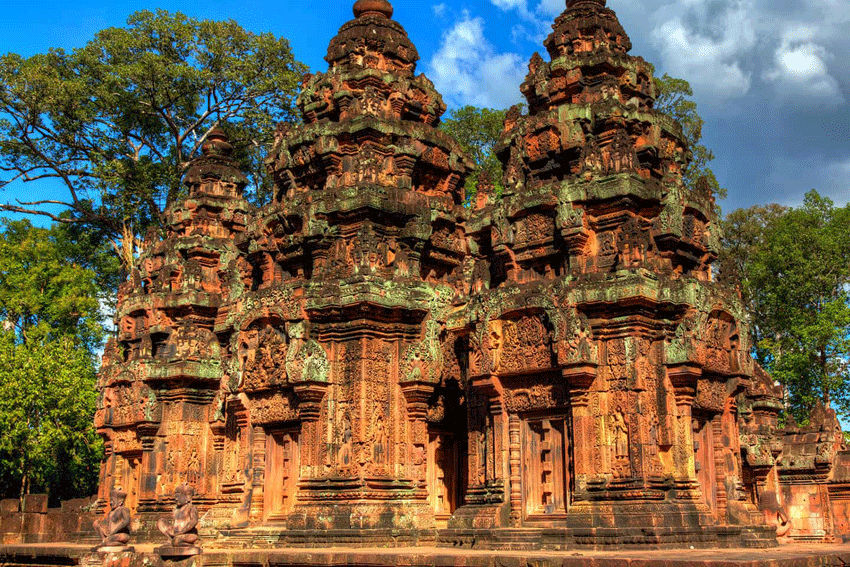 Day 7: Siem Reap - Luang Prabang
Breakfast at your hotel, free time for relaxing until pick you up and transfer you to airport for a flight to Luang Prabang. Arrive in Luang Prabang, the guide pick you up and transfer you to your hotel. Free time.
Meals: Breakfast
Accommodation: Hotel in Luang Prabang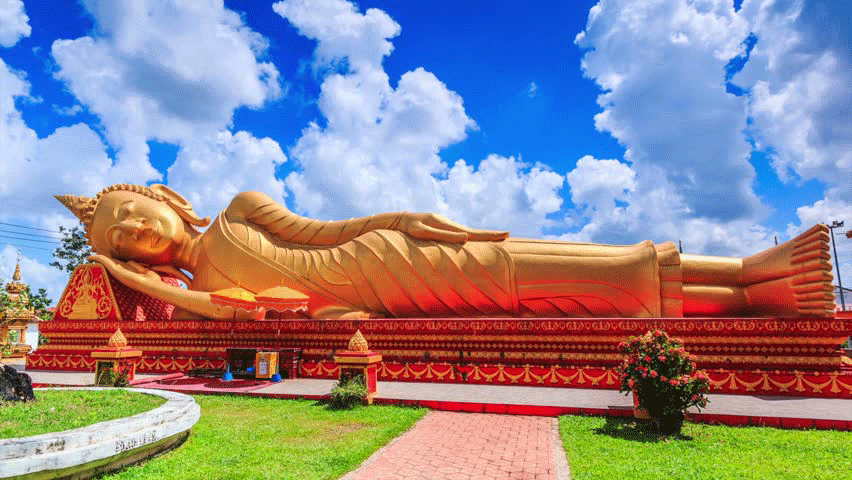 Day 8: Luang Prabang – Local Style Mekong Riverboat Experience – Pak Ou Buddha Caves
After breakfast Visit the National Museum, once a king's palace.  Displayed inside is a lovely collection of personal artifacts of the royal family, including photos, musical instruments, and many gifts received from the dignitaries of foreign countries. Begin a Mekong Riverboat trip with your guide on the mighty Mekong River to visit the famous & sacred Pak Ou Buddha Caves. These caves, overlooking the confluence of the Mekong & Ou Rivers from on high, have been home to many thousands of Buddha images that were placed here by local people since 16th century, when King Setthathirat found the caves and declared them a holy spot. On return  Visit Por Sa Paper Handicraft & textile area at Ban Xang Khong. Overnight in Luang Prabang.
Meals: Breakfast, Lunch
Accommodation: Hotel in Luang Prabang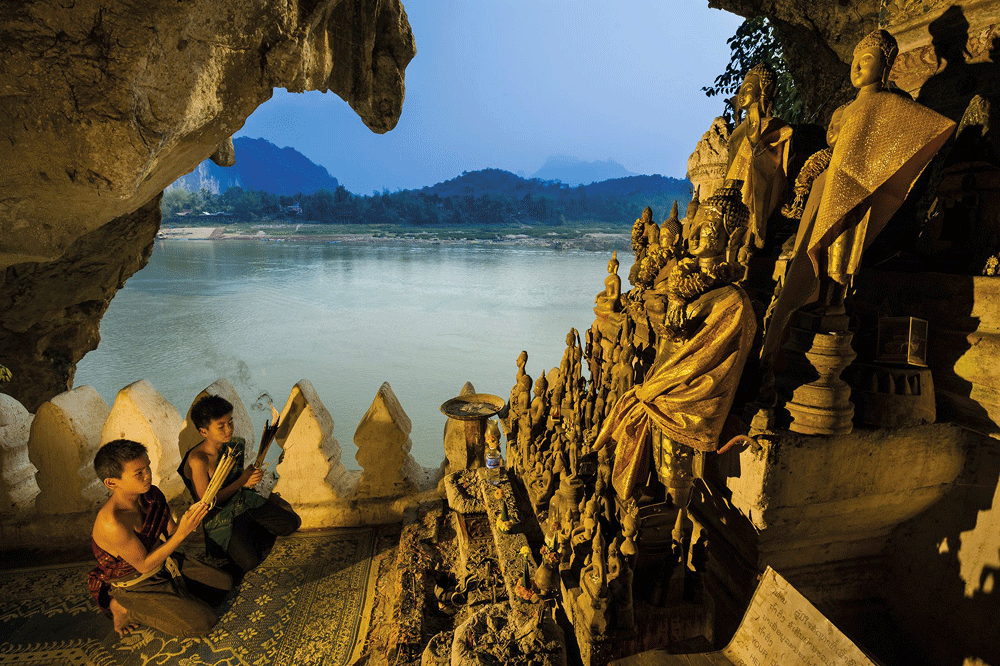 Day 9: Luang Prabang Tour
After breakfast, pick you up and will be taken to The National Museum. There is plenty to investigate and admire at this large museum in the center of town.  Next, you will visit Wat Visoun with its impressive stupa and the shrine of Wat Aham.  After your visit to Wat Xieng Thong you will next climb the 355 steps to the summit of Mount Phousi. There are plenty of rest stops on the way up. At the half-way point you will see the Wat Tham Phousi shrine and at the summit you will visit the gilded stupa.
Your trip affords spectacular views of the city. There is a wonderful opportunity to see the sunset from a superb vantage point. After your descent from the mountain; you will be taken to visit The Street Night Market affording plenty of opportunities for purchasing souvenirs. Overnight stay at your hotel.
Meals: Breakfast, Lunch
Accommodation: Hotel in Luang Prabang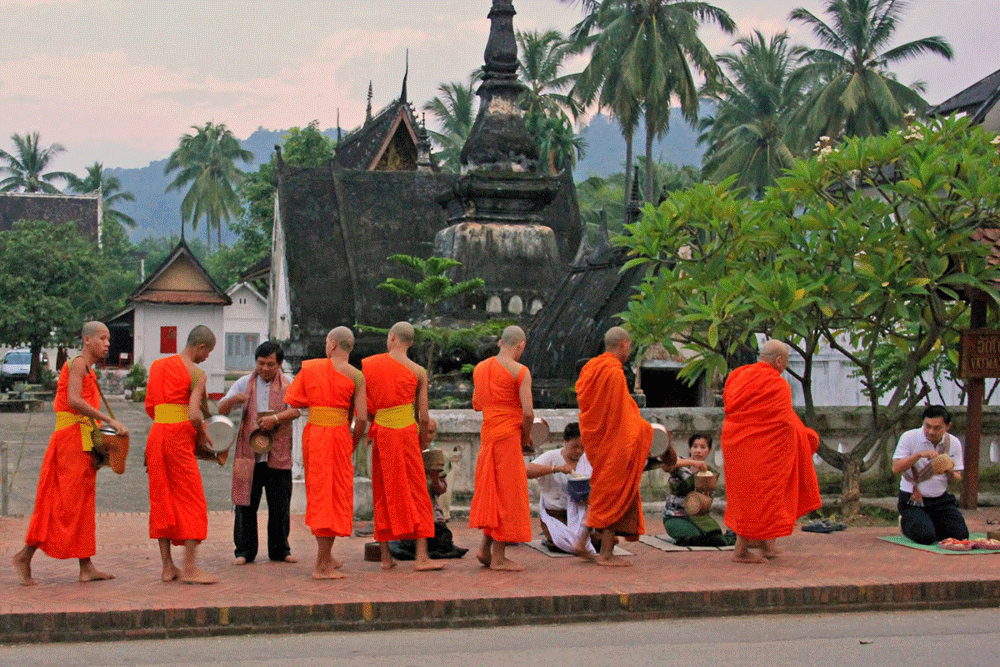 Day 10: Luang Prabang - Vang Vieng
Today, Meet your guide and drive a head to Vang Vieng about 5hour drive through new road Na Meaung village along mountainous landscape. Arrive in Vang Vieng, check in at your hotel.
Afternoon, Visit Jang cave, where local hid inside during the Indochina war. We then cross Song river visit Blue lagoon, where you can swim, relax and enjoy soft trekking to the top of Phoukham cave. Overnight in Vang Vieng.
Meals: Breakfast, Lunch
Accommodation: Hotel in Vang Vieng
Day 11: Vang Vieng - Vientiane
After breakfast, We continue to Vientiane via Ngum Lake, the first dam in Laos. Arrive at Ngum lake, Enjoy a boat trip about one hour & half to see islands near by and its beautiful nature. We then continue to Vientiane through Tha Ngon Bridge. Arrive in Vientiane, check in at your hotel. Overnight in Vientiane.
Meals: Breakfast, Lunch
Accommodation: Hotel in Vientiane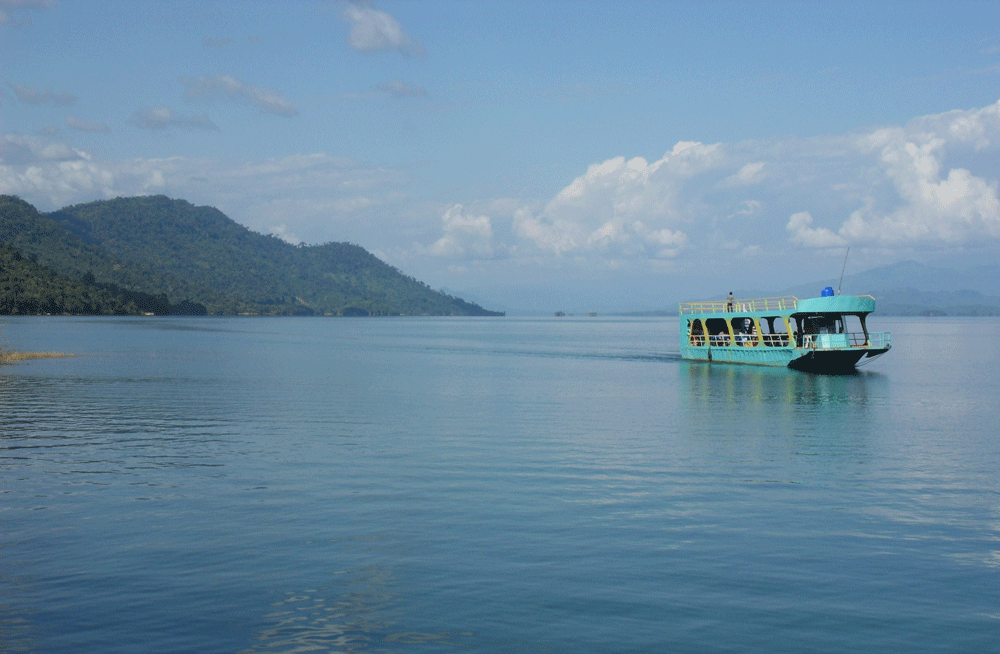 Day 12: Vientiane Tour
Breakfast at your hotel, , following the road along the bank of Mekong river to visit the Buddha park of Xieng Khuan, the park (28km East of Vientiane), containing a combination of hundred status of Hindu divinities and Buddha. En route, we stop looms their stilt houses. We drive pass villages on the bank of Mekong through beautiful views of vegetable garden, tobacco plantation … etc. It's nice make photo stops and see rural life of local people. We also have a nice view of the Mekong friendship Bridge as the border between Laos and Thailand after visiting then  Buddha park,  and then taking a sightseeing tour of Vientiane, to visit religious museums of Wat Sisaket, the oldest temple to have been survived from the Siamese war of 1828 and its cloister contains more than 8000 Buddha statues; Wat Ho Prakeo, the former home-temple of the Emerald Buddha statue or Pra Keo, but today it contains a collection of Buddha statues, antiques and all artifacts found in around Vientiane; That Luang Stupa, Symbol  of Lao nation the single most important monument in Laos, which was built to cover the original small stupa containing a piece of the chest bone of Buddha; Patouxay (Arch de Triumph), built quite recently in commemoration of those who died during the wars in the past and it is today as the land-mark of Vientiane.
Meals: Breakfast, Lunch
Accommodation: Hotel in Vientiane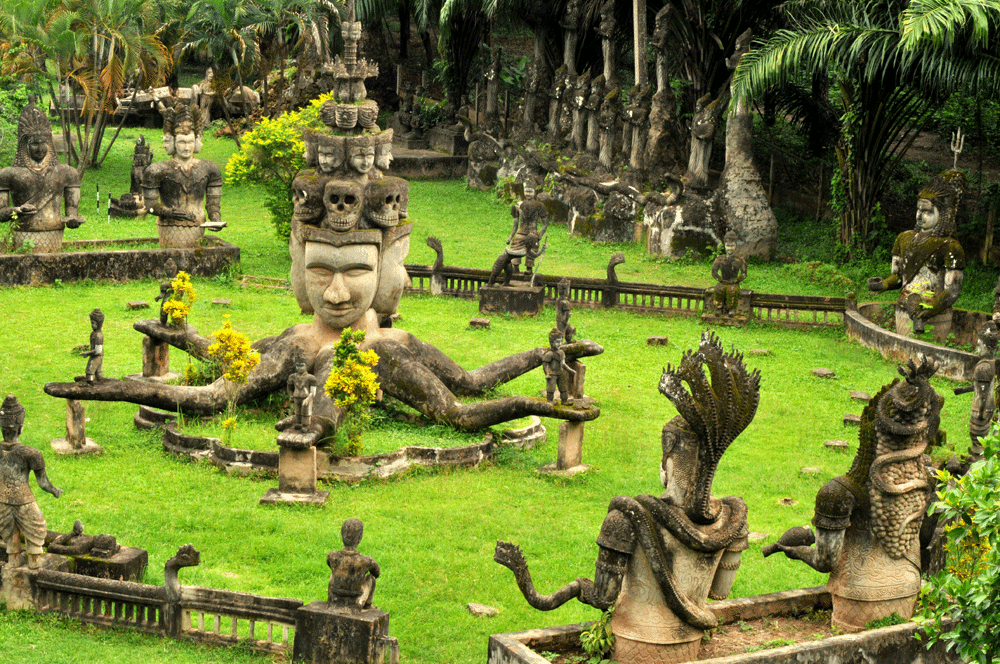 Day 13: Vientiane Departure? (Client's own tickets)
Having breakfast at your hotel. Your time will be your own until your private car and driver arrives to take you to the airport for your flight to next destination. Your journey with The Time Journeys is now complete…
Meals: Breakfast
Accommodation: Time check out is 12:00
Have a nice journey!
The time journeys can arrange additional customized trips for you if the above itinerary does not match your expectations.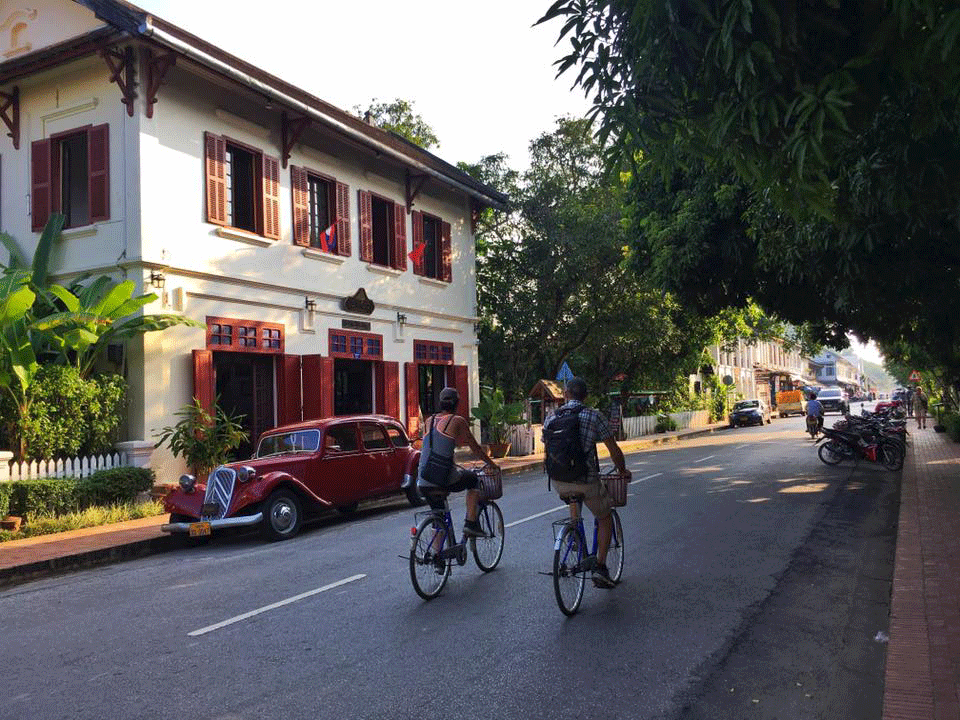 • Hotel accommodation in shared twin or shared double room with daily breakfast.
• Meals as mentioned in the itinerary (B = Breakfast, L = Lunch, D = Dinner).
• Tours and transfers with air-conditioned vehicles.
• Private car with driver pick up and drop off between airport – hotel – airport
• English speaking local guide
• All entrance fees as indicated in itinerary.
• Boat trips as mentioned in the itinerary
• Cold water and towel during tours
• Visa Arrival to Vietnam
• Visa stamp fee
• International air ticket:
• Other meal, drink, Tip to guide and driver, personal expenses
• Supplement for French, Spanish, Italian and German speaking guide