Day 1: Arrive in YangonDay 1 : Arrive in Yangon on flight ? (Client's own tickets)
Upon arrival at the Yangon and after clearing immigration and customs, meet with your guide with a welcome signboard marked "The Time Journeys's LOGO & your name. Then your tour guide will transfer to your hotel in Centre. The rest of the day is at your leisure to explore city.
Meals: NA
Accommodation: Hotel in Yangon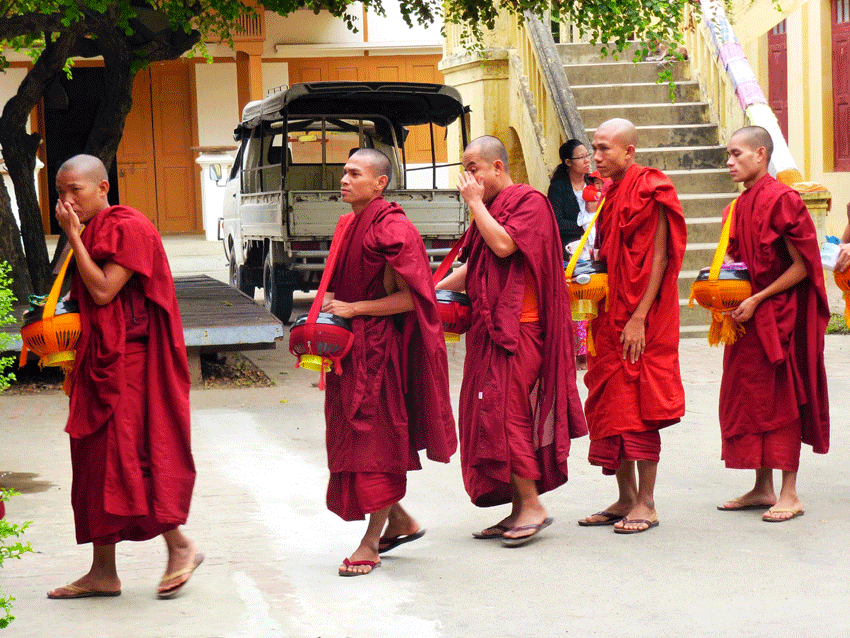 Day 2: Yangon City Tour
The guide will pick you up at your hotel and bring you to visit to the octagonal Sule Pagoda. Stroll through downtown Yangon with its faded colonial buildings and leafy boulevards and visit the beautiful colonial style Post Office. Watch the locals going about their daily business as you pass Mahabandoola Park, named after General Maha Bandula who fought against the British in the First Anglo-Burmese War. The park includes the Independence Monument, an obelisk which commemorates Burmese independence gained from the British in 1948. Next visit Chaukhtatgyi and the Reclining Buddha which measures 70 metres (230 feet) in length.
In the afternoon you visit the National Museum, the principle museum of Burmese art, history and culture. Next stop is Bogyoke Market, one of the oldest markets in Yangon, with colonial architecture and cobbled streets. After visiting the market, head to the Indian Quarter for a very different view of the city. Here you will find Hindu Temples and street stalls selling Indian food. End the day with a visit to the breathtaking Shwedagon Pagoda, or Golden Pagoda, its stupa dominating the city's skyline. This is one of the holiest places in Burma, and one reason why Burma is known as the "Land of Golden Pagodas". The pagoda itself is 99 metres (326 feet) high, studded with solid gold plates and decorated with diamonds and other precious jewels.
Meals: Breakfast/ Lunch
Accommodation: Hotel in Yangon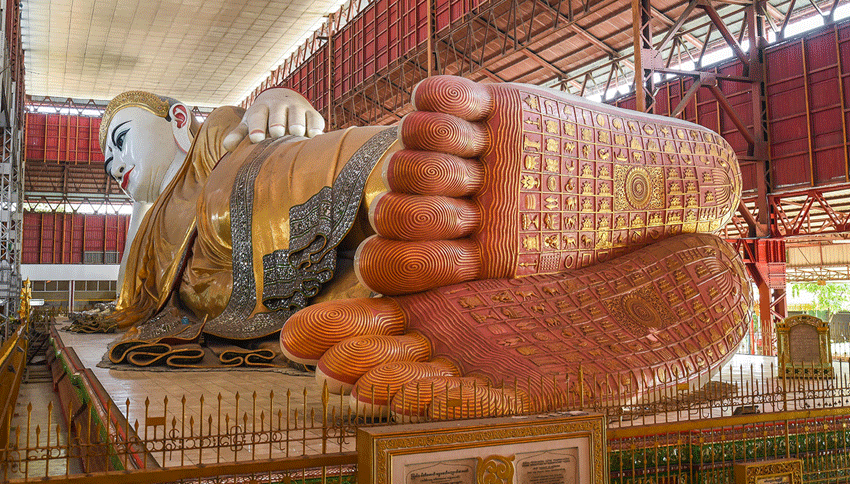 Day 3: Yangon - Mandalay
Breakfast at hotel. You will transfer to Yangon airport for flight to Mandalay. Arrive in Mandalay, the guide pick you up and drive from Mandalay airport to the ancient city of Amarapura, where you will visit Mahagandayon Monastery, home to more than 800 monks whom you can see having their morning meal. Continue to nearby U-Bein Bridge, which is over a kilometer long and made entirely of teak, and take a walk along the bridge. Check into hotel at late morning. In the afternoon, city tour is to enjoy a boat trip to Mingun, site of a brick pagoda towering 50 meters above the Ayeyarwady River, and home of the world's largest intact bell. The boat trip is interesting for all types of wooden boats and bamboo rafts, carrying goods up and down the river. Return to your hotel on the moment of panoramic sunset on the river.
The trishaw was invented in 1930 in Mandalay and became the most popular form of public transportation. Burmese trishaws are unique in that they have two passenger seats on one side of the paddler and are the ideal vehicle for travelling along the narrow laneways of Burmese towns.
Meals: Breakfast/ Lunch
Accommodation: Hotel in Mandalay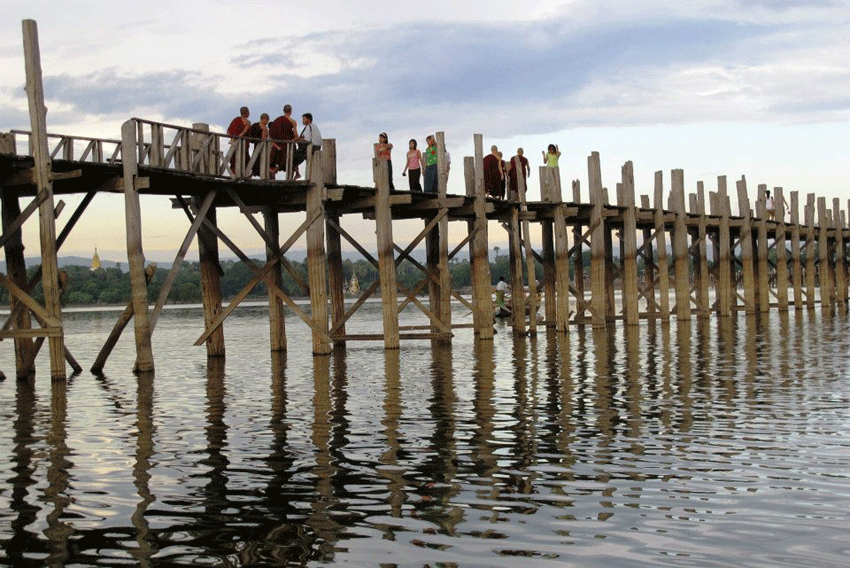 Day 4: Mandalay Sightseeing
Today, after crossing small canal, visit Ava (Innwa), located on an island between the Ayeyarwady and the Myitnge River. You will visit Ava by horse carts and pass through the ancient city walls to visit a brick and stucco monastery called Mahaaungmye Bonzan (also known as Ok Kyaung). Continue to Nanmyin Watch Tower– the climb to the top offers lovely views over the river. See also the impressive wooden monastery of Bagaya Kyaung.
Time permitting, visit homes in the village to see local handicrafts, such as silk weaving, cane mats, and alms bowls. Return to Mandalay for continuous sightseeing with gold leaf making work, Mahamuni pagoda, home to Mandalay's holiest Buddha statue. Stop nearby to view stone carving. Then, visit Shwenandaw Monastery, an ancient wooden building with intricate carvings, which was once King Mindon's home. Continue to see "world's largest book", being the Buddhist Scriptures inscribed on marble slabs, at Kuthodaw pagoda. Visit Kyaukdawgyi pagoda at see a large Buddha statue carved out of a single block of local marble. Enjoy spectacular views at sunset from Mandalay Hill where there are interesting glass-studded temples. Return to your hotel.
Meals: Breakfast/ Lunch
Accommodation: Hotel in Mandalay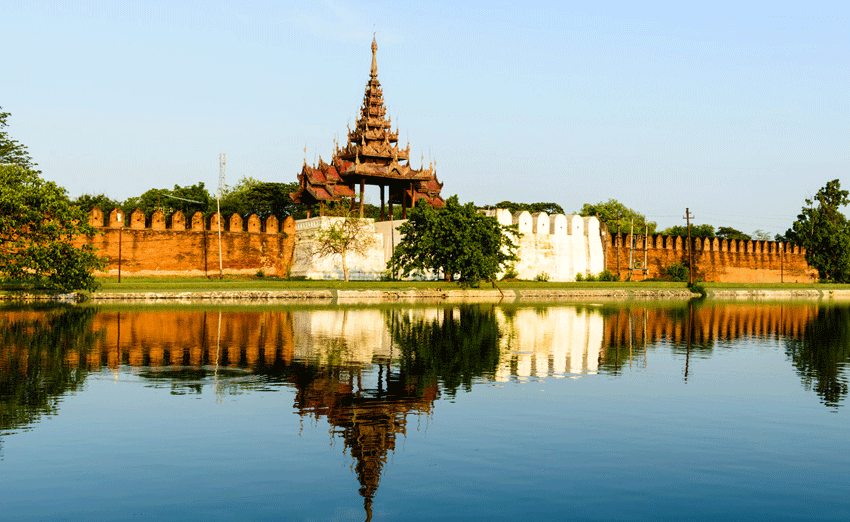 Day 5: Mandalay - Monywa
Breakfast at hotel. Leave Mandalay and cross Ava Bridge, which was built by British engineers, and visit picturesque Sagaing hills, this is perhaps the living center of Buddhist faith in Myanmar today and hillsides are dotted with numerous pagodas and monasteries. Continue to Monywa, before arriving; visit Thanboddhe Temple, richly decorated central stupa has no less than 845 smaller stupas around it. Inside the Zedi, you will see thousands of Buddha images (reportedly over 55,000) decorating every wall, archway and niche. The building in the compound have interesting jataka relieves and there is a huge reclining Buddha nearly.
In the afternoon, take a local ferry across the Chindwin River and drive to visit a sandstone cave system in the Phowin Taung. These caves, numbering more than one hundred, are full of Buddhist statues and murals. Most exhibit the Innwa style but some may date from the 14th century. Nearby visit Shweba Taung which features unique pavilions cut from the surrounding sandstone and filled with Buddha images.
Meals: Breakfast/ Lunch
Accommodation: Hotel in Monywa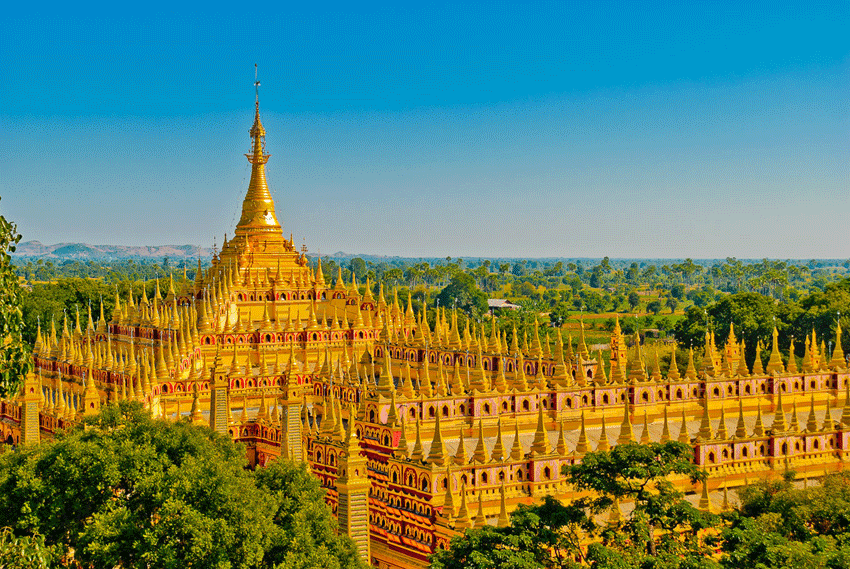 Day 6: Monywa - Bagan
Breakfast at hotel. This morning, leave Monywa; drive back towards Myinmu where to join river cruise, departing from Mandalay, at Myinmu's small jetty at bustling atmosphere. This cruise allows you to admire all daily life styles of people, living on the banks of Ayeyarwady. Relax on board and observe the nation's dry zone scenes with typical palm-trees and ground-nut fields.
Estimated arrival time at Bagan around late afternoon when the spectacular sunset could be seen from the ancient archeological site as memorable moment. Check into hotel. Free time.
Meals: Breakfast/ Lunch
Accommodation: Hotel in Bagan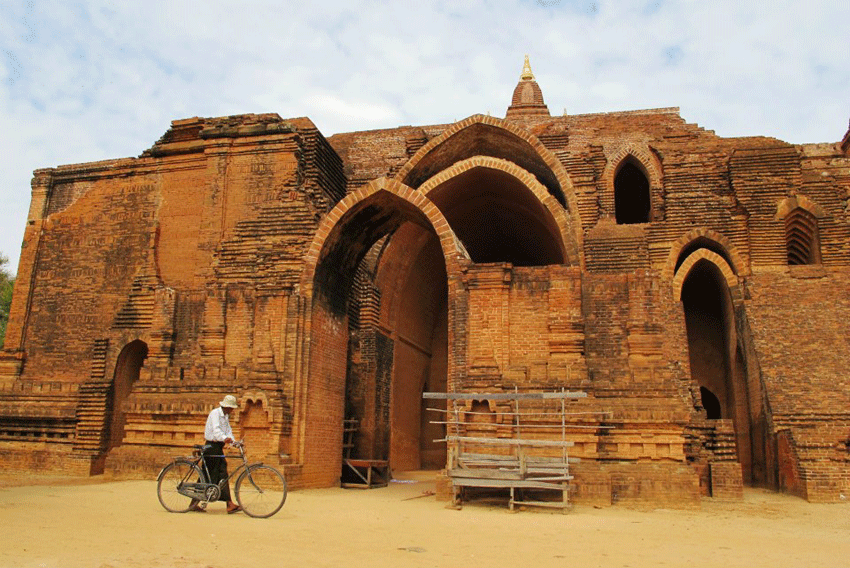 Day 7: Bagan Sightseeing
Breakfast at hotel. Full day Bagan sightseeing tour. Golden stupa of Shwezigon pagoda, which is Pagan's most important reliquary shrine – look out for images of 37 "Nats" housed in a small hall. See 12th century frescoes adorning the corridors of Kyansitta "Cave" temple. Continue to Gubyaukgyi, another "cave" temple with fine frescoes of "jataka tales". Next stop is Htilominlo, the last Bamar style temple built in Bagan, with old murals and friezes. Pass through Tharabar Gateway into Old Bagan.
In the afternoon, visit Ananda temple, a whitewashed masterpiece of Mon architecture with four standing Buddhas, and the adjacent brick monastery from the early Bagan era with well-preserved murals. Make a photo stop at the tallest temple measuring 61 meters –Thatbuinnyu known as ": temple of omniscience" and dating from 1091. Next, visit Dhamayangyi, a massive-looking temple dating from end of 12th century which is famous for its interlocking mortar less brickwork. Continue to Mingalarzedi, the last of the large pagodas built in the 13th century, representing the pinnacle of Bamar pagoda architecture". Then, visit local lacquer workshop to watch craftsmen skillfully making this most famous of Bagan handicrafts. Short ride by horse carts at the sunset time, and climb to the top of Shwesandaw stupa to enjoy, magnificent views over Pagan's temples and the Ayeyarwady River. Return to hotel after sunset.
Meals: Breakfast/ Lunch
Accommodation: Hotel in Bagan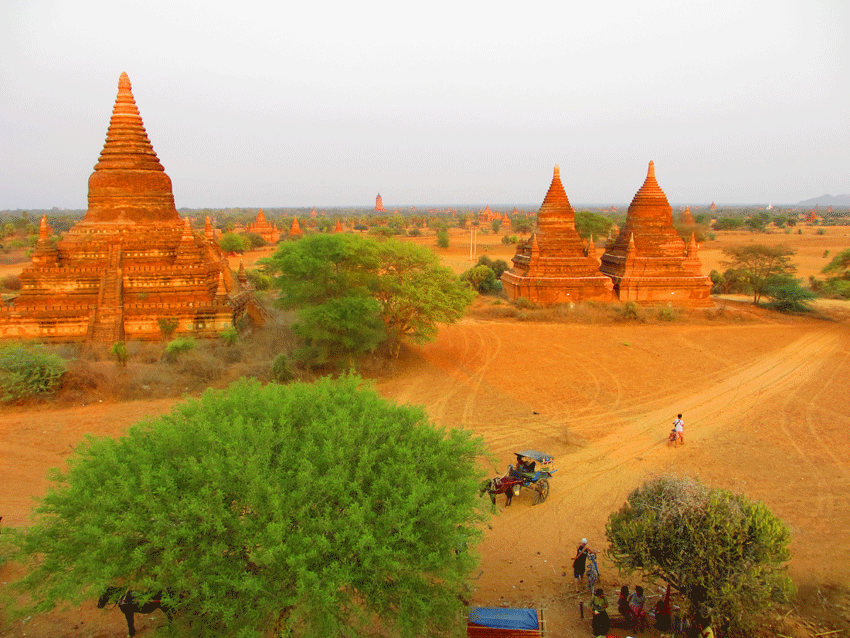 Day 8: Bagan Sightseeing
Early morning visit to Nyaung-U local market, and then continue to Sulamani, one of Pagan's great two-storied Bamar style temples which have 4 seated Buddha images. And visit Lemethna temple, topped by an Indian-style spire similar to Ananda. Then, the three shrines of Payathonzu which are connected by passages adorned with Mahayanist or Tantric mural paintings. Visit Nandamanya temple with fine frescoes and an unexpectedly erotic mural. Take a break from temples and wander through the village of Minnanthu to see how the local people live.
In the afternoon, visit Abeyardanar, temple with frescoes representing Bodhisattvas and the gods of Indian mythology. Continue to Nanpaya temple, built in the Mon style with intricate stone carvings, and said once to have been Manuha's residence. See the four Buddha images in Manuha's pagoda and then, stop at Myazedi stupa to see Myanmar's "Rosetta Stone", bearing inscriptions written in four languages"
Meals: Breakfast/ Lunch
Accommodation: Hotel in Bagan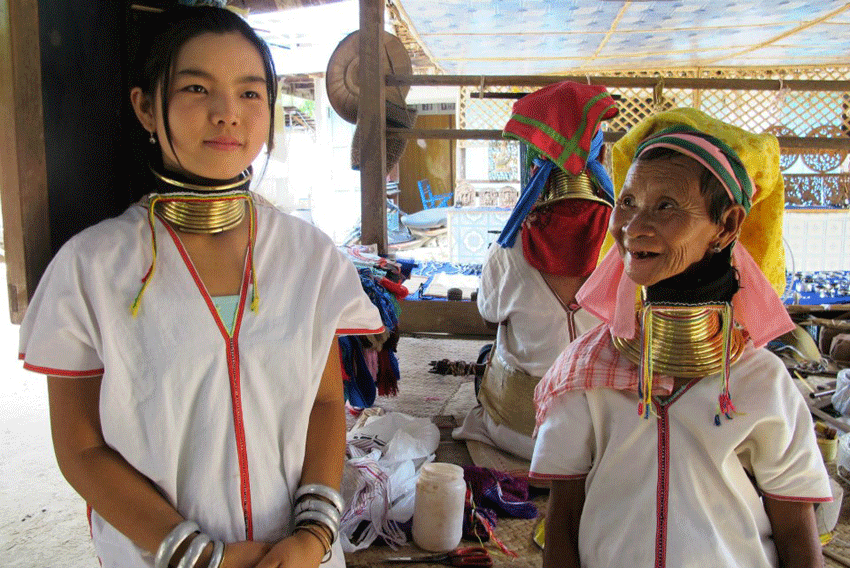 Day 9: Bagan – Heho – Pindaya – Inle Lake
Breakfast at hotel. Morning transfer to Bagan airport to fly to Heho, upon arrival drive towards Pindaya, located on the mountain top of 1,300 meters above sea level. Upon arrival, visit the place's famous natural limestone caves with sacred Buddha images inside which are named as ShweOoMin pagoda. Visit some local houses where families produce Shan paper and parasols. Also walking around the lake, under the colossal Banyan trees dated over 300 years old. Proceed to Inle Lake through beautiful landscape of Shan state. Transfer to hotel, located on the Lake by motorized boat. Check-in at hotel.
Meals: Breakfast/ Lunch
Accommodation: Hotel in Inle Lake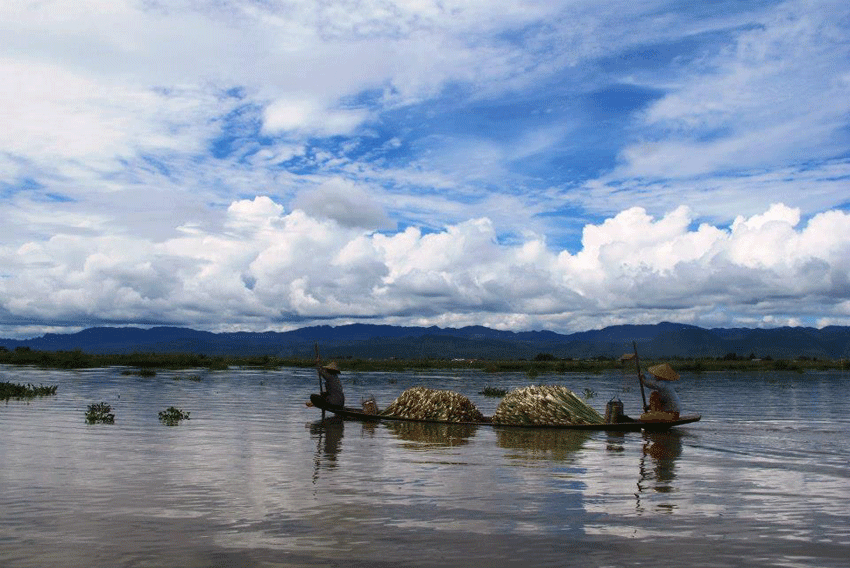 Day 10: Inle Lake
Breakfast at hotel. Enjoy the boat excursion on Inle Lake – "Photographer's dream, its calm waters are dotted with floating vegetation and fishing canoes, to which scenic high hills provide the perfect backdrop". See the lake's unique "leg rowers" –Intha people row standing up with one leg wrapped around an oar. Visit Phaung Daw Oo pagoda, the holiest religious site in Shan State. See traditional handicrafts-silk weaving on wooden handlooms and a blacksmith shop. Pass endless floating gardens, where fruits and vegetations are grown. Stop atNgaphe Kyaung monastery which is famous for its "jumping cats". Return to hotel on the moment of beautiful sunset.
Meals: Breakfast/ Lunch
Accommodation: Hotel in Inle Lake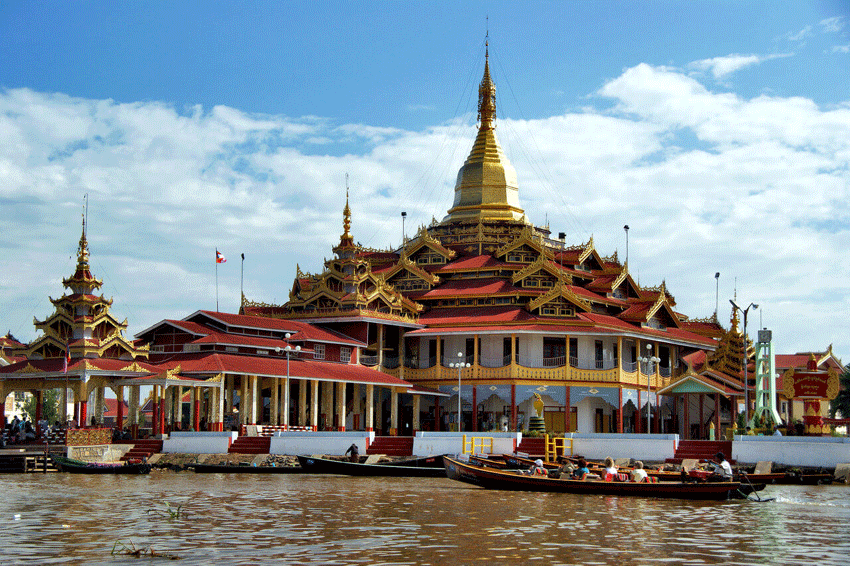 Day 11: Inle Lake – Heho – Yangon
Breakfast at hotel. Morning transfer to Heho for fly back to Yangon. Check-in at hotel. Visit to Kaba Aye (World Peace) Pagoda and Mahapasana Guha Cave, where the Sixth Buddhist Council took place. Precede to National Museum with an 8-meter-high Golden Lion Throne and Mandalay Royal Regalia. Continue to Yangon's oldest Chinese temple and the riverside Botataung Pagoda. Return to hotel.
Meals: Breakfast/ Lunch
Accommodation: Hotel in Yangon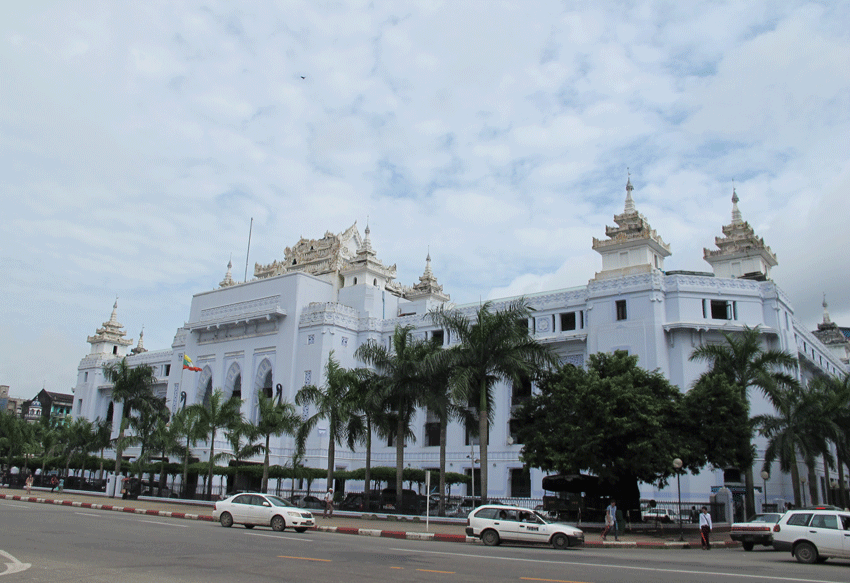 Day 11 : Yangon departure ?(Client's own tickets)
Breakfast at your hotel. Your time will be your own until your private car and driver arrives to take you to the airport for your departure flight. Your journey with The Time Journeys is now complete…
Meals: Breakfast
Accommodation: Time check out is 12:00
Have a nice journey !
The time journeys can arrange additional customized trips for you if the above itinerary does not match your expectations.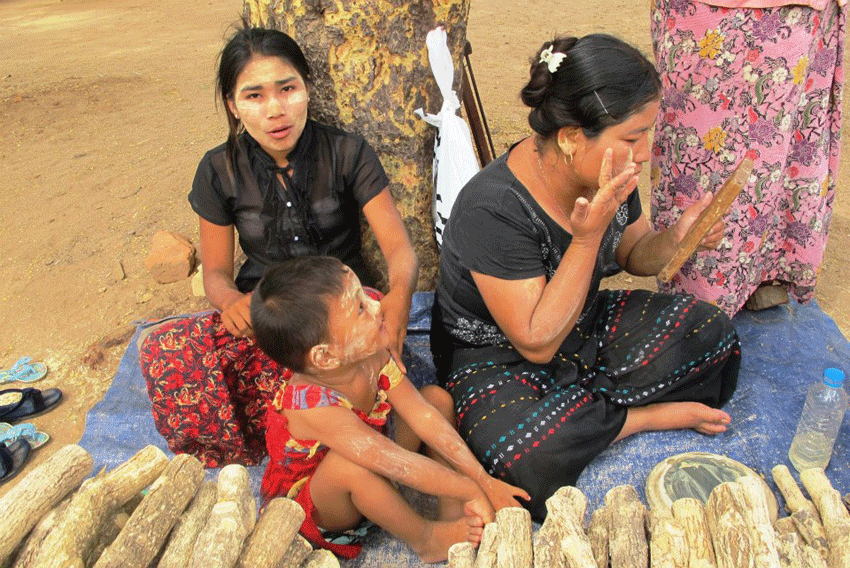 • Ground transportation in air-conditioned vehicle
• Meal as indicated on program
• Accommodation: twin or double sharing room at the mentioned hotels or similar ones
• Domestic Flight Tickets (Yangon – Mandalay, Bagan – Heho, Heho – Yangon)
• 2 PH7 water bottle &cold tower per day on coach
• Boat fares at Inle Lake
• Service of English speaking guide for sightseeing tour
• Sightseeing tour with entrance fees and transfer as specified
• Two small drinking water bottles per day ( except cruise excursion or free days)
• Government tax and service charge
• Boat excursions as mentioned
• Myanmar visa
• International air ticket & International airport tax
• Other meal, drink, Tip to guide and driver, personal expenses
• Supplement for French, Spanish, Italian and German speaking guide
• Balloon ride in Bagan fees