Day 1 : Arrive in Ho Chi Minh City on flight ? (Client's own tickets)
Upon arrival at Tan Son Nhat airport in Ho Chi Minh City and after clearing immigration and customs, meet with your guide with a welcome signboard marked "The Time Journeys's LOGO & your name". Then your tour guide will transfer to your hotel in centre. The rest of the day is at your leisure to explore city.
Meals: NA
Accommodation: Hotel in Ho Chi Minh City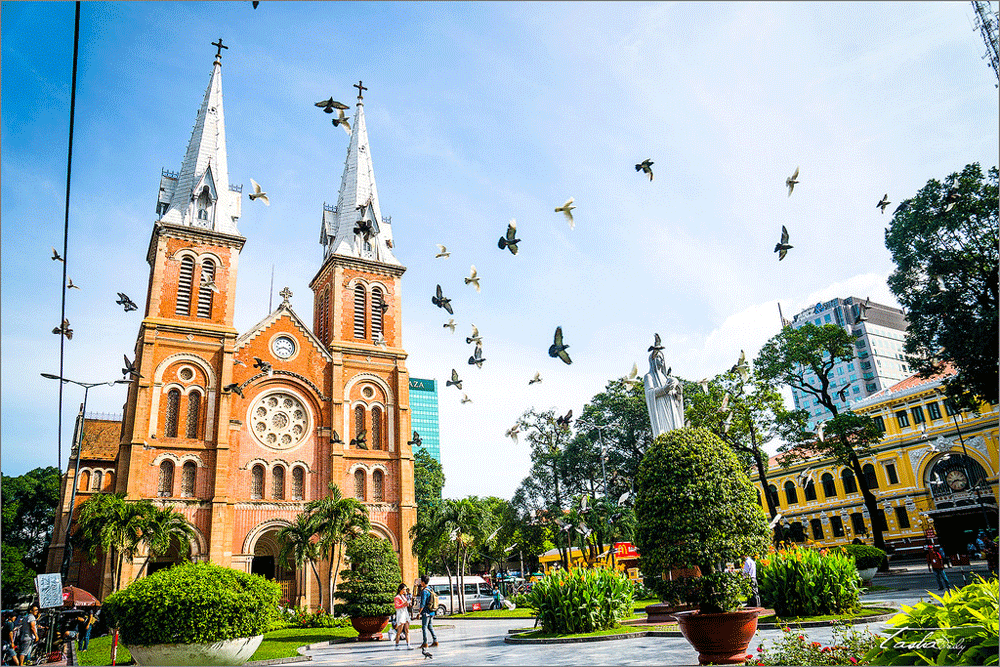 Day 2 : Ho Chi Minh City - Cu Chi Tunnels
Breakfast at your hotel, drive to the outskirt of Saigon to visit the Cu Chi Tunnels, located in an area known in the American War in Vietnam as the Iron Triangle, the remains of a real bloody battlefield, which is a complex network of tunnels built during the long years of wars. The walking visit of the tunnels is specially led by one of the former VCs who used to live and fight in Cu Chi during the wars, giving you an authentic look at the former Vietnam War to understand how the guerrillas lived and fought by visiting different bunkers for weapon, guard, Commander, meeting, kitchen, dinning, etc. After lunch in Cu Chi, driver back to Ho Chi Minh City for visiting the Post Office & Notre Dame Cathedral circa 1880, a highlight tour of the former Presidential Palace, once headquarters for the Saigon Government during the "Vietnam War" and the War Remnant Museum to have an overall picture of the most recent wars in country. Afterwards, continue the drive to visit Ben Thanh Market which is a big marketplace in the downtown area of the city and is one of the earliest surviving structures in Saigon since the French occupation. With over 3000 stalls in the market, there is nothing you cannot find in this oldest and busiest market in Vietnam.
Meals: Breakfast/ Lunch
Accommodation: Ho Chi Minh City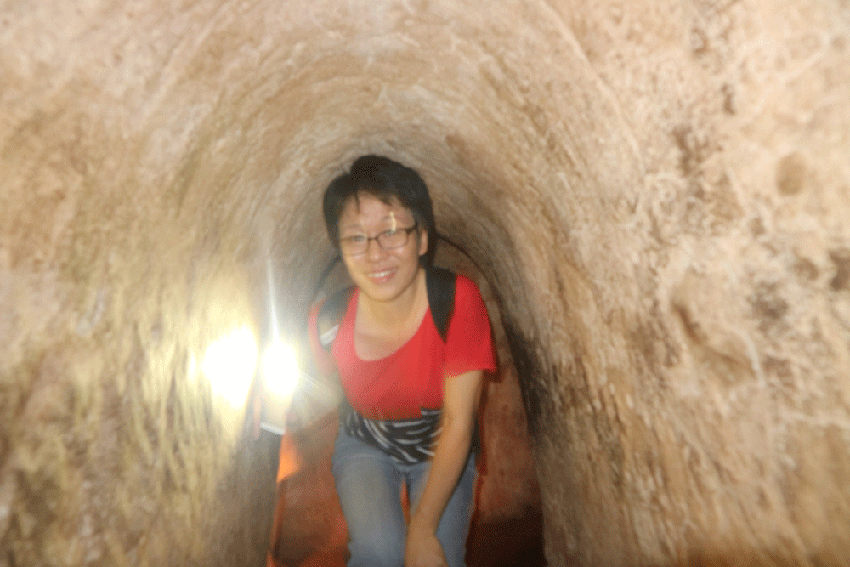 Day 3 : Ho Chi Minh City - Mekong Delta – Ben Tre – Can Tho
Breakfast at your hotel. The guide pick you up and transfer you to Ben Tre.  Arrive at Ham Luong dock, you will take a boat and then cruise along Ham Luong River, a tributary to the Mekong River. The cool breeze from the river and lush tropical islands along its banks will immediately get you excited to explore all the great things ahead.
Arrive and visit various local workplaces to find many wonderful examples of how local people use ageless techniques to create their crafts, including activated charcoal, dried coconut, handy coconut husk brooms, and many family businesses using coir, or coconut fiber, to create amazing art. Cruise around the village roads by "Xe Lôi", the local vehicle, which is a kind of motorized rickshaw. Kayak through the natural canals to get a unique experience of the peaceful beauty of the Mekong River as well as the rural life there. Having lunch at a local host house.
After lunch, you will have some time for relaxing. Then take a car to Can Tho. Arrive in Can Tho, check in hotel. Free time
Meals: Breakfast/ Lunch
Accommodation: Hotel in Can Tho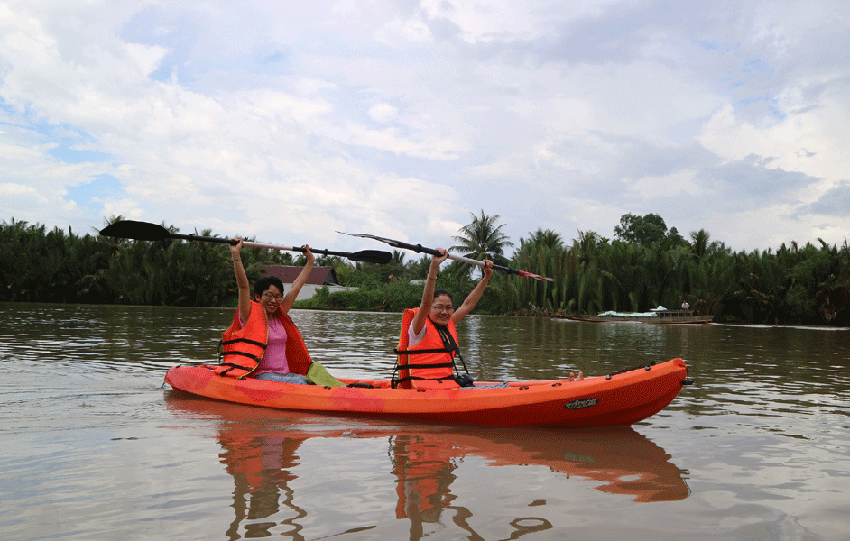 Day 4 : Can Tho – Cai Rang Floating Market – Chau Doc
Take a leisurely boat trip to explore the picturesque tributaries of the Lower Mekong river ( Bassac River), then proceed to visit Cai Răng floating market which are the liveliest in the whole religion. Have you ever tasted Vietnamese vermicelli soup? Well, now go and see how it is made. Then wander around the village and meet the friendly local people and experience how to cross a "Monkey bridge" which is built by only o­ne stem of bamboo. Visit the orchard garden. Stop for lunch.  Proceed to Chau Doc via Long Xuyen to visit the crocodile farm. Check in o­n arriving in Chau Doc. Admire the landscape from the Sam Mountain summit down the Vietnamese – Cambodian border, visit the Caved pagoda. Overnight in Chau Doc.
Meals: Breakfast/ Lunch/ Dinner
Accommodation: Hotel in Chau Doc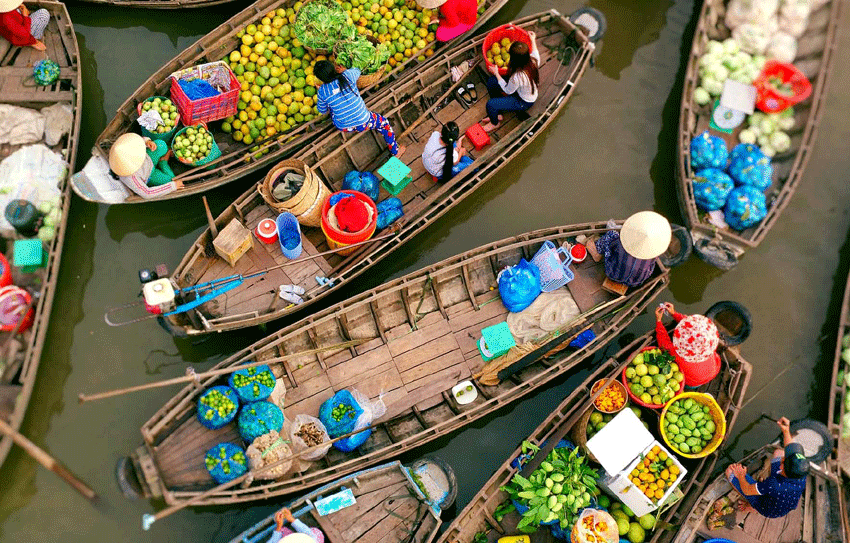 Day 5 : Chau Doc – Phnom Penh
Breakfast at your hotel. Take a morning speed boat ~ 4.5 hours to Phnom Penh. Visa on arrival at Cambodia border (20 usd each, 1 photo 3x4cm) local Cambodian guide meet at Phnompenh boat pier and transfer to hotel. After lunch, You will travel for visiting Killing fields and visit to Wat Phnom the historical capital of Phnom Penh. Proceed to the Independent Monument, Royal Palace, Silver Pagoda.
Meals: Breakfast/ Lunch
Accommodation: Hotel in Phnom Penh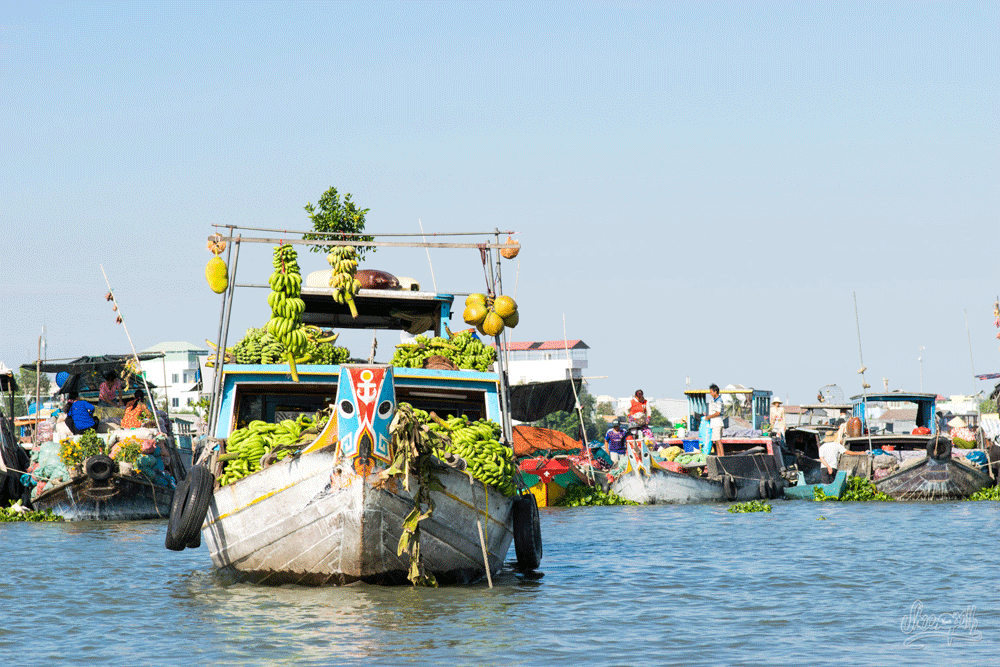 Day 6: Phnom Penh - Killing Field and Mekong Cruise – Siem Reap
8am, The peaceful stretch of green fields of Cheung Ek may not indicate what kinds of horrors have taken place there. Situated 17km from Phnom Penh town, Cheung Ek was made famous by the movie "The Killing Fields". Nowadays, a large memorial has been built to commemorate the 17,000 victims who died here under the reign of Khmer Rouge leader, Pol Pot. The remnants inside the memorial and the mass graves that dot the area remind you of the suffering of the victims. This journey into Cambodia's past will provide you with a background on the cruelty of the Khmer Rouge regime. It will also give you an appreciation of the struggle that Cambodian people have faced and their tremendous courage to move on and rebuild their nation. We continue to one of the city's lively open markets, Psar Toul Tom Pong, all called the "Russian Market", where anything and everything is for sales! In the later afternoon we enjoy the boat cruise 1 hour along the Mekong River to view the sunset. Then transfer to airport for a flight to Siem Reap. Arrive in Siem reap, the guide pick you up and transfer you to your hotel. Free time.
Meals: Breakfast/ Lunch
Accommodation: Hotel in Siem Reap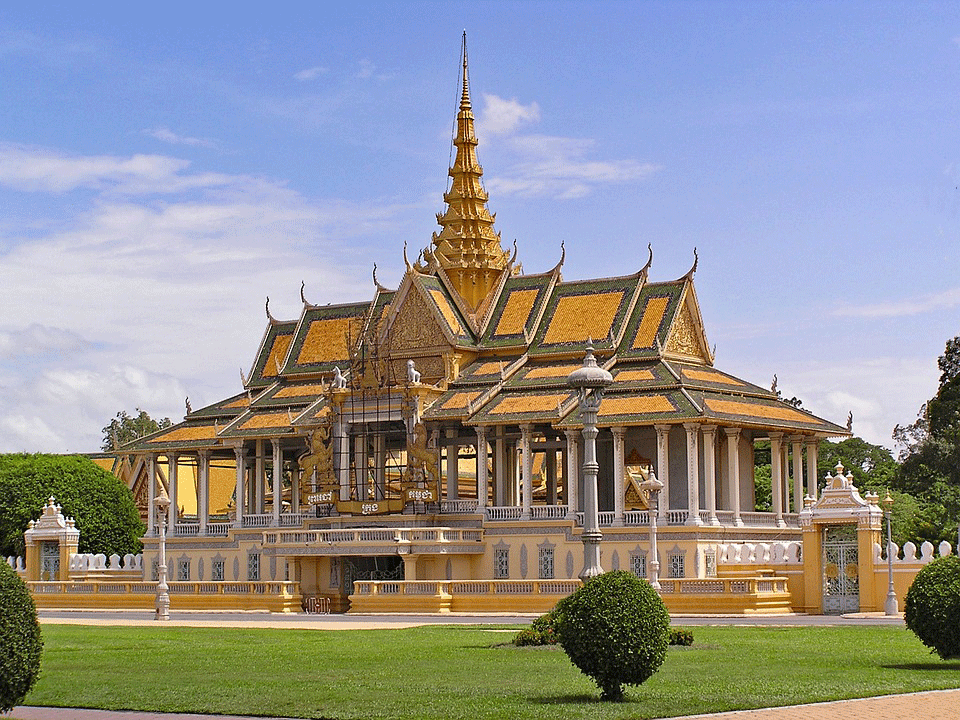 Day 7 : Siem Reap - Angkor Temple Highlighted
Beat the crowd early morning by 7am, visit the picturesque Ta Prohm that had nearly disappeared into the jungle and remains overgrown, an oddly haunting and exotic scene. The magnificent roots of a tree, pushing between the huge stone blocks of the temple in a sort of embrace, evoke feelings that you may remember forever. And continue to visit the intricately carved Khmer ruins at Angkor Wat – one of the world's most impressive ruins.  The temple still owns fine Apsara carvings in Angkorian era art. Lunch is own account.
Afternoon, explore the mysterious Royal city Angkor Thom. City & Bayon Its 54-tower temple is an awesome sight. At first glance it seems a shapeless mass of stone, but further scrutiny reveals a face, and then another and another until suddenly you are engulfed by the silent, heavy, enigmatic and silent gaze through half-closed eyes, staring out from a primitive and remote time. Further, visit to the surroundings of the complex including the Baphou, Elephant Terraces, Lepper King Terrace and Royal Place area. Then transfer back to your hotel.
Meals: Breakfast/ Lunch
Accommodation: Hotel in Siem Reap
Day 8 : Siem Reap – Angkor Outlying Temples
After your breakfast at your hotel. 7am, drive to the rural outskirt 35km from Angkor area to visit the smallest, but magnificent, Banteay Srei built in the 10th Century and dedicated to Shiva. The temple was the birthplace of Khmer classical style architecture and the bas-relief work is the best example of Khmer classical art remaining. The pink sandstone structure bears a series of striking and beautiful sculptures, lintels, pediments and friezes. Khmers say the temple must have been carved by women for the details are too fine for the hands of a man. Drive on to Chau Srei Vibol which is a small charming temple on top of a hill which hardly sees any visitors – very few non-locals have heard of it, and it is set just far enough away from the main tourist routes.
Lunch is hosted at the local family, a great chance to chat with the survivor former village chief during Khmer Rouge regime.
Continue to the ancient Khmer civilization site of Hariharalaya which flourished in the late 9th and earlier 10th centuries. These are the earliest temples in the Angkor area and are referred to the Rolous group we visit the main one called Bakhong temple.
Meals: Breakfast/ Lunch
Accommodation: Hotel in Siem Reap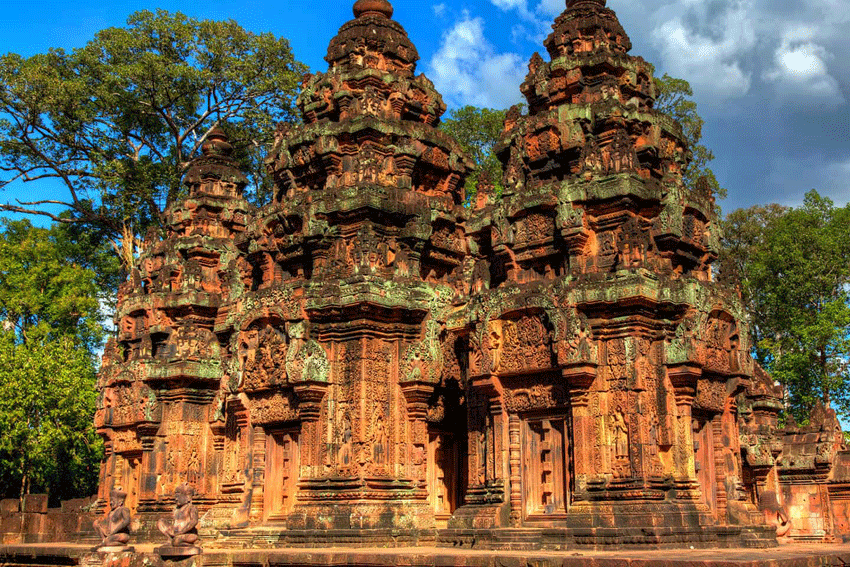 Day 9: Siem Reap – Tonle Sap Lake - Siem Reap Departure
Breakfast at your hotel. Drive to southern party of Siem Reap to embark on a short cruise on Tonle Sap Lake, Cambodia's biggest natural water body. The experience is wonderful as we pass by floating village, friendly children in small boats and fishermen at work and sunset at Phnom Krom. Then transfer you to the airport for your flight to next destination. Your journey with The Time Journeys is now complete…
Meals: Breakfast
Accommodation: Time check out is 12:00
Have a nice journey!
The time journeys can arrange additional customized trips for you if the above itinerary does not match your expectations.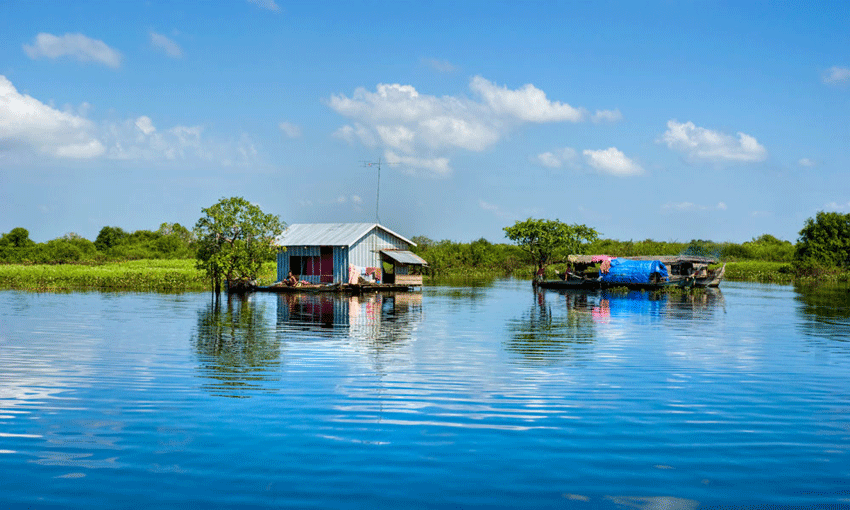 • Hotel accommodation in shared twin or shared double room with daily breakfast.
• Meals as mentioned in the itinerary (B = Breakfast, L = Lunch, D = Dinner).
• Tours and transfers by private air-conditioned vehicles.
• English speaking local guide
• All entrance fees as indicated in itinerary.
• Boat trips as mentioned in the itinerary
• Domestic flight: Phnom Penh – Siem Reap
• Speed boat from Chau Doc – Phnom Penh
• Cruise in Halong Bay
• Cold water and towel during tours
• Visa Arrival to Vietnam
• Visa stamp fee
• International air ticket:
• International airport tax:
• Other meal, drink, Tip to guide and driver, personal expenses
• Supplement for French, Spanish, Italian and German speaking guide