Day 1 : Hanoi – Halong Bay – Paradise Elegance Cruise
09:30 am: The limousine bus pick you up at your hotel and transfer you to Halong Bay. On the way to Halong Bay, the bus will stop over for 15minutes.
11.30 : Check-in at Paradise Lounge – Tuan Chau Island
Your first stop on arrival at Tuan Chau Island is the Paradise check-in lounge. Once you have been transferred to Paradise Elegance, you will be checked-in and given a short briefing about your cruise while sipping your welcome drink at Le Marin Restaurant.
13:00 : Lunch at Le Marin Restaurant
Lunch will be served in Le Marin Restaurant while Paradise Elegance cruises toward Halong Bay. You will pass the famous Fighting Cocks Islet, and Thien Cung and Dau Go Caves.
14:45 : Visit Sung Sot Cave. Your second stop of the day is the magnificent Sung Sot Cave, where you can take in the panoramic views across Halong Bay after visiting the cave. Alternatively, you can opt for an afternoon of pampering at Le Parfum Spa* or an afternoon tea in Le Piano Bar.
16:15: Visit Tung Sau Pearl Farm or kayak*
Your first excursion is a visit to Tung Sau Pearl Farm, an area in Halong Bay dedicated to growing pearls and practicing a handmade technique based on Vietnamese tradition and Japanese technology. This is also an ideal destination for kayaking. If this excursion doesn't take your fancy, stay on board and treat yourself to a delicious afternoon tea.
18:00: Cooking Demonstration and Pre-Dinner Sunset Cocktails*
At sunset, Paradise Elegance will anchor overnight at Coconut Tree Island. Watch a cooking demonstration on the L'Odyssée Sundeck while enjoying Pre-Dinner Sunset Cocktails* at the bar.
19:30: Dinner at Le Marin Restaurant
Savour a delicious dinner at Le Marin Restaurant, or choose a special spot anywhere else on board to dine. After dinner, indulge in drinks* and live music at Le Piano Bar, squid fishing, a spa treatment at Le Parfum Spa* or movies in your cabin.
(Please note that live music is not available on Mondays.)
Meals: Lunch, Dinner
Accommodation: Paradise Elegance Cruise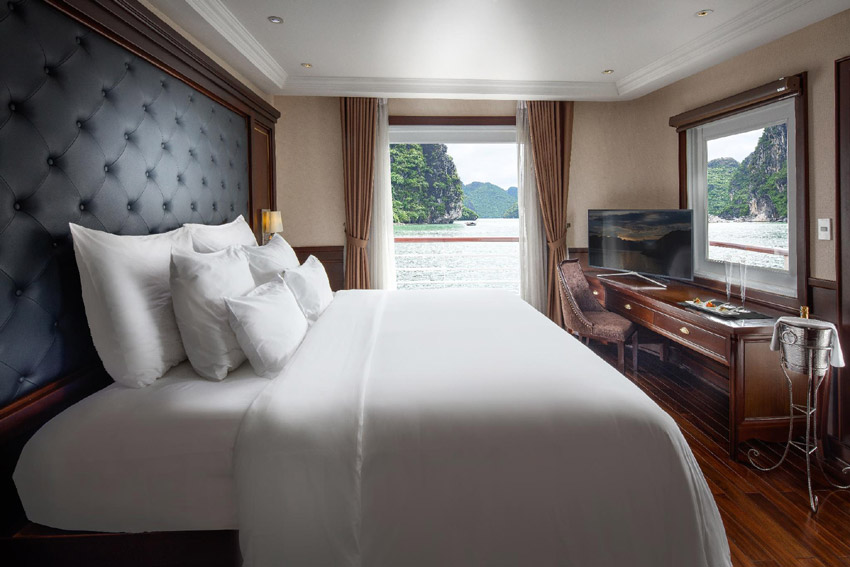 Day 2: Halong Bay - Hanoi
06:30: Tai Chi on L'Odyssée Sundeck
Watch the sunrise with a Tai Chi session on L'Odyssée Sundeck, followed by a light breakfast in Le Piano Bar.
07:30: Soi Sim Island
You will visit popular Soi Sim Island, where you can go swimming or hike to the top for another stunning, panoramic view of the Bay.
08:30: Breakfast Buffet at Le Marin Restaurant
Back on board, a buffet breakfast will be served as we once again cruise past Thien Cung and Dau Go Caves and Fighting Cocks Islet before your bill settlement, check-out and return to Tuan Chau Island.
10:30: Disembark at the Tuan Chau Marina
After disembarking from Paradise Elegance, a light lunch at the Paradise Suites Hotel is served for guests booked on the Paradise shuttle bus.
12:00: Return to Hanoi. The limousine bus pick you up and transfer you back to Hanoi. Drop you off at your hotel. Finish our services.
Meals: Breakfast
Accommodation: Non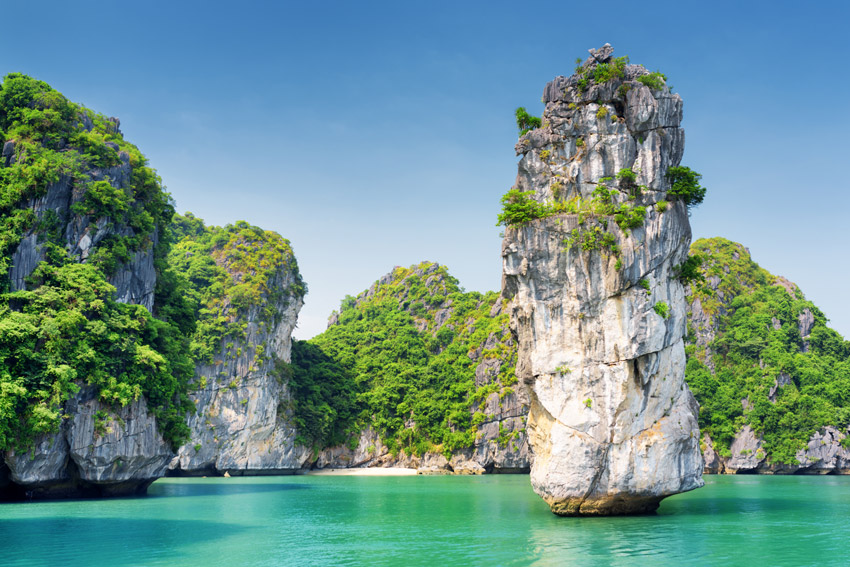 Have a nice journey 🙂
The time journeys can arrange additional customized trips for you if the above itinerary does not match your expectations.
Halong Bay is located in the Gulf of Tonkin in Quang Ninh Province. Halong cover an area of 43,400 ha and has over 1600 islands and islets, most of which are uninhabitated and unaffected by humans. Halong Bay forms a spectacular seascape of limestone pillars and is an ideal model of a mature Karst landscape developed during a warm and wet tropical climate.Discover the secrets of Halong Bay with Paradise Elegance Cruise: a sleek modern boat that defines sophistication. On your 2-Day, 1-Night cruise, you'll experience exceptional service, sumptuous food and beautiful cabins that rival this stunning World Heritage site.
– 1 night in Deluxe Balcony Cabin with air conditioning
– 1 Breakfast / 1 Lunch / 1 Dinner
– Complimentary regular tea and coffee on board
– Two bottles of water in cabin
– Cooking demonstration, afternoon tea and Tai Chi session
– Onboard insurance, taxes and service charges
– Entrance and sightseeing fees
– FREE Limousine Bus 2 ways (112$/ 2pax) & Kayak (20$/ 2pax)
– Airfare & airport transfers
– Visa arrangements
– Spa treatment services
– Beverages and tobacco
– Tips and other expenses not mentioned in inclusions