Day 1 : Arrive in Chiang Mai on flight ? (Client's own tickets)
Upon arrival at the airport in Chiang Mai and after clearing immigration and customs, meet with your guide with a welcome signboard marked "The Time Journeys's LOGO & your name. Then your tour guide will transfer to your hotel in centre. The rest of the day is at your leisure to explore city.
Meals: NA
Accommodation: Hotel in Chiang Mai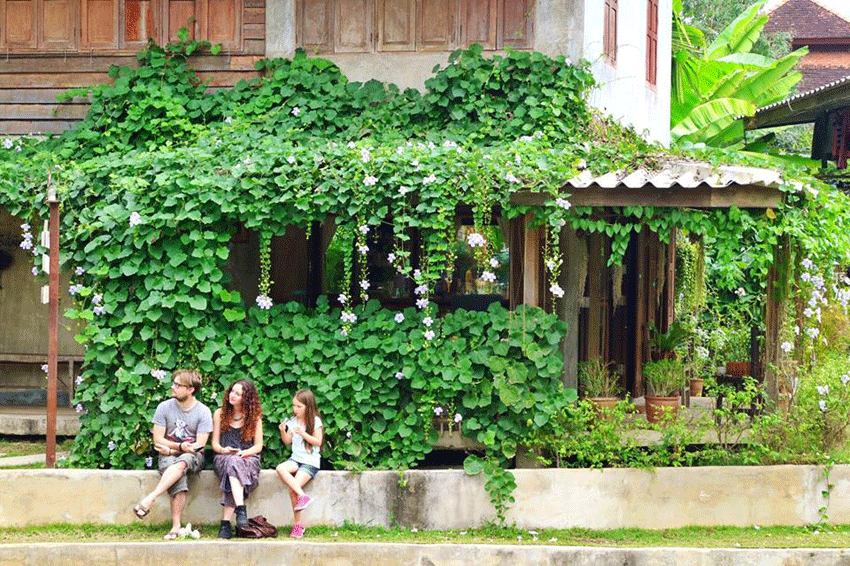 Day 2: Doi Suthep Temple – Meo Doi Pui – Local Handicraft Village
The journey begins with a visit to a Meo Hill tribe village. Since they originally migrated from South China, the physical features of the tribe are similar to Chinese. They prefer large families and average about 8 in a family. They practice shifting agriculture. Mostly planting upland rice, corn and soybeans. Generally you will find that the womenfolk's works harder than the men. A trait similar with most hill tribes. Their houses are not built on stilts rather directly on the ground. Due to its proximity to Doi Suthep this particular village is slightly more commercial and less traditional. Doi Pui was once famous for opium cultivation. It is 1500 meters above the sea level. Trip continues on to Wat Doi Suthep Temple. Driving up offers a panoramic view of Chiang Mai city. Later on, embark to the San Kamphaeng district, heart of the silk and cotton home industries, to witness the fascinating process of making and weaving these popular fabrics. Continue on the Bor Sang, the umbrella village, where the delicate Thai paper umbrellas are produced and hand-painted. From here onwards to Thai Celadon, about 6kms north of Chiang Mai, where exquisite ceramics are produced. These are modeled on the Sawankhalok pottery that used to be made hundreds of years ago at Sukhothai and exported all over the region. With its deep, cracked glazed finish the style is very distinctive and some pieces are exceptionally beautiful. Last but not least, are stops to observe the intricacies of both lacquer ware and silverware craftsmen.
Meals: Breakfast/ Lunch
Accommodation: Hotel in Chiang Mai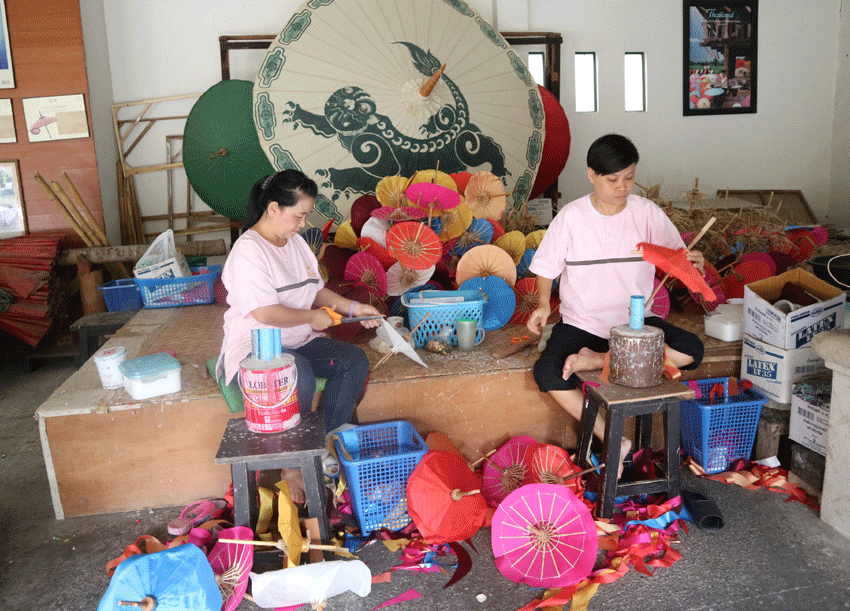 Day 3: Chiang Mai – Elephant at Works – Chiang Dao
After breakfast, drive to Chiang Dao Elephant Camp to see elephant at work. This tour starts at 8.30am. You are picked up from your hotel by your guide. Drive north of Chiang Mai to Chiang Dao (approx. 1hr) to the elephant camp. At the elephant camp you will see the elephants taking their morning bath and demonstrating some of their skills. Afterwards take an elephant ride for approx. 1 hr to a Lisu hilltribe village. The ride takes you through some of the lovely forest scenery and along the river. After lunch take a bamboo raft trip down the river for approx. 1 hr, admire the scenery and absorb the tranquility as you float down the river. After that, transfer to the hotel and free at leisure.
Meals: Breakfast/ Lunch
Accommodation: Hotel in Chiang Dao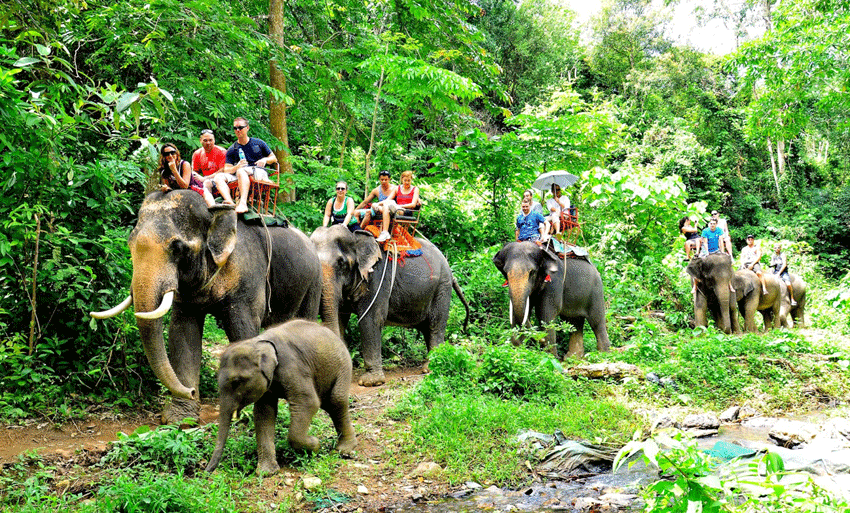 Day 4 : Chiang Mai – Pa Pae Hot Spring – Pai
After breakfast at the hotel, drive to Pai District. En-route at The Pa Pae Hot Spring where is located in the district of Mae Taeng approximately 40km from Chiang Mai City center along the route to the towns of Mae Malai and Pai. The hot springs are probably some of the nicest within Chiang Mai province – not at all over-commercialized and set within a well-maintained park in a very picturesque wooded valley. Down stream from the bubbling geysers, the rock formations form dams and make shallow pools for a pleasant hot soak. The park also offers camping and walks to nearby hill tribe villages. After that, transfer to the hotel and free on own.
Meals: Breakfast/ Lunch
Accommodation: Hotel in Pai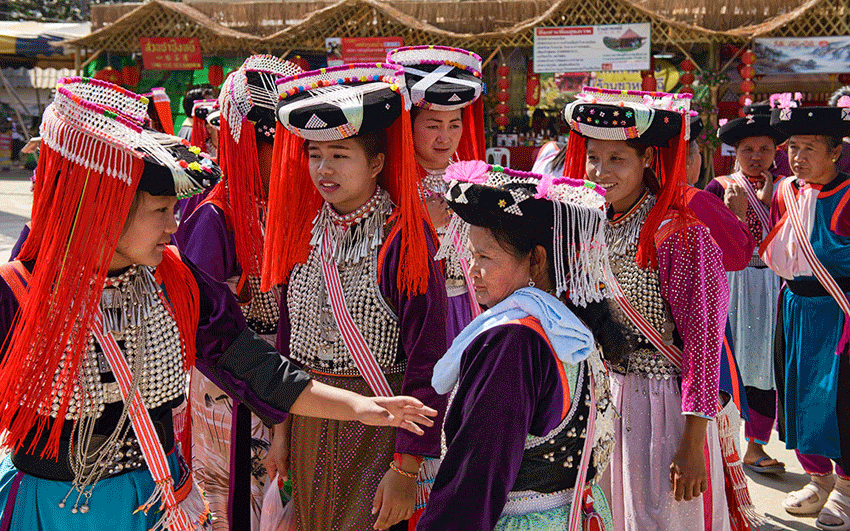 Day 5 : Pai – Hill Tribe Villages – Tam Lod, Tam Pla – Phu Klone
After breakfast, visit to the Hill tribe villages such as Lahu, Lisu and Karen before continue to Tam Lod Cave for excursion. Later on, embark to Tam Pla or Fish Cave for sightseeing. Lunch at a local restaurant before arriving in Mae Hong Son. Visit at Phu Klone Country Club for shopping the infamous products such as Mineral water spray, Phu Klone Mud Cleansing Bar, Cream Bath, Mud Spa Powder and etc. After that, continue to the hotel for check in and free at leisure.
Meals: Breakfast/ Lunch
Accommodation: Hotel in Pai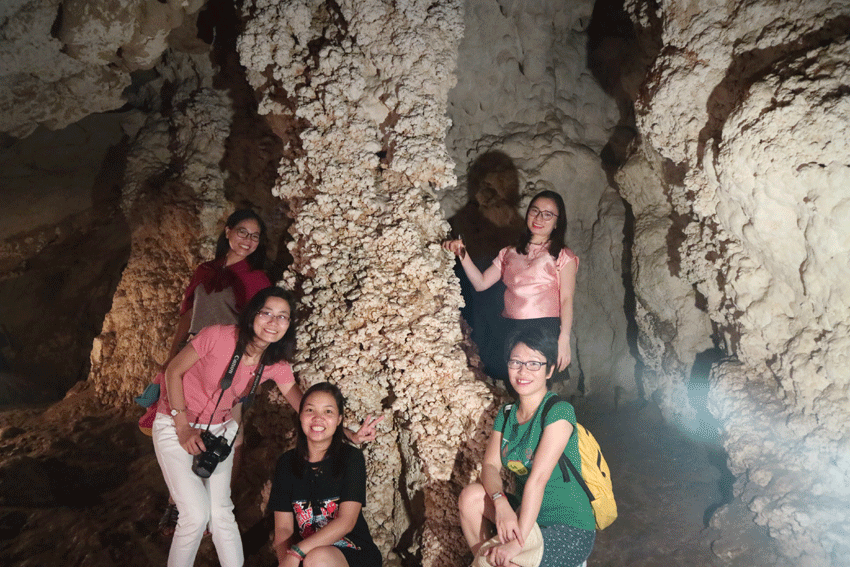 Day 6 : Baan Nai Soi – Mae Hong Son city temple tours – Chiang Mai.
Start in the early morning to visit the morning market area, where you can buy apart from the usual household items and foodstuffs, an array of insect food such as crickets, worms and ant eggs. Next Visit to Baan Nai Soi the unspoiled Karen village where is located close Myanmar Border. Then, drive to the Burmese style temples Wat Jong Kham and Wat Jong Klang located next to a large pond in southern end of town. Wat Jong Kham was build nearly 200 years ago by Shan people who make up about 50% of Mae Hong Sorn's population. Wat Jong Klang houses 100-year-old glass paintings and woodcarvings from Burma, depicting various lives of the Buddha. Then drive uphill to Wat Phra Dhat Doi Kong Moo, with its beautiful view over Mae Hong Sorn. After that, transfer to the airport for your flight to Chiang Mai. Upon arrival, transfer to the hotel and free on own after check in.
Meals: Breakfast/ Lunch
Accommodation: Hotel in Chiang Mai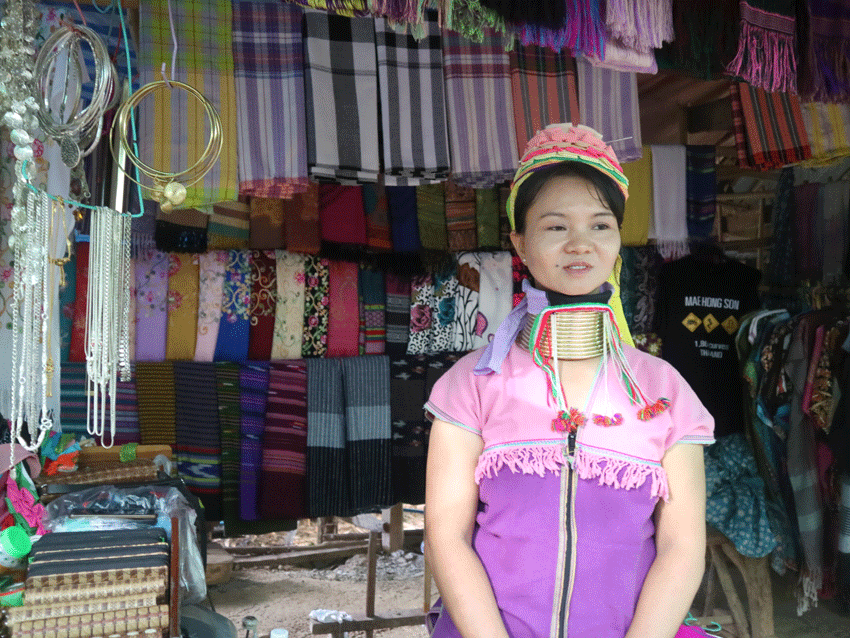 Day 7 : Chiang Mai – Golden Triangle – Chiang Rai
After breakfast at the hotel, drive to Tha Ton Temple to see the biggest Lord Buddha Image in the sitting position on the summit of Tha Ton hill. Later, proceed to Mae Sai Border Market, one     of the biggest border market where you can access to Tha Khi Lek Province, Myanmar. At the market, you will find a lot of goods, local products and many items which are imported from China & Myanmar such electronic devices, fruits, clothes, stones, jewelry, Jade and etc. Lunch at a local restaurant before we continue to the infamous Golden Triangle renowned for centuries as the centre of the opium trade. From a hill top viewpoint, marvel at the splendor of the mighty Mekong joining with the Ruak and forming the actual "Triangle" with Laos Burma and Thailand.
Meals: Breakfast/ Lunch
Accommodation: Hotel in Chiang Rai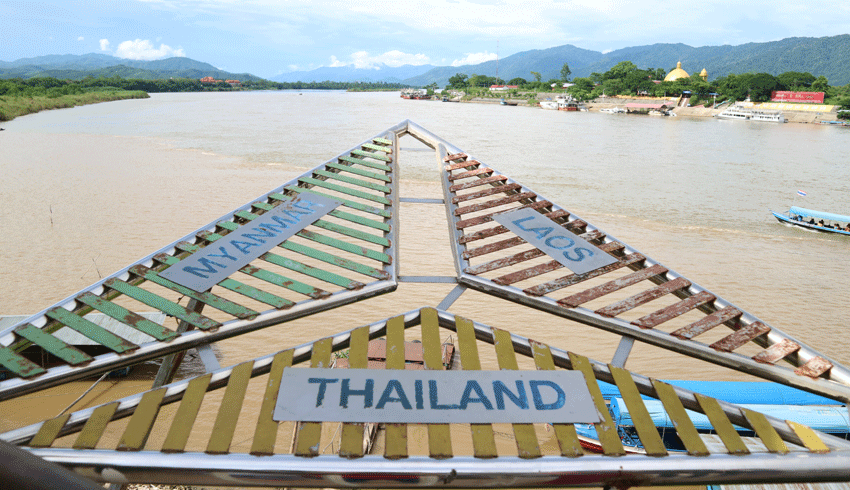 Day 8 : Chiang Rai – Doi Tung
Doi Tung or Switzerland of Asia, to visit Doi Tung, look no further outstanding than the Mae Fah Luang Garden which is situated at an elevation of 950 meters above sea-level, the Mae Fah Luang Garden consists of flowerbeds planted with a dazzling variety of flowers and shrubs from all corners of the world; among these, over 70 species of cool climate and temperate ornamental and flowering plants that thrive at high altitude are planted in the midst of native plants, leafy shrubs and perennials. A myriad of flowering plants come into bloom all year round and form a splendid hill-side tapestry that changes with the seasons. Then check in hotel. Free time,.
Meals: Breakfast/ Lunch
Accommodation: Hotel in Chiang Rai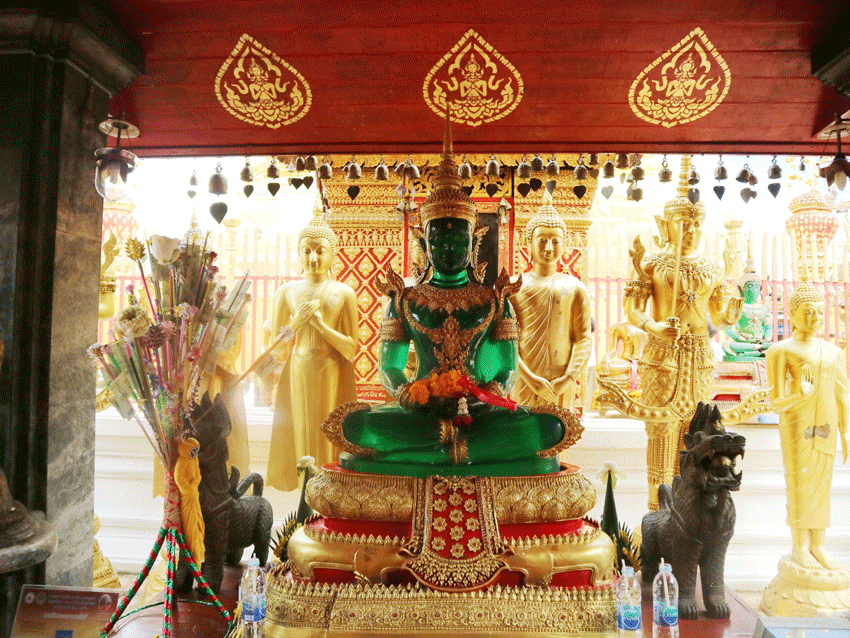 Day 9 : Chiang Rai – Bangkok - Hanoi
Breakfast at your hotel,  free time for relaxing until the guide pick you up and transfer you to airport for a flight to Bangkok. Arrive in Bangkok, transit to a flight to Hanoi. Arrive in Hanoi, the guide pick you up and transfer you to your hotel. Free time.
Meals: Breakfast
Accommodation: Hotel in Hanoi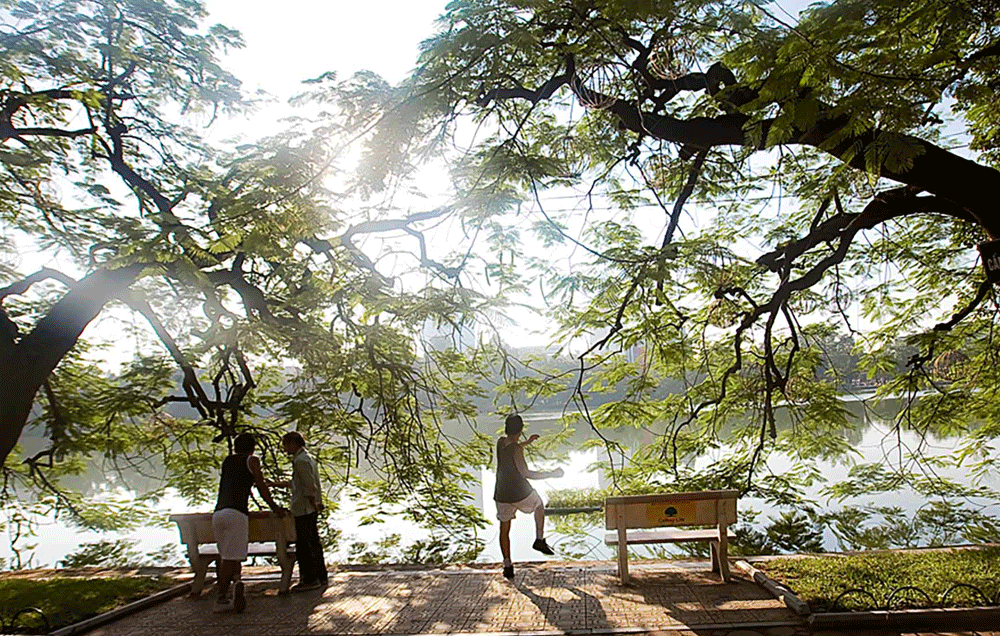 Day 10 : Hanoi city tour full day - Sapa
After breakfast, the guide pick you up for visiting the capital of Vietnam, a city that celebrated 1.000 years in 2010 has countless fascinating cultural and historic sites and our days' tour will visit the highlights.  See the grand and solemn mausoleum of Ho Chi Minh (viewed from outside; closed Mon and Fri and from Oct-Nov), the 'icon of Hanoi' – The One Pillar Pagoda, West Lake's Tran Quoc temple and Quan Thanh pagoda as well as the fascinating Ethnology Museum. Visit Flower market before Lunar New Year. Then you will take a cycle for visiting the bustling Old Quarter and at the end of the day – a water puppet performance.
8.00 pm – tour guide come to pick you up from your hotel then transfer to Ha Noi Railway Station and catch the night train to Lao Cai (overnight on the train, the cabin with 4 berths, soft sleeper and air-conditioning)., Arrive Lao Cai 5:30 or 6:00am.
Meals: Breakfast/ Lunch
Accommodation: On train to Sapa (4berths soft sleeper/ 1 cabin)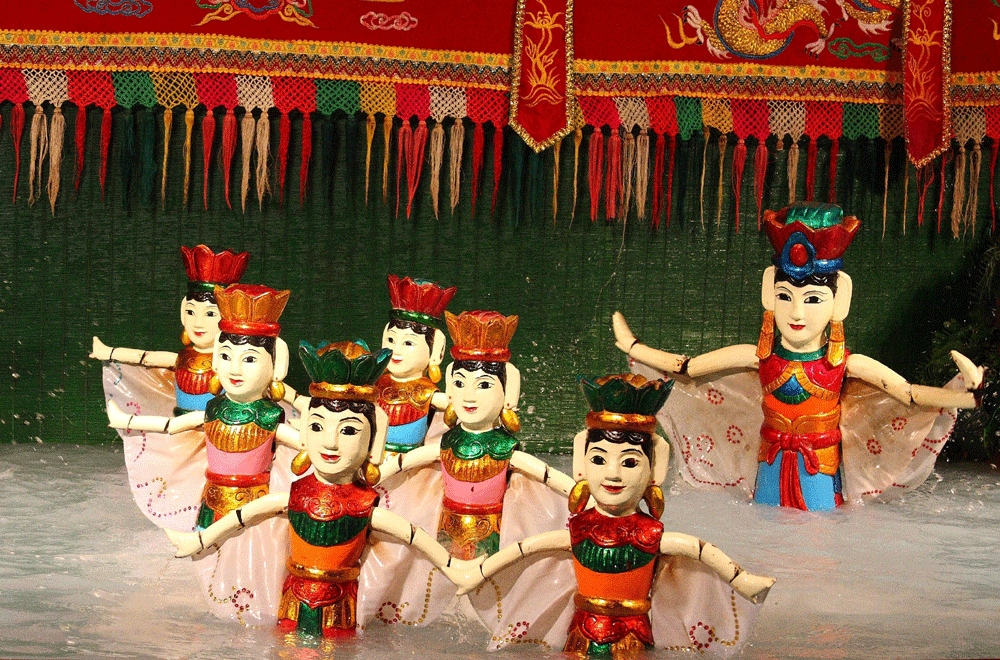 Day 11 : Sapa – Ma Tra – Ta Phin village
The train arrives at around 6:00 am. Look for the "TTJ's Logo & Your Name" sign when you exit the train station, as our guide will pick you up there and transfer to the former hill station of Sapa. In the terraced hills and mountains of this area, the expansive green landscape is enlivened by the colors of its hill tribe population – flashes of shining silver jewelry from the necks and wrists of indigo-clad H'mong and the scarlet hues of the turbans worn by the Red Dao can be seen. It is here you will find hands stained with color from fabric dyes and shades of blue, red and green intricately embroidered and stitched into jackets, waistcoats, pants, skirts, caps, purses and leggings.
After having breakfast at local restaurant, Walking through the town for about 20 minutes before turning to a dirt road to Ma Tra Village, where inhabited by Black H'mong ethic. Continue trekking up the village and getting through paddies fields will lead you to an ancient Catholic abbey, built by French colonists. Walk 2 km more to reach Ta Phin Village for exploring the daily life of Red Dzao. Here you have a good choices to buy woven and textile brocades, which is made by ethic people and having picnic lunch before exploring village and Ta Phin Cave and small hamlet of Black H'mong people. At the end of day, return to Sapa. Rest of the afternoonand evening at leisure.
Meals: Breakfast/ Lunch
Accommodation: Hotel in Sapa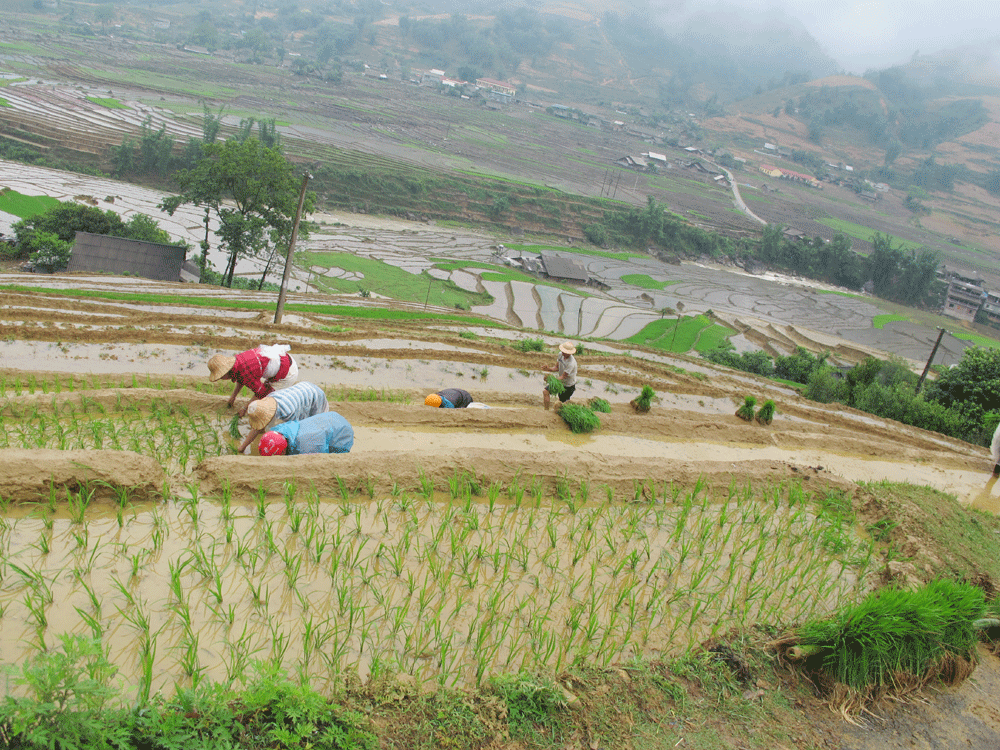 Day 12: Sapa – Lao Chai – Ta Van Village - Hanoi
Following a hotel breakfast, meet your guide in the morning and depart on a second trek from the town of Sapa to Golden Stream valley. Today's trekking offers more stunning views of rice terraces and gardens as well as Mt Fansipan, whose summit rises 10,312 feet (3,143 meters) above sea level.
After crossing a suspension bridge, marvel at the breathtaking senery as you continue through the Golden Stream valley, stopping at Lao Chai village for lunch. After your meal, follow your guide on a walk through this village where Black Hmong people reside, and continue on to Ta Van village, home to the Dzay tribe. This part of the hike is relatively easy, though the trail can be quite slippery if it rains, so good footwear is recommended. You'll visit with some local families and learn about their daily lifestyle and fascinating culture, before departing to the main road to meet up with your driver and return to Sapa.
A shower is available at the hotel, followed by an afternoon free to explore the town on your own. In the evening, The car will pick you up for the night train back to Hanoi. Arrive at Lao Cai train station and take the night train back to Hanoi.
Meals: Breakfast/ Lunch
Accommodation: On train to Hanoi (4berths soft sleeper/ 1 cabin)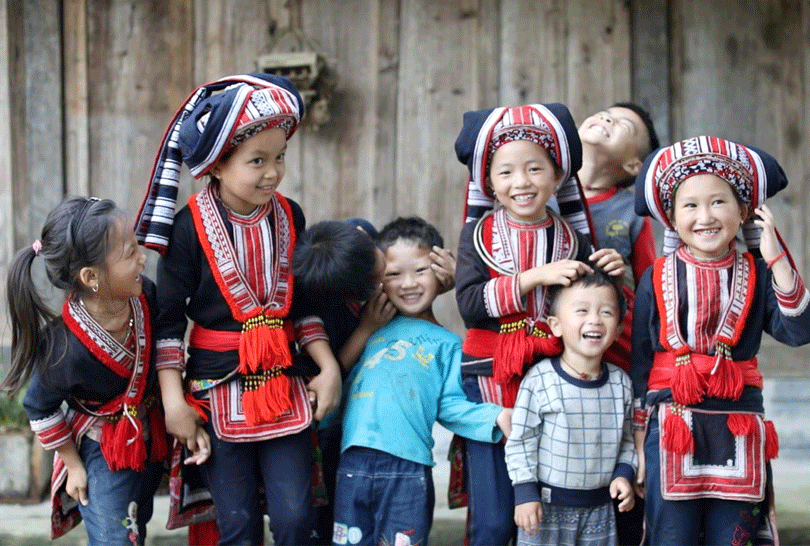 Day 13: Hanoi – Halong Bay
Early in the morning arrive in Hanoi, the guide pick you up at transfer you to take a day use room for relaxing.
We'll pick you up in Hanoi by 8:00am and drive through the verdant Red River Delta to make our way to the famous UNESCO World Heritage site, Halong Bay. You'll board a luxury junk ship for an overnight cruise– while you relax on-board you can marvel at the incredible limestone karsts that jut out of the sea and the thousands of jungle-covered islands that seem to float on the waves. The turquoise waters of the Gulf of Tonkin swirl around hidden grottoes and ancient caves to create an enchanting, timeless world.
We'll serve you a fresh seafood lunch while you sit back and relax as you enjoy the incredible view with a drink in your hand. We'll take you to a traditional fishing village where the locals have created an entire town on the decks of their boats, then you can explore Tien Ong Cave before returning to the cruise for cocktails, canapés, and a spectacular sunset. End your day with a romantic, candlelit dinner.
Meals: Breakfast/ Lunch/ Dinner
Accommodation: Cruise in Halong Bay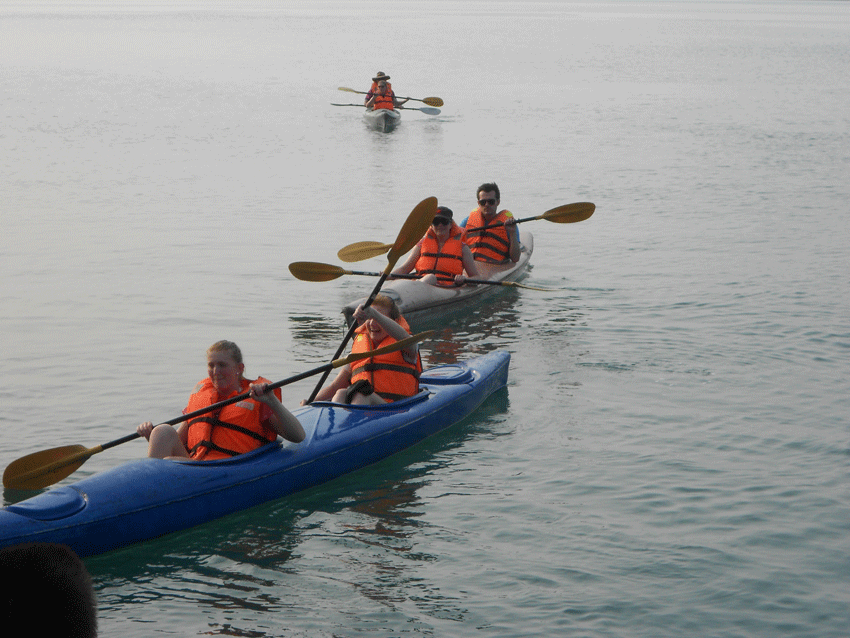 Day 14: Halong Bay - Hanoi
Begin the day with a Tai Chi class on deck in the early morning mist or just admire the beautiful scenery as the sun rises over the azure waters. Choose between an excursion to a secluded island with a sandy beach for a swim or join the chef for a cooking demonstration to learn more about Vietnamese cuisine. Enjoy a leisurely brunch while your junk cruises Halong Bay, passing islets and caves as you make your way back to the dock.  Arrive in Hanoi, free time.
Meals: Brunch
Accommodation: Hotel in Hanoi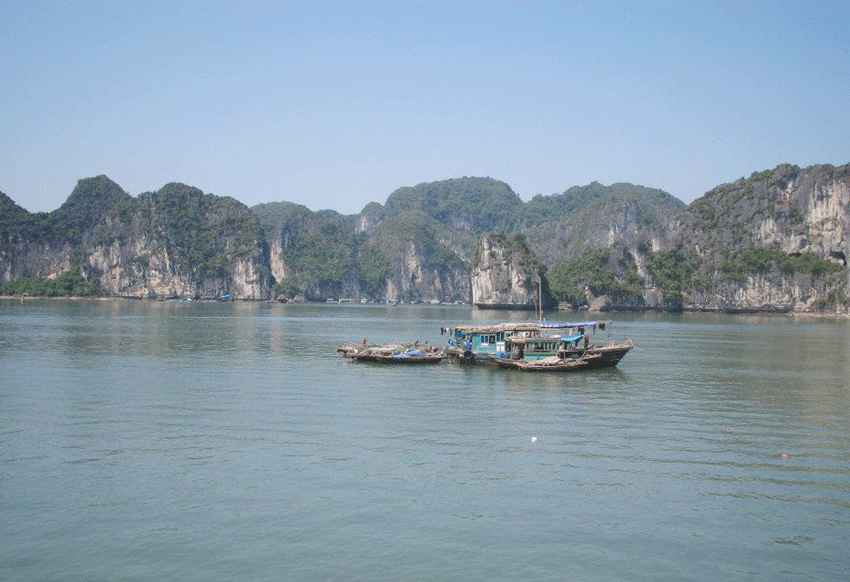 Day 15: Hanoi departure via flight ? (Clients' own tickets)
Having breakfast at your hotel. Your time will be your own until your private car and driver arrives to take you to the airport for your flight to next destination. Your journey with The Time Journeys is now complete…
Meals: Breakfast
Accommodation: Time check out is 12:00
Have a nice journey!
The time journeys can arrange additional customized trips for you if the above itinerary does not match your expectations.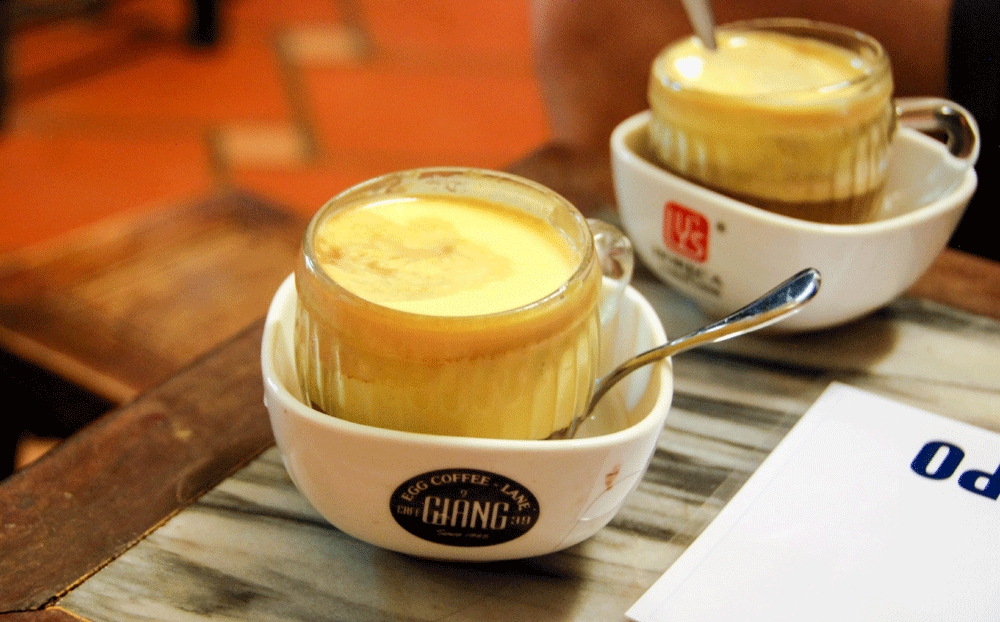 • Hotel accommodation in double/ twin Room with daily breakfast.
• Meals as mentioned in the itinerary (B = Breakfast, L = Lunch, D = Dinner).
• Tours and transfers by private air-conditioned vehicles.
• English speaking local guide
• All entrance fees as indicated in itinerary.
• Boat trips as mentioned in the itinerary;
• Cold water and towel during tours
• Return train ticket Hanoi – Sapa – Hanoi (sharing cabin)
• Cruise in Halong Bay
• Visa on arrival to Vietnam
• Visa stamp fee
• International air ticket:
• Other meal, drink, Tip to guide and driver, personal expenses
• Supplement for French, Spanish, Italian and German speaking guide