Day 1 : Arrive in Hanoi on flight ? (Client's own tickets)
Upon arrival at the Noi Bai airport in Hanoi and after clearing immigration and customs, meet with your guide with a welcome signboard marked "The Time Journeys's LOGO & your name. Then your tour guide will transfer to your hotel in centre. The rest of the day is at your leisure to explore city.
Meals: NA
Accommodation: Hotel in Hanoi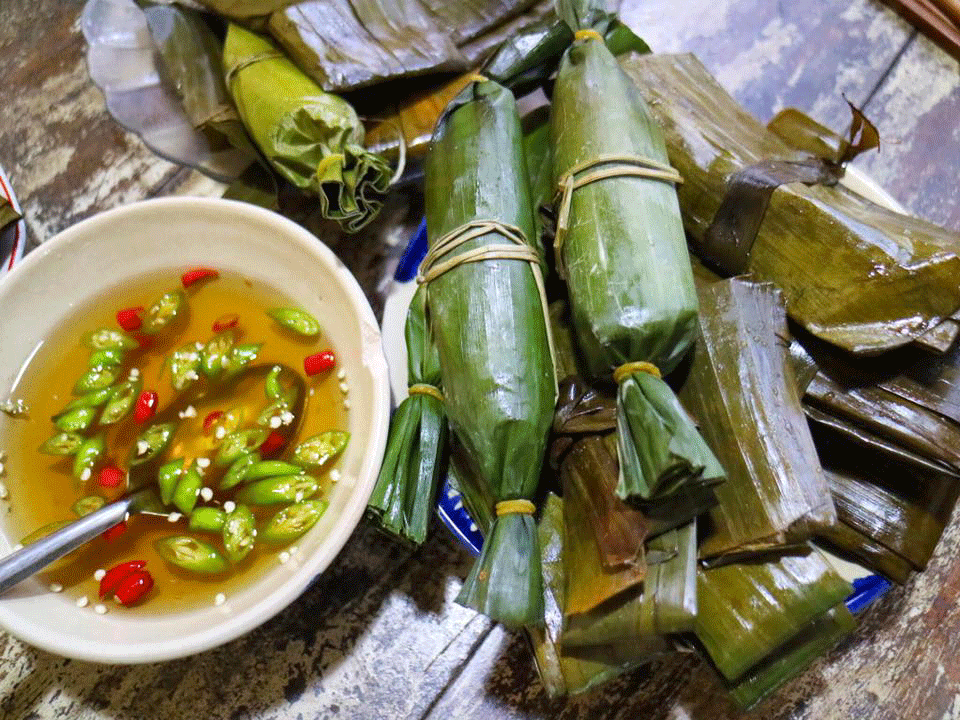 Day 2 : Hanoi fully day city tour
Today, your journey will to see the capital of Vietnam, a city that celebrated 1.000 years in 2010 has countless fascinating cultural and historic sites and our days' tour will visit the highlights.  See the grand and solemn mausoleum of Ho Chi Minh (viewed from outside; closed Mon and Fri and from Oct-Nov), the 'icon of Hanoi' – The One Pillar Pagoda, the beautiful Temple of Literature, West Lake's Tran Quoc temple and Quan Thanh pagoda as well as the fascinating Ethnology Museum. Enjoy lunch at local restaurant.
Follow your guide, you will weave through the bustling Old Quarter's 36 streets. All named for the producs historically sold here.  After visiting Hoan Kiem Lake and Ngoc Son Temple, you will enjoy a water puppet show for a look at traditional performance art in Vietnam before back to your hotel. Free time for visiting in the evening.
Meals: Breakfast/ Lunch
Accommodation: Hotel in Hanoi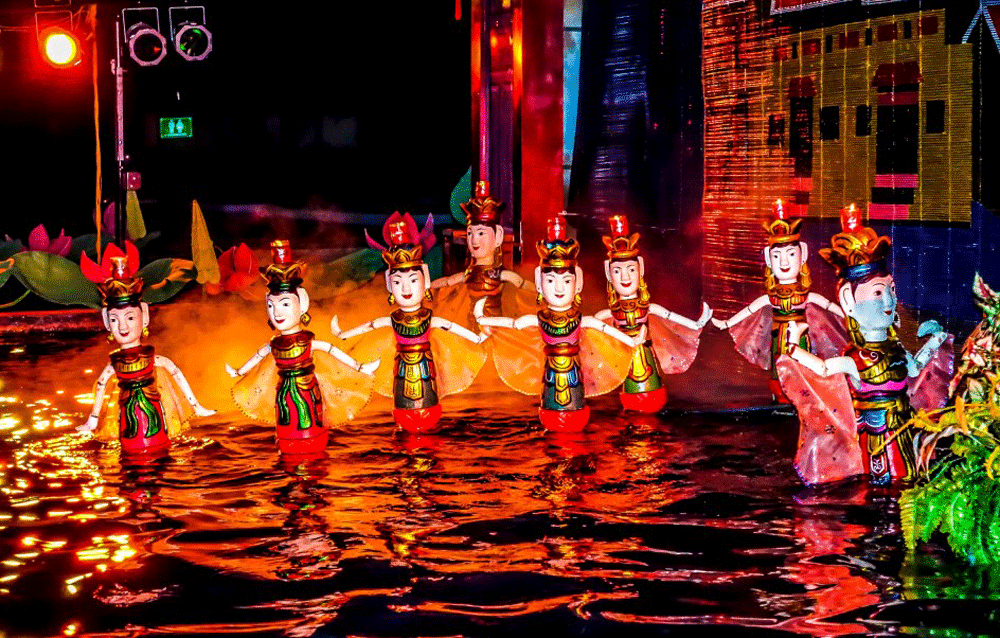 Day 3 : Hanoi city – Halong Bay
Breakfast at your hotel. We'll pick you up in Hanoi by 8:00am and drive through the verdant Red River Delta to make our way to the famous UNESCO World Heritage site, Halong Bay. You'll board a luxury junk ship for an overnight cruise– while you relax on-board you can marvel at the incredible limestone karsts that jut out of the sea and the thousands of jungle-covered islands that seem to float on the waves. The turquoise waters of the Gulf of Tonkin swirl around hidden grottoes and ancient caves to create an enchanting, timeless world.
We'll serve you a fresh seafood lunch while you sit back and relax as you enjoy the incredible view with a drink in your hand. We'll take you to a traditional fishing village where the locals have created an entire town on the decks of their boats, then you can explore Cave before returning to the cruise for End cocktails, canapés, and a spectacular sunset. your day with a romantic, candlelit dinner.
Meals: Breakfast/ Lunch/ Dinner
Accommodation: Cruise in Halong Bay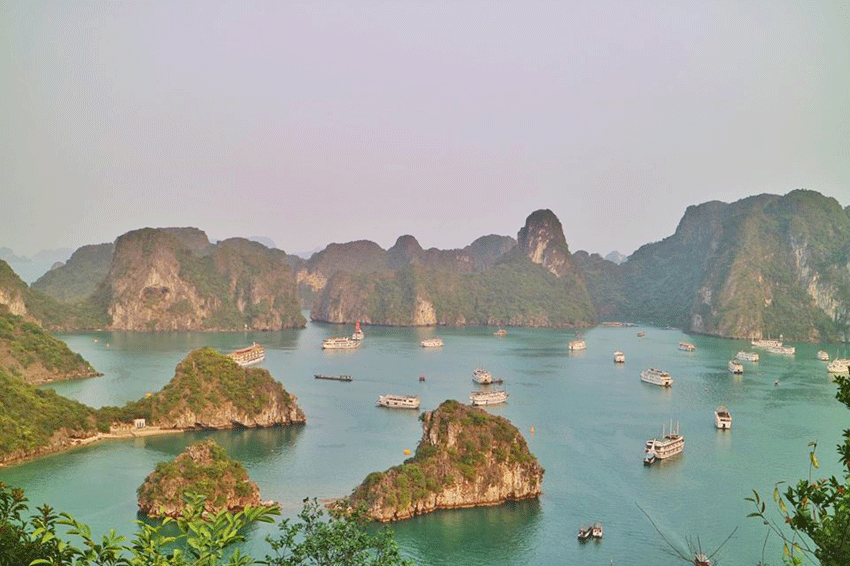 Day 4: Halong Bay – Hanoi – Ho Chi Minh City (Take a domestic flight)
Begin the day with a Tai Chi class on deck in the early morning mist or just admire the beautiful scenery as the sun rises over the azure waters. Choose between an excursion to a secluded island with a sandy beach for a swim or join the chef for a cooking demonstration to learn more about Vietnamese cuisine. Enjoy a leisurely brunch while your junk cruises Halong Bay, passing islets and caves as you make your way back to the dock.
Say goodbye to the crew at main harbor and your driver will meet you when you disembark and transfer you to Noi Bai airport for your flight to Ho Chi Minh City.  When you arrive in Ho Chi Minh City, you will pick you up and transfer you to your hotel.
Meals: Breakfast/ Brunch
Accommodation: Hotel in Ho Chi Minh City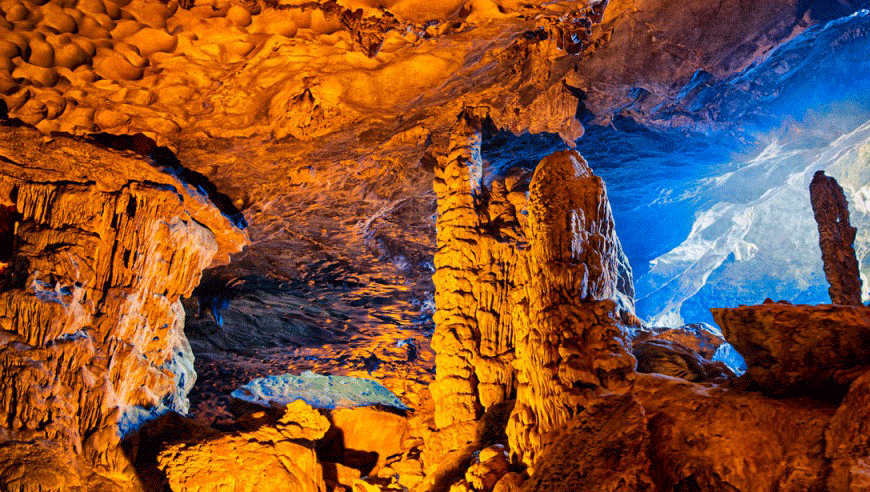 Day 5 : Ho Chi Minh City - Cu Chi Tunnels
Breakfast at your hotel, drive to the outskirt of Saigon to visit the Cu Chi Tunnels, located in an area known in the American War in Vietnam as the Iron Triangle, the remains of a real bloody battlefield, which is a complex network of tunnels built during the long years of wars. The walking visit of the tunnels is specially led by one of the former VCs who used to live and fight in Cu Chi during the wars, giving you an authentic look at the former Vietnam War to understand how the guerrillas lived and fought by visiting different bunkers for weapon, guard, Commander, meeting, kitchen, dinning, etc. After lunch in Cu Chi, driver back to Ho Chi Minh City for visiting the Post Office & Notre Dame Cathedral circa 1880, a highlight tour of the former Presidential Palace, once headquarters for the Saigon Government during the "Vietnam War" and the War Remnant Museum to have an overall picture of the most recent wars in country. Afterwards, continue the drive to visit Ben Thanh Market which is a big marketplace in the downtown area of the city and is one of the earliest surviving structures in Saigon since the French occupation. With over 3000 stalls in the market, there is nothing you cannot find in this oldest and busiest market in Vietnam.
Meals: Breakfast/ Lunch
Accommodation: Ho Chi Minh City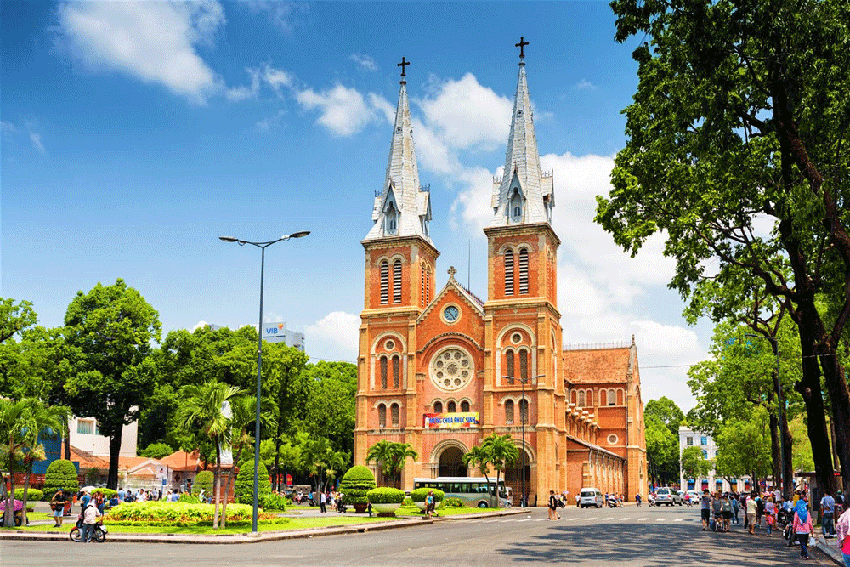 Day 6 : Ho Chi Minh City - Mekong Delta – My Tho – Can Tho
Leave Ho Chi Minh city, enjoy the scenic journey along the National Highway bordered by green rice fields. On arrived at My Tho, visit Vinh Trang pagoda, take a leisurely boat ride along the river, view stilt houses, fruit plantations and fishing villages along the river bank. Proceed to Tortoise islet, have lunch in the orchard garden. Then a boat ride to An Khanh – a less touristy attraction in Ben Tre, enjoy cruising on a hand-rowed sampan under the shade of the water coconut trees along natural canals. Have a short cycling tour (applied for private tour/if  time permitted) then enjoy seasonal fruit & honey tea to the sound of "Southern Vietnamese folk music", performed by the locals. Visit a family business which epitomizes the idyllic rural lifestyle, taste delicious coconut candy & observe the pastoral life as you roam through fruit plantations and villages.  . In the evening we'll head to Can Tho and make sure you're comfortable in your hotel, then you can have some time to visit the bustling Can Tho Market.
Meals: Breakfast/ Lunch
Accommodation: Hotel in Can Tho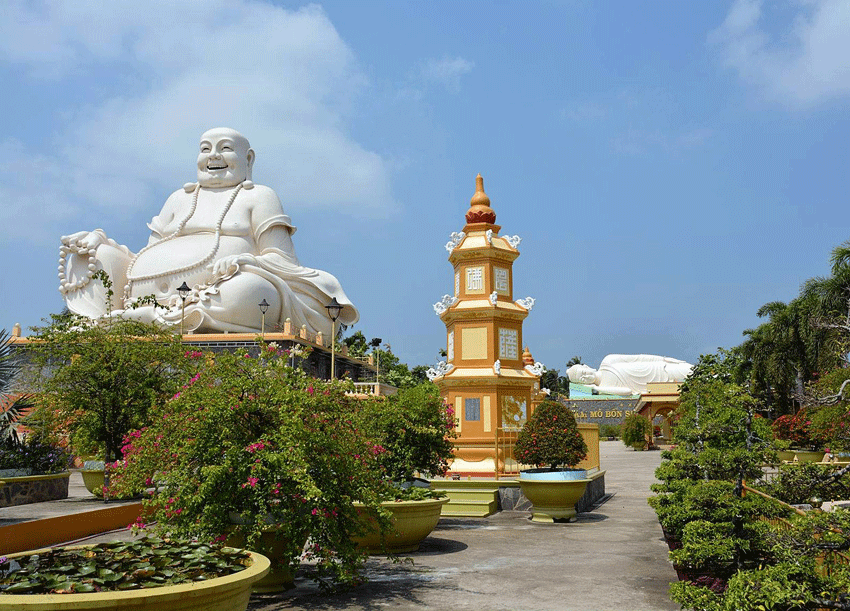 Day 7: Can Tho – Cai Rang Floating Market – Ho Chi Minh City
Take a leisurely boat trip to explore the picturesque tributaries of the Lower Mekong river ( Bassac River), then proceed to visit Cai Răng floating market which are the liveliest in the whole religion. Have you ever tasted Vietnamese vermicelli soup? Well, now go and see how it is made. Then wander around the village and meet the friendly local people and experience how to cross a "Monkey bridge" which is built by only o­ne stem of bamboo. Visit the orchard garden. Stop for lunch. On the way back to HCM city by bus the last stop is to see how incense sticks are made.
Meals: Breakfast/ Lunch
Accommodation: Hotel in Ho Chi Minh City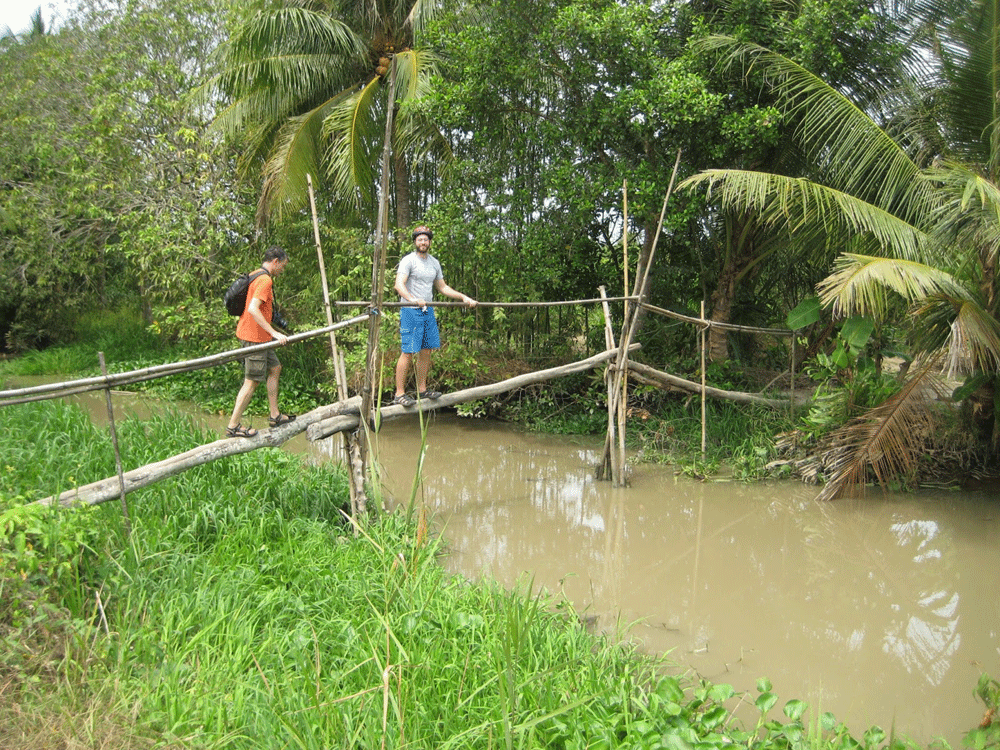 Day 8: Ho Chi Minh City - Bangkok
Breakfast at your hotel, free time for relaxing or shopping until transfer to airport for a flight to Bangkok. Arrive in Bangkok, pick you up and transfer you to centre for visiting At first visit to Wat Po, the largest and oldest temple in Bangkok, as well as the largest single Buddha image: the Reclining Buddha (Phra Buddhasaiyas), also known as Wat Phra Chetuphon or The Temple of the Reclining Buddha. The temple is also known as the birthplace of traditional Thai massage Reclining Buddha. Lunch on own, after lunch, we continue to visit the most famous tourist places in Bangkok, Royal Grand Palace and Emerald Buddha. The Grand Palace adjoins Wat Phra Kaew in a common compound and is where you will end up after exiting Wat Phra Kaew. Despite the proximity of the two, there's a distinct contrast in style between the very Thai Wat Phra Kaew and the more European inspired designs of the Grand Palace (the roof being the exception). After this place we go back to the hotel and free at leisure.
Meals: Breakfast/ Lunch
Accommodation: Hotel in Bangkok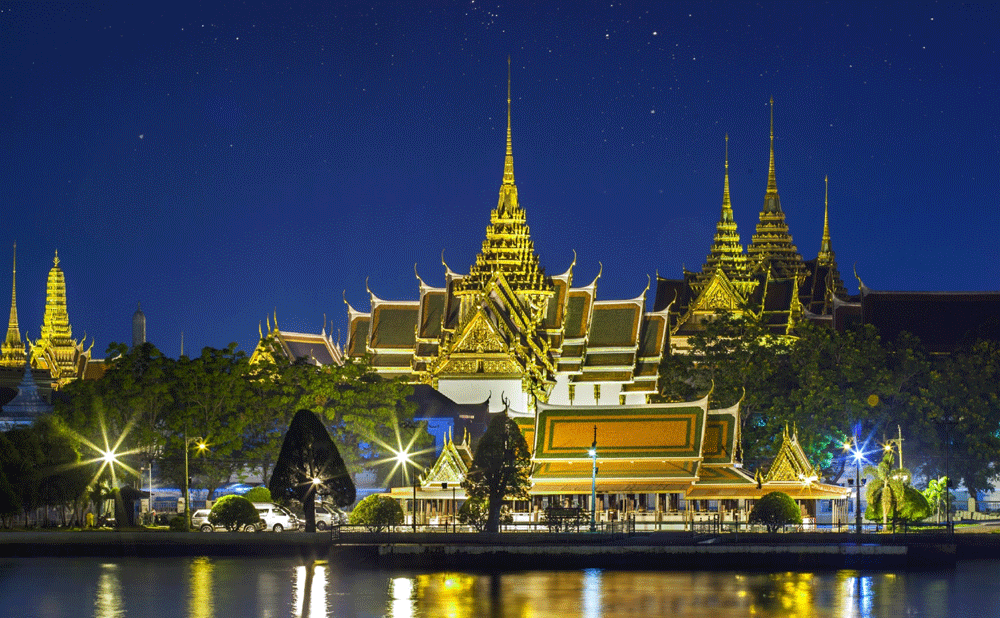 Day 9: Bangkok Tour - Floating Market – Rose Garden Cultural Park
A 120 km drive to the most colorful Floating Market in Thailand where boat people sell their wares from boat to boat or boat to shore. On the return, a stop is made at Nakorn Pathom to see the "Phra Pathom chedi" which is said to be the tallest Buddhist monument in Thailand. Visit a unique Thai Village at the picturesque Rose Garden Country Resort with an approx. 1.5 hrs Thai cultural shows where 150 performers introduce you to a Thai wedding ceremony, Thai boxing, sword fighting, classical dances and folk dances from all parts of Thailand.
Meals: : Breakfast/ Lunch
Accommodation: Hotel in Bankgok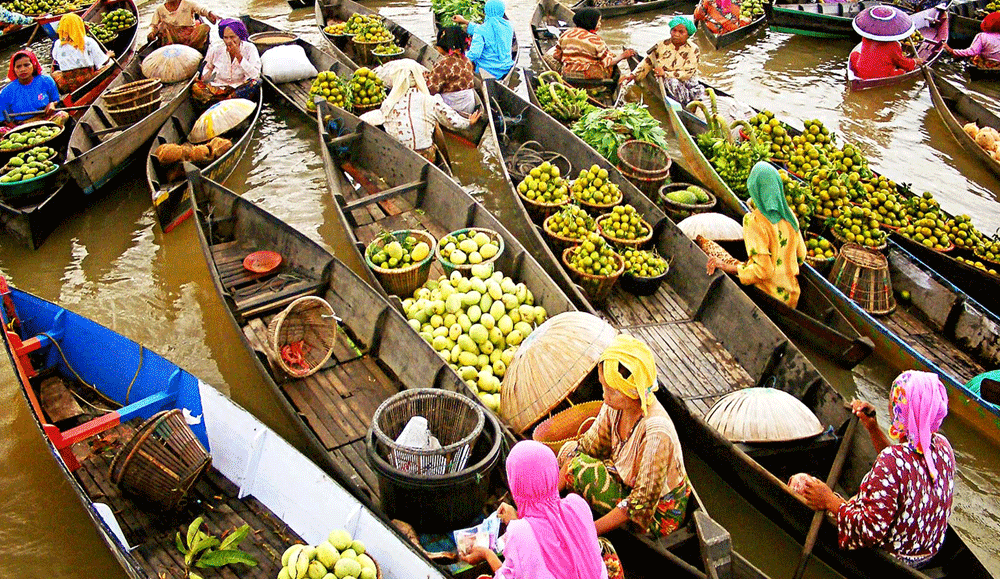 Day 10: Bangkok Tour - Ayutthaya (Return by Cruise)
Breakfast at hotel and then sightseeing to Ayutthaya. Visit to Bang Pa-In Summer Palace, a beautiful decorated in both traditional Chinese and European style. After that, continue to Ayutthaya city, the ancient city which was the former Thai Capital for over 400 years. We will visit to Wat Maha That, over 600 years old which was the heart and soul of the Ayutthaya people, then visit to Wat Na Phra Mane, remain in perfect condition, as it was used as the Burmese headquarters, and then visit to Wat Lokayasutharam, a mysterious past, whereby its origins are unknown. The temple enshrines a Largest Reclining Buddha Image which was built during the early period of the Ayutthaya region. After that, continue to the River Sun Cruise Pier for cruise along the Chao Phraya River back to Bangkok, and also enjoy a delicious buffet lunch on boat, the journey you are able to watch the Chao Phraya River banks scenery from the River Sun Cruise, till arriving at the Bangkok City, pass the Royal Grand Palace, pass by Wat Arun (Temple of Down) and arrive to the River City Complex Pier, Si Phraya, then transfer to hotel and free at leisure.
Meals: Breakfast/ Lunch
Accommodation: Hotel in Bankgok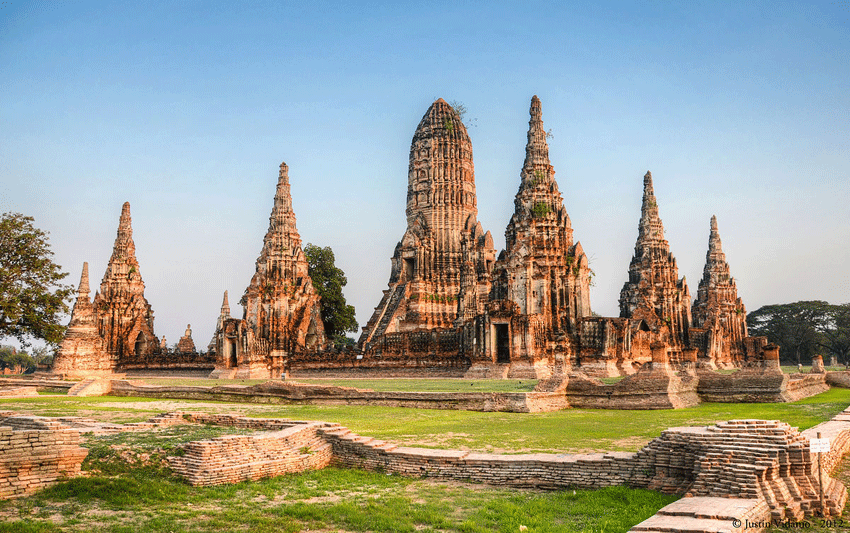 Day 11: Bangkok - Chiang Mai Tour - Khantoke Dinner
Breakfast at your hotel, pick you up and transfer you to airport for a flight to Chiang Mai. Arrive in Chiang Mai, the guide pick you up and Sightseeing to Meow Hill tribe village where is located on Doi Pui and it was once famous for opium cultivation. It is 1500 meter above the sea level. Trip continues on to Wat Doi Suthep Temple and then driving up offers a panoramic view of Chiang Mai city. Then visit to San Kamphaeng district, heart of the Silk and Cotton Home Industries, to witness the fascinating process of making and weaving these popular fabrics. Continue on the Bor Sang, the umbrella village, where the delicate Thai paper umbrellas are produced and hand-painted. From here, onwards to Thai Celadon, about 6kms north of Chiang Mai where exquisite ceramics is are produced. These are modeled on the Sawankhalok pottery that used to be made hundreds of years ago at Sukhothai and exported all over the region. With its deep, cracked glazed finish the style is very distinctive and some pieces are exceptionally beautiful. Last but not least are stops to observe the intricacies of both lacquer ware and silverware craftsmen. Evenning, transfer to enjoy Khantoke Dinner.
Meals: Breakfast/ Lunch/ Dinner
Accommodation: Hotel in Chiang Mai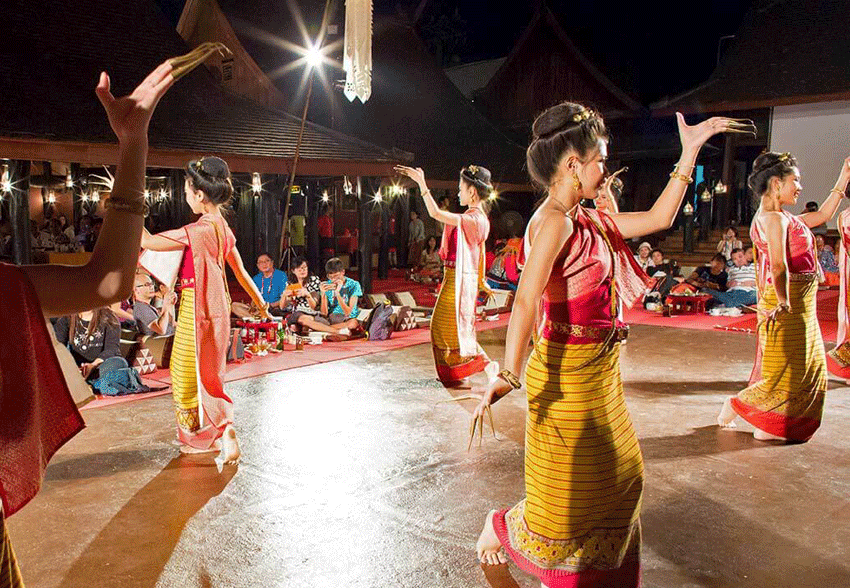 Day 12: Chiang Mai Elephant Safari
Breakfast at the hotel and then we visit the Elephant Camp at Mae Taman Camp, to see the 'Elephants at Work. You have a chance to ride the elephants crossing the river and into the forest. This lasts about 1 hour. Then return by oxcart to the elephant village followed by lunch. After lunch, enjoy a bamboo rafting adventure along the river, for around 45 minutes. Then, onwards to an orchid farm, where there are many beautiful species of orchid.
 Meals: Breakfast/ Lunch
Accommodation: Hotel in Chiang Mai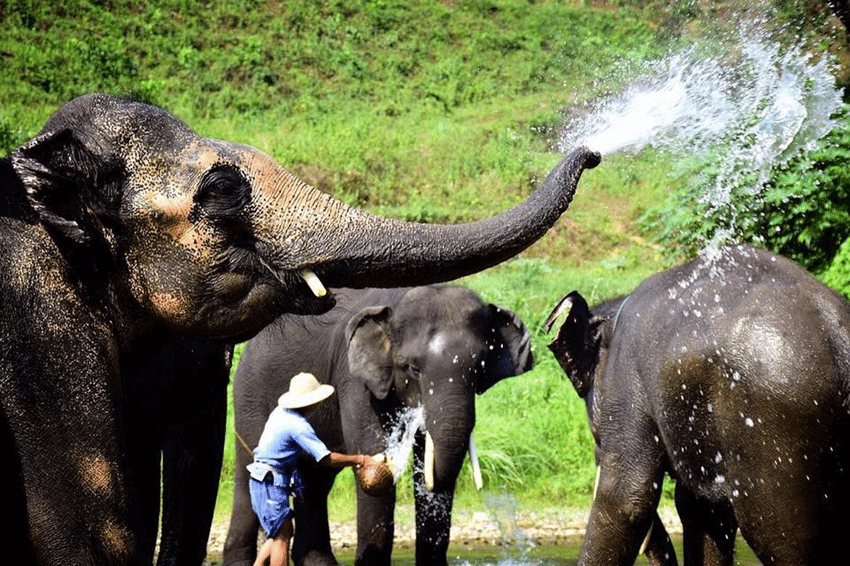 Day 13: Golden Triangle – Chiang Rai
After breakfast at the hotel, drive to Tha Ton Temple to see the biggest Lord Buddha Image in the sitting position on the summit of Tha Ton hill. Later, proceed to Mae Sai Border Market, one of the biggest border market where you can access to Tha Khi Lek Province, Myanmar. At the market, you will find a lot of goods, local products and many items which are imported from China & Myanmar such electronic devices, fruits, clothes, stones, jewelry, Jade and etc. Lunch at a local restaurant before we continue to the infamous Golden Triangle renowned for centuries as the centre of the opium trade. From a hill top viewpoint, marvel at the splendor of the mighty Mekong joining with the Ruak and forming the actual "Triangle" with Laos Burma and Thailand. Then transfer back to Chiang Mai.
Meals: Breakfast/ Lunch
Accommodation: Hotel in Chiang Mai
Day 14: Chiang Mai – Phutket (By Flight)
Breakfast at hotel and free at leisure till time transfer to airport for your flight departure to Phuket island. Arrive at Phuket airport, you are met and transferred to hotel, check in and free at leisure.
Meals: Breakfast
Accommodation: Hotel in Phuket island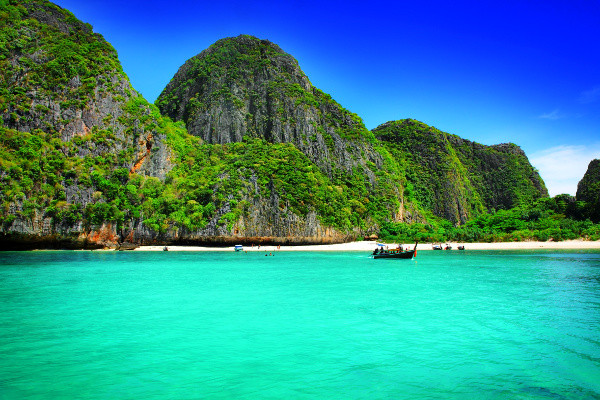 Day 15: Full Day Join Tour Phi Phi Island
Breakfast at hotel and then join transfer by minivan to the pier to join a speed boat trip to Phi Phi Island.
07.00am: Departs from Pier to "Phi Phi Islay Island" for swimming and sightseeing at "Maya Bay"
(The Beach of movie was taken here). Enjoy snorkeling and feeding colorful fishes at "LohSamah Bay". Sightseeing at "Peleh Cove" and Viking Cave"
12.00pm: Arrive at "Phi Phi Don Island" enjoy feeding the monkeys by a piece of bananas.
12.30pm: Lunch will be served at Phi Phi Don.
02.00pm: Enjoy swimming with crystal clear water and snorkeling with plentiful coral reefs and feeding fishes at Monkey Beach
03.00pm: Arrive at "KhaiNok Island" enjoy your activities like swimming, sunbathing and feeding fishes.
04.00pm: Back to Pier and transfer to your hotel.
Remark: the details of program can be changed depend on the level of the water tide or the condition of the weather.
Meals: Breakfast/ Lunch
Accommodation: Hotel in Phuket island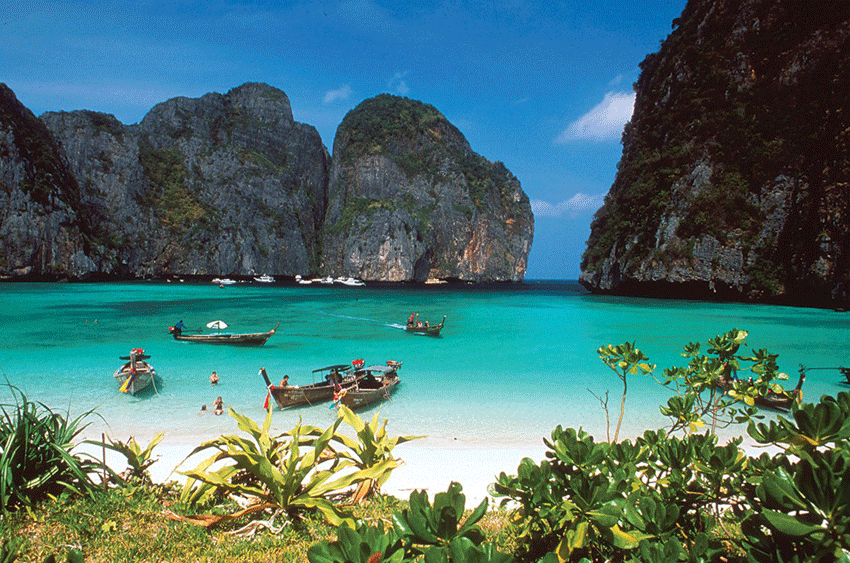 Day 16: Phuket free time – Bangkok
After breakfast, free time for relaxing on beach until private car pick you up and transfer you to airport for a flight back to Bangkok. Arrive in Bangkok, transit to your departure flight. Your journey with The Time Journeys is now complete…
Meals: Breakfast
Accommodation: Time check out is 12:00
Have a nice journey!
The time journeys can arrange additional customized trips for you if the above itinerary does not match your expectations.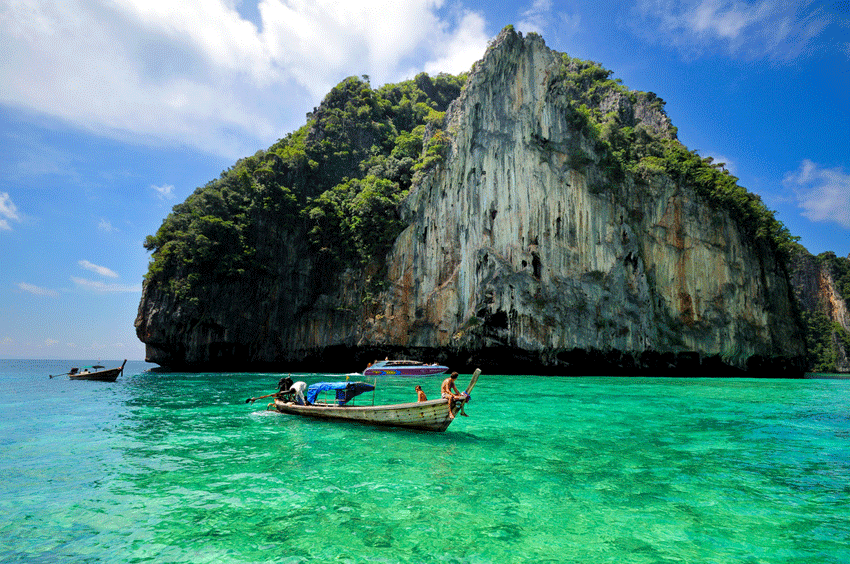 • Hotel accommodation in shared twin or shared double room with daily breakfast.
• Meals as mentioned in the itinerary (B = Breakfast, L = Lunch, D = Dinner).
• Tours and transfers by private air-conditioned vehicles.
• English speaking local guide
• All entrance fees as indicated in itinerary.
• Boat trips as mentioned in the itinerary
• Domestic flight as itinerary
• Cruise in Halong Bay
• Cold water and towel during tours
• Visa Arrival to Vietnam
• Visa stamp fee
• International air ticket:
• Other meal, drink, Tip to guide and driver, personal expenses
• Supplement for French, Spanish, Italian and German speaking guide