Sapa is a small town which located in Lao Cai Province in North – West Vietnam. It is 350km from Hanoi and close to the Chinese border. Sapa known as one of Vietnam's most popular destionations and a tourist attractions.
Sapa town is famous with rugged scenery and rich cultural diversity. It is one of the main market towns where there are many ethnic minority groups such as Tay, Red Dao, H'mong, Giay and Xa Pho. You will find the Hoang Lien Son range of mountains dominates. This range includes Vietnam's highest mountain, FanSiPan, at a height of 3143m above sea level.
Nowadays, Sapa welcome a diverse range of visitors from over the world. Almost visitors attracted by the ethinic minority, rice paddies, forest trek and trek to Mt Fansipan


Things you should to do in Sapa:
1. Explore the town by foot:
Walking around the Sapa town is the best way to experience town. There are many attraction things to explore by walking as local market, Ham Rong Mountain, Catredral, Cat Cat Village. Don't be afraid to wander off the path as you will come across intriguing alleys and hidden gems.
2. Trek through terraced rice fields to villages
Go to Sapa, you can not miss the change to experience the beauty of terraced rice fields of Muong Hoa Valley Which is a stunningly beautiful stretch of land lying at the bottom of Fansipan'snorthern flank. There are many green paddy fields stretching to the horizon and dotted with different minority group's villages.
You can take your time to trek and spend one or two night at local village homestay. You can book a trekking tour online with a tour operator in Hanoi or in Sapa. Going to Muong Hoa Valley, you will take muddy trails through terraced fields, waterfall, water streams. Being observed from a far distance, the terraced rice fields look like a picture with a beauty which absolutely melts your hear. Especially, the color of this picture will be changed seasonally depending on the time of new crops, which displays its most attractive charm.
DISCOVERY SAPA & MUONG HOA VALLEY – 2 DAYS
3. Fansipan Trekking
Fansipan is called as "the Roof of Indochina" with the height of 3143m, the highest peak of the Indochina Peninsula. Although the summit of Fansipan is less than half of Mount Everest, this place is a good choice for those who are eager to conquer high peaks and test their muscular power. It would be proud when you conquer a mountain at the tail end of Himalayas.It's definitely not an easy trek but it promises marvelous views of the Hoang Lien mountain range and pristine natural beauty. Climbers have chance to explore the diverse flora, enjoy beautiful orchids and wild flowers along the way or listen to the musical concert of insects.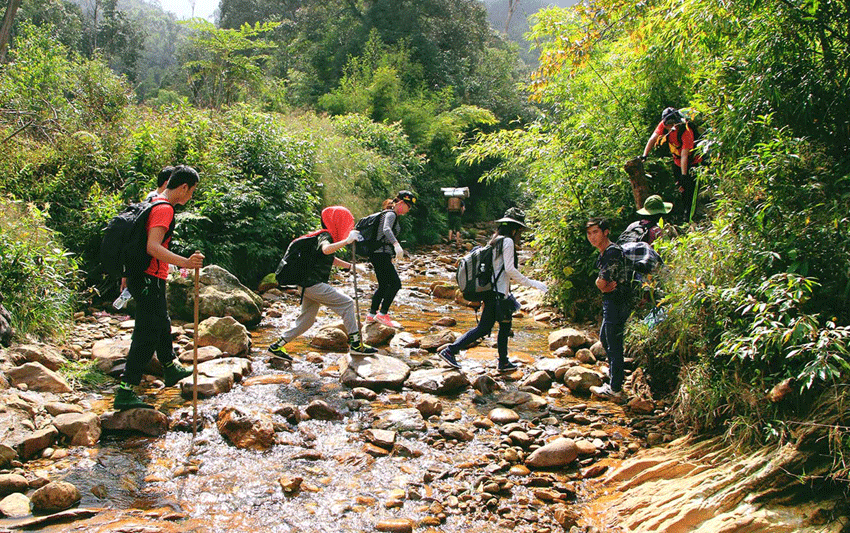 CONQUER FANSIPAN PEAK – 3 DAYS
SAPA – FANSIPAN PEAK – CAT CAT VILLAGE – 3 DAYS
4. Sapa Minority markets
If you travel to Sapa, you should not miss colourful and interesting Sapa Markets. Special highlights is except for trekking, ethnic Markets is a special highlights. You can meet many ethnic minorities and enjoy an unique feature of life in remote far North. It is place to exchange of numerous kinds of commodity, local products. The opportunity for upland people to go to the fair. The youth to encounter, get dating and show their affection through love songs, sounds of the flute…
Bac Ha Market on Sunday, is 110km from Sapa. It takes around 2.5 hours by car or 72 km from Lao Cai and takes 1.5 hours by car
Can Cau Market on Saturday, is 125 km from Sapa. It takes around 3hours by car or 87 km from Lao Cai and takes 2 hours by car
Coc Ly Market on Tuesday, is 95 km from Sapa. It takes around 1h 45m by car or 60 km from Lao Cai and takes 1 hour by car.

Lung Khau Nhi market on Thursday is 110km from Sapa. It takes around 2 hours by car or 65km from Lao Cai and takes 1 hour by car

Cao Son Market on Wednesday is 120 km from Sapa. It takes around 2h 45m by car or 85 km from Lao Cai and takes around 2 hours by car

Muong Hum Market on Sunday is 80 km. It takes around 2 hours by car or 45 km from Lao Cai and takes around 1.15 hour by car

Bac Ha market
Are you going to visit Sapa? Let's see all these suggestions: