Day 1 : Arrive in Phnom Penh on flight ? (Client's own tickets)
Upon arrival at the Siem Reap airport and after clearing immigration and customs, meet with your guide with a welcome signboard marked "The Time Journeys's LOGO & your name" Then your tour guide will transfer to your hotel in centre. The rest of the day is at your leisure to explore city.
Meals: NA
Accommodation: Hotel in Phnom Penh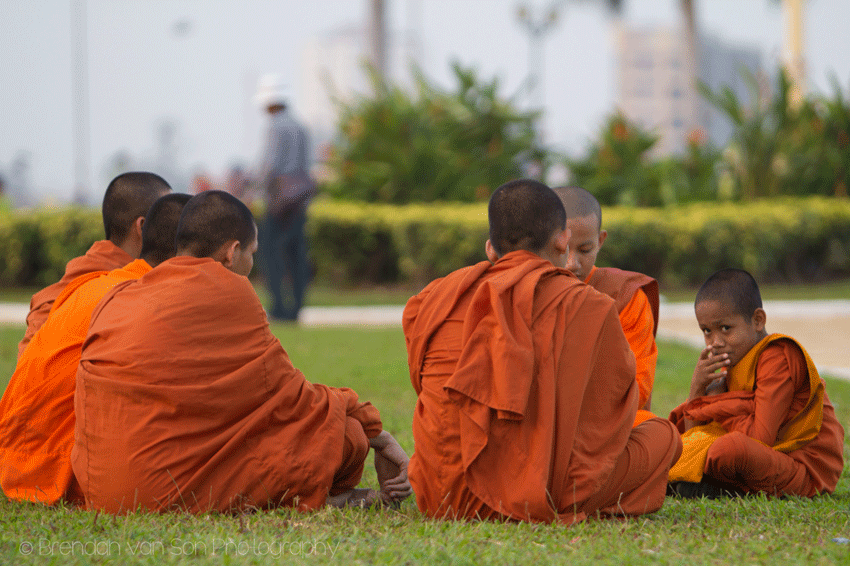 Day 2: Phnom Penh - Killing Field and Mekong Cruise
Breakfast at your hotel, the guide pick you up and transfer you to visit the peaceful stretch of green fields of Cheung Ek may not indicate what kinds of horrors have taken place there. Situated 17km from Phnom Penh town, Cheung Ek was made famous by the movie "The Killing Fields". Nowadays, a large memorial has been built to commemorate the 17,000 victims who died here under the reign of Khmer Rouge leader, Pol Pot. The remnants inside the memorial and the mass graves that dot the area remind you of the suffering of the victims. This journey into Cambodia's past will provide you with a background on the cruelty of the Khmer Rouge regime. It will also give you an appreciation of the struggle that Cambodian people have faced and their tremendous courage to move on and rebuild their nation. We continue to one of the city's lively open markets, Psar Toul Tom Pong, all called the "Russian Market", where anything and everything is for sales! In the later afternoon we enjoy the boat cruise 1 hour along the Mekong River to view the sunset
Meals: Breakfast/ Lunch
Accommodation: Hotel in Phnom Penh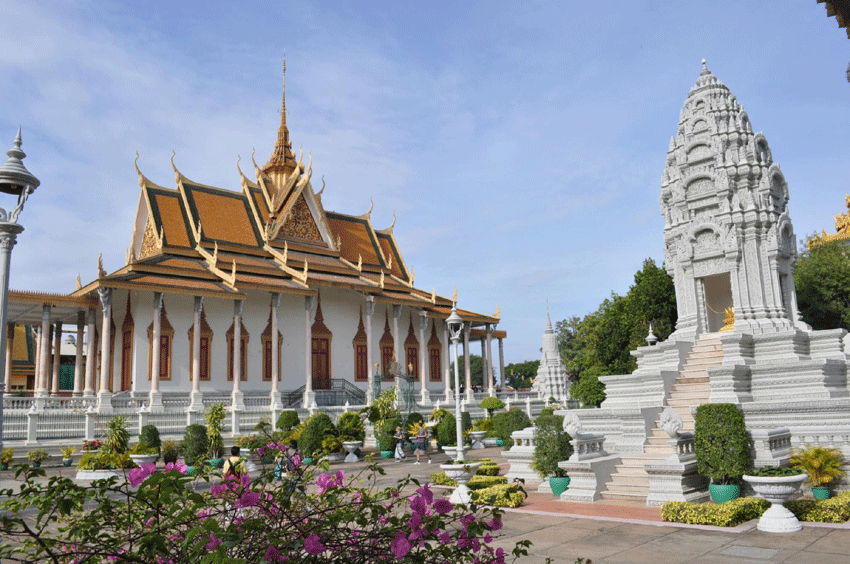 Day 3: Phnom Penh Half day City – Sihanoulk ville
The capital city of Phnom Penh was once considered the loveliest city of Indochina. Despite its recent turbulent history, it still maintains considerable charm. A city tour acquaints us with some major sights of Phnom Penh. The private quarters of the Royal Palace are now home to the royal family and are therefore very close to the public. At the northern area of the palace grounds is Silver Pagoda, the most sacred temple in the country. And visit the National Museum, which is dedicated exclusively to Khmer art and sculpture. The majority of the exhibits are from the Angkor period from 9th to 15th century, but some date from as early as the 4th century.  After lunch, transfer by our private car to Sihanoukville. The transfer takes 4 hours for 230km. Arrival at your hotel, check-in and free at your own leisure.
Meals: Breakfast/ Lunch
Accommodation: Hotel in Sihanoulk Ville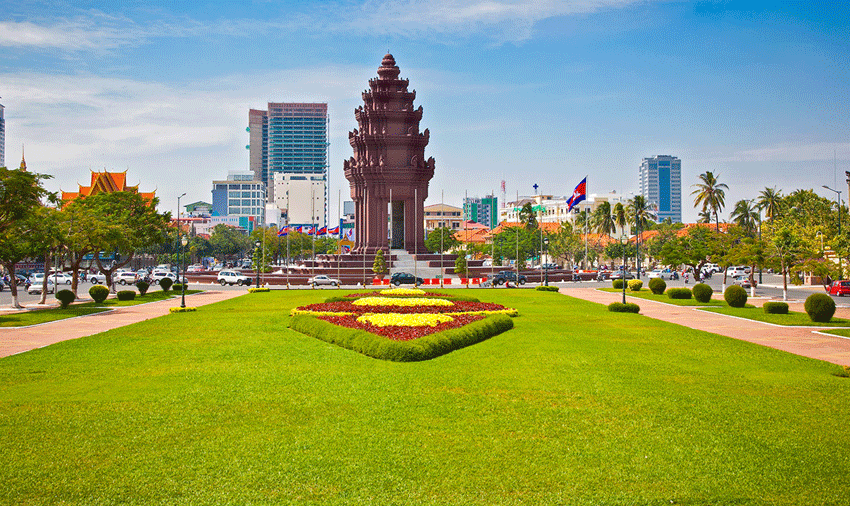 Day 4: Sihanoulk Ville tour
At 08h00, meet up with the guide at your hotel lobby and the guide will do some tour briefing for you. Spend a relaxing day in Ream National Park. Ream National Park offers secluded beaches, mangrove forests, rivers, tropical jungles and varied wildlife ranging from sun bears to the endangered elongated tortoise. The park is home to a number of other animals including macaques, dolphins, mouse deer, pangolins (scaly anteaters) and over a hundred species of birds. Visit the basic but informative park headquarters before setting out to explore the park with your guide.
Board a local boat to explore the mangrove forests and then climb up to the top of the watch tower for spectacular views over the National Park. Continue by boat over open water to experience the beauty and tranquility of this untouched area. Disembark on a sandy island beach to enjoy a picnic lunch. Relax on the beach, spend time snorkelling or head back for a short 5 kilometers (3 miles) trek through the forest with your guide. Return in the late afternoon to Sihanoukville.
Meals: Breakfast/ Lunch
Accommodation: Hotel in Sihanoulk Ville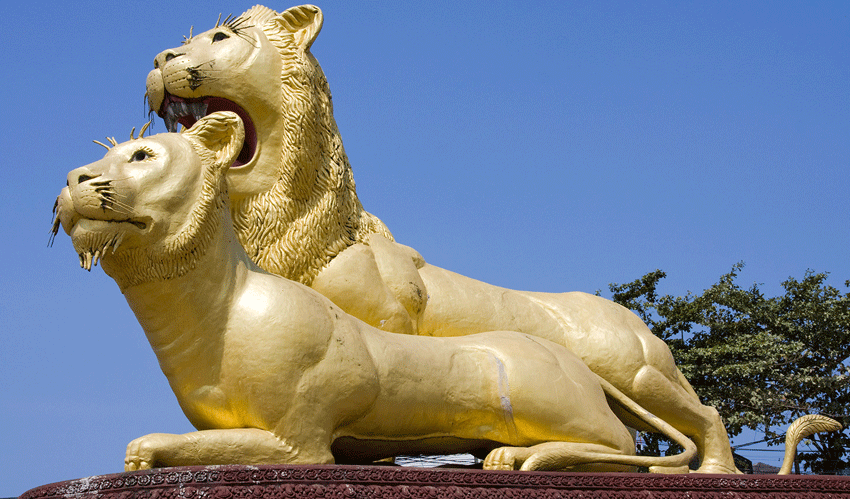 Day 5: Sihanoulk Ville free time
Breakfast at hotel, free time for relaxing on beach.
Meals: Breakfast
Accommodation: Hotel in Sihanouk Ville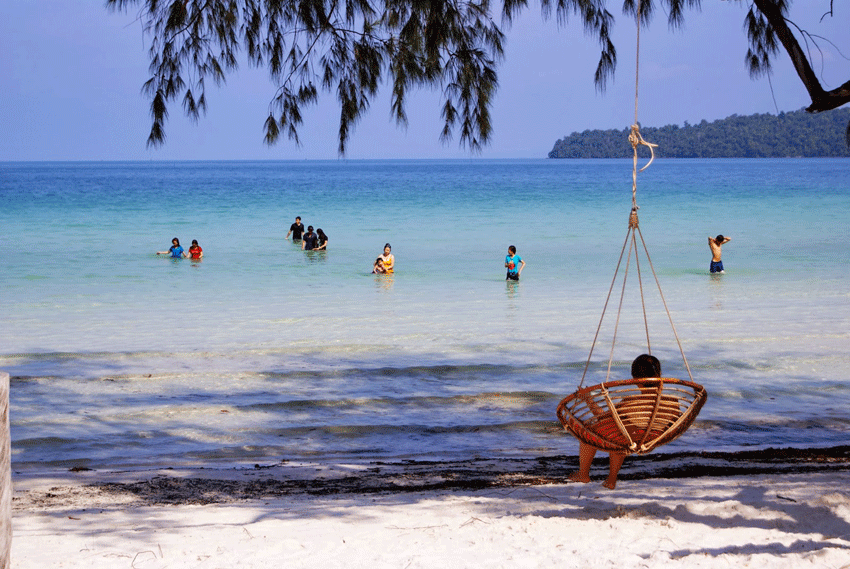 Day 6: Sihanoulk Ville – Siem Reap
Breakfast at your hotel. Free time for relaxing and shopping until pick you up and transfer to airport for a flight to Siem Reap. Arrive in Siem Reap, pick you up and transfer you to your hotel. Free time.
Meals: Breakfast
Accommodation: Hotel in Siem Reap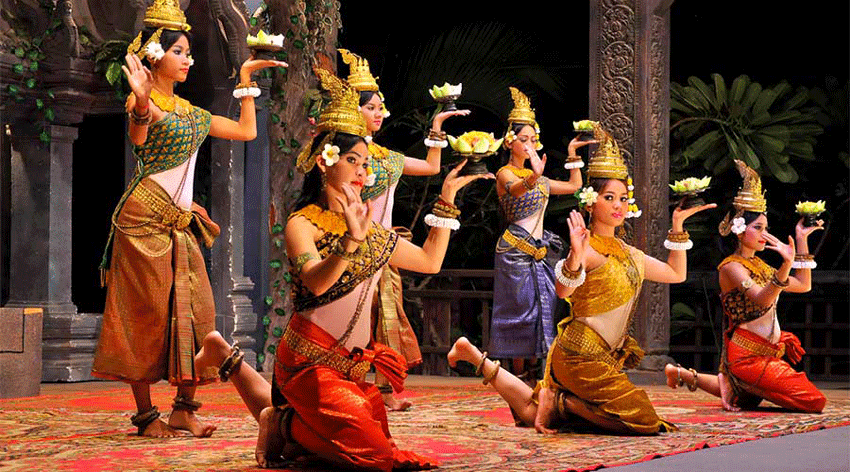 Day 7: Siem Reap - Angkor Temple Highlighted
Beat the crowd early morning by 7am, visit the picturesque Ta Prohm that had nearly disappeared into the jungle and remains overgrown, an oddly haunting and exotic scene. The magnificent roots of a tree, pushing between the huge stone blocks of the temple in a sort of embrace, evoke feelings that you may remember forever. And continue to visit the intricately carved Khmer ruins at Angkor Wat – one of the world's most impressive ruins. The temple still owns fine Apsara carvings in Angkorian era art. Lunch is at local restaurant.
Afternoon, explore the mysterious Royal city Angkor Thom. City & Bayon Its 54-tower temple is an awesome sight. At first glance it seems a shapeless mass of stone, but further scrutiny reveals a face, and then another and another until suddenly you are engulfed by the silent, heavy, enigmatic and silent gaze through half-closed eyes, staring out from a primitive and remote time. Further, visit to the surroundings of the complex including the Baphou, Elephant Terraces, Lepper King Terrace and Royal Place area
Meals: Breakfast/ Lunch
Accommodation: Hotel in Siem Reap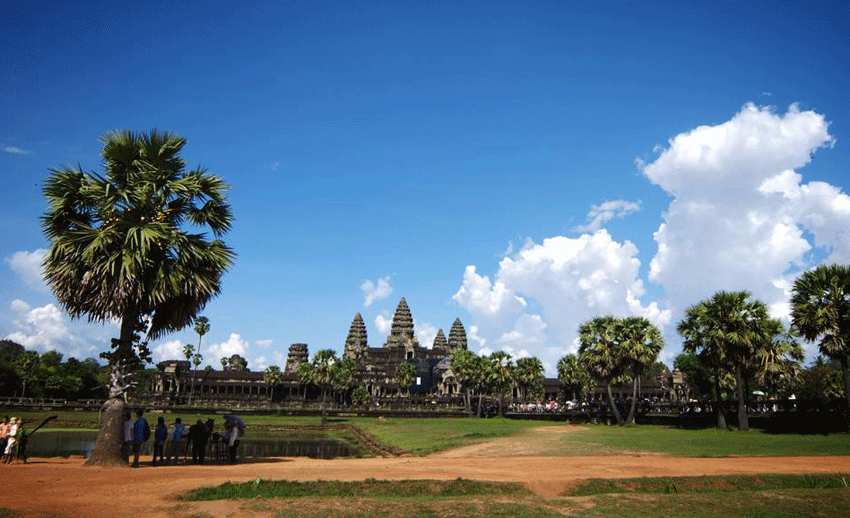 Day 8: Siem Reap - Angkor Outlying Temples
Breakfast at your hotel, 7am, drive to the rural outskirt 35km from Angkor area to visit the smallest, but magnificent, Banteay Srei built in the 10th Century and dedicated to Shiva. The temple was the birthplace of Khmer classical style architecture and the bas-relief work is the best example of Khmer classical art remaining. The pink sandstone structure bears a series of striking and beautiful sculptures, lintels, pediments and friezes. Khmers say the temple must have been carved by women for the details are too fine for the hands of a man. Drive on to Chau Srei Vibol which is a small charming temple on top of a hill which hardly sees any visitors – very few non-locals have heard of it, and it is set just far enough away from the main tourist routes. Lunch is hosted at the local family, a great chance to chat with the survivor former village chief during Khmer Rouge regime. Continue to the ancient Khmer civilization site of Hariharalaya which flourished in the late 9th and earlier 10th centuries. These are the earliest temples in the Angkor area and are referred to the Rolous group we visit the main one called Bakhong temple.
Meals: Breakfast/ Lunch
Accommodation: Hotel in Siem Reap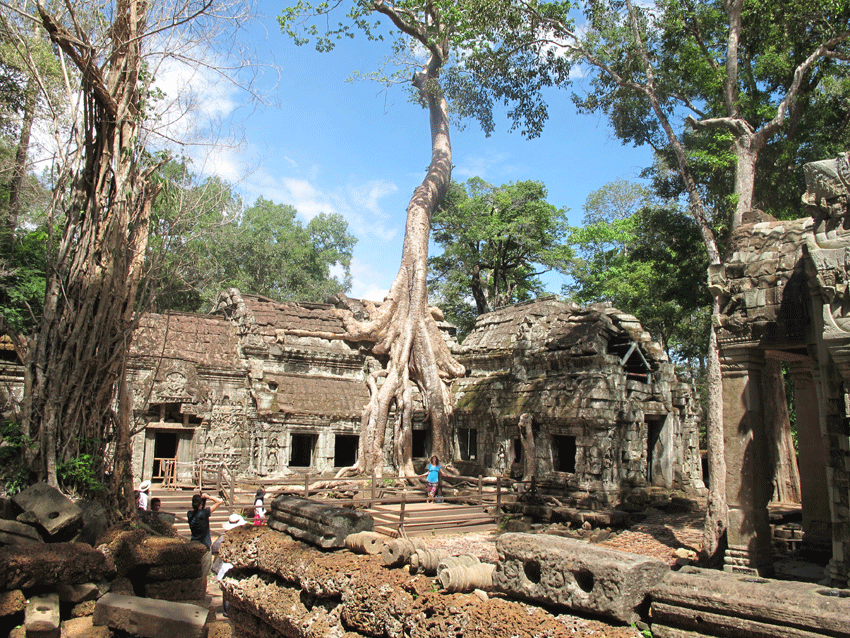 Day 9: Siem Reap – Battambang
Transfer onwards to Battambang and check into your hotel upon arrival late afternoon. Lunch is at a local restaurant. Visit to the well preserved 11th century Angkorian temple of Prasat Phnom Banan, located atop a hill bearing the same name. After climbing the 350+ steps you are treated to a peaceful setting with superb views across the surrounding countryside.
Enjoy the hotel facilities and relax until taken to experience the best element of Battamang. Enjoy bamboo train just before the sun goes down. Battambang is all about the arts scene as much as it is the typical sites and the architecture is quite simply stunning.
Tonight you are recommended to visit Lotus Bar and Gallery or Bric a Brac for a glass of wine following by the dinner at restaurant .
Meals: Breakfast/ Lunch
Accommodation: Hotel in Battambang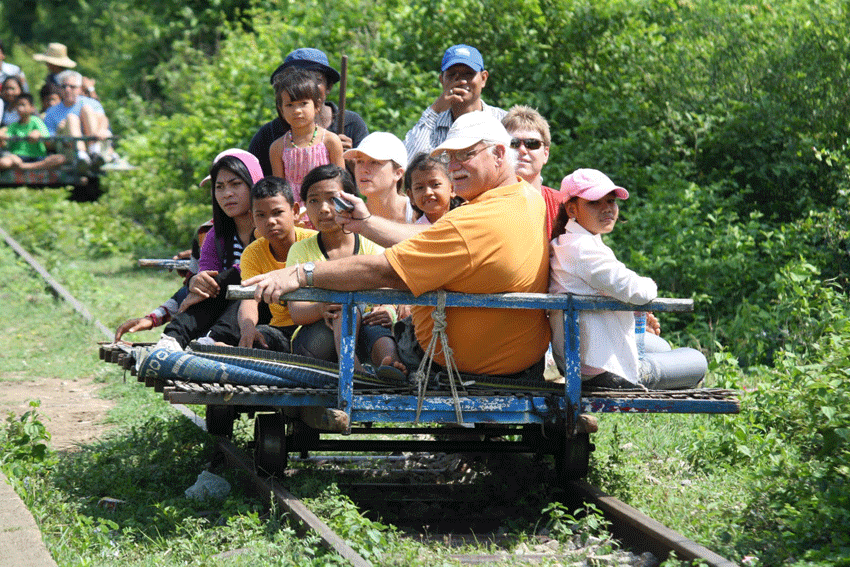 Day 10: Battambang – Siem reap
Spend your day exploring the countryside around Battambang on a bicycle visiting Cambodian families who produce traditional products (such as rice paper, dried bananas, bamboo sticky rice, and rice wine), made in the same way they have been for generations. You will learn first-hand about everyday life in rural communities which make up over 70% of Cambodia's population. Lunch is in town. Continue after lunch with a transfer to Siem Reap, located about 2.5 hours drive away.
Meals: Breakfast/ Lunch
Accommodation: Hotel in Siem Reap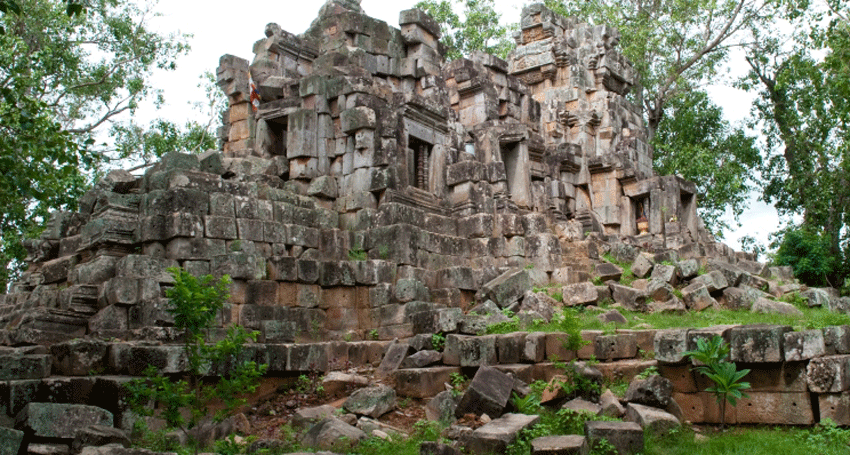 Day 11: Siem Reap Departure flight
Breakfast at your hotel. Free time for relaxing or shopping by yourself until the guide and car pick you up and transfer you to airport for your departure flight. Your journey with The Time Journeys is now complete…
Meals: Breakfast
Accommodation: Time check out is 12:00
Have a nice journey !
The time journeys can arrange additional customized trips for you if the above itinerary does not match your expectations.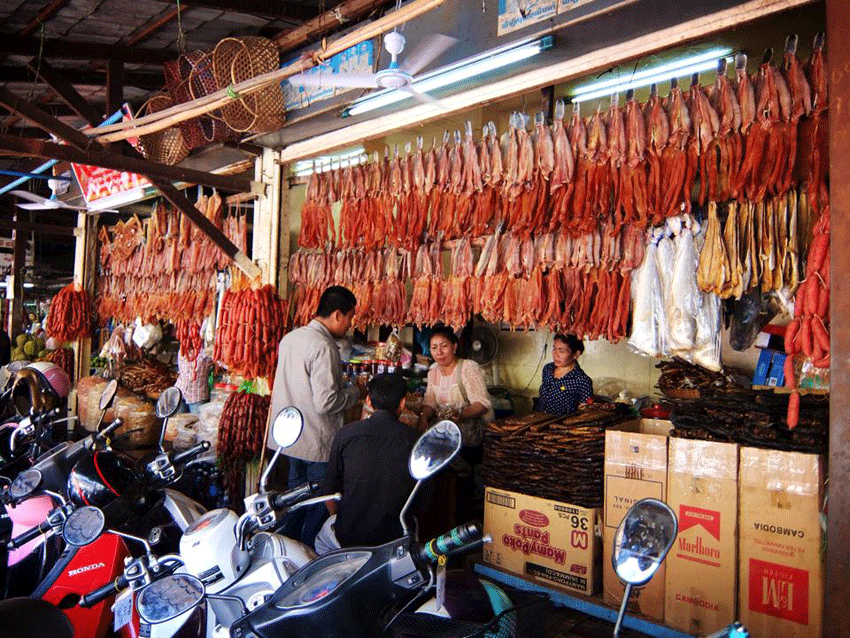 • Hotel accommodation in shared twin or shared double room with daily breakfast.
• Meals as mentioned in the itinerary (B = Breakfast, L = Lunch, D = Dinner).
• Tours and transfers by private air-conditioned vehicles.
• English speaking local guide
• All entrance fees as indicated in itinerary.
• Domestic flight from Sihanoulk Ville to Siem Reap
• Cold water and towel during tours
• Boat trip as itinerary
• Visa fee
• International air ticket:
• International airport tax:
• Other meal, drink, Tip to guide and driver, personal expenses
• Supplement for French, Spanish, Italian and German speaking guide