Day 1 : Arrive in Ho Chi Minh City on flight ? (Client's own tickets)
Upon arrival at the Tan Son Nhat airport in Ho Chi Minh City and after clearing immigration and customs, meet with your guide with a welcome signboard marked "The Time Journeys's LOGO & your name. Then your tour guide will transfer to your hotel in centre. The rest of the day is at your leisure to explore city.
Meals: NA
Accommodation: Hotel in Ho Chi Minh City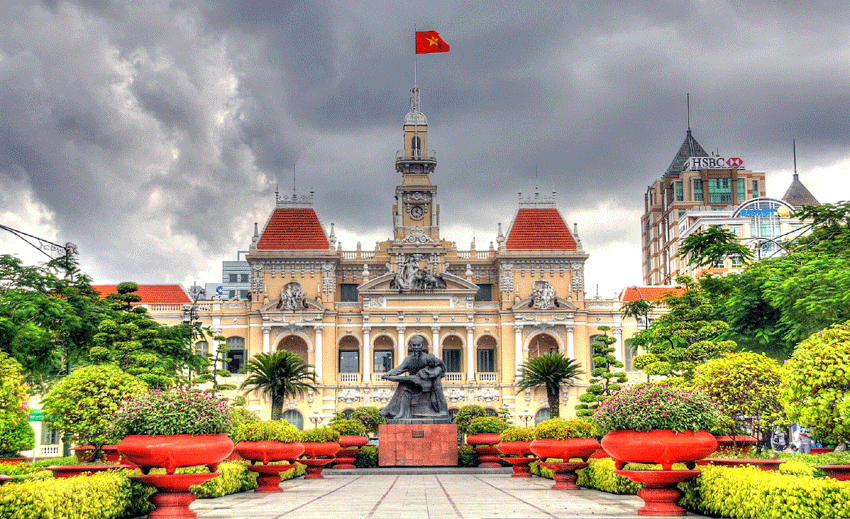 Day 2 : Ho Chi Minh City – Cu Chi Tunnels
Breakfast at your hotel, drive to the outskirt of Saigon to visit the Cu Chi Tunnels, located in an area known in the American War in Vietnam as the Iron Triangle, the remains of a real bloody battlefield, which is a complex network of tunnels built during the long years of wars. The walking visit of the tunnels is specially led by one of the former VCs who used to live and fight in Cu Chi during the wars, giving you an authentic look at the former Vietnam War to understand how the guerrillas lived and fought by visiting different bunkers for weapon, guard, Commander, meeting, kitchen, dinning, etc. After lunch in Cu Chi, driver back to Ho Chi Minh City for visiting the Post Office & Notre Dame Cathedral circa 1880, a highlight tour of the former Presidential Palace, once headquarters for the Saigon Government during the "Vietnam War" and the War Remnant Museum to have an overall picture of the most recent wars in country. Afterwards, continue the drive to visit Ben Thanh Market which is a big marketplace in the downtown area of the city and is one of the earliest surviving structures in Saigon since the French occupation. With over 3000 stalls in the market, there is nothing you cannot find in this oldest and busiest market in Vietnam.
Meals: Breakfast/ Lunch
Accommodation: Ho Chi Minh City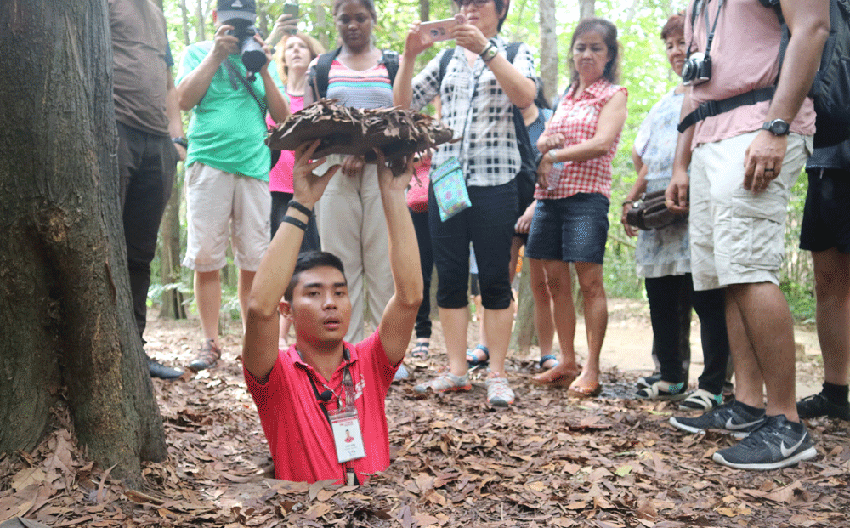 Day 3 : Ho Chi Minh City – Mekong Delta – Cai Rang Floating Market
Breakfast at your hotel. The guide pick you up and depart for Cai Be by car/van via Trung Luong Express Highway. On arrival in Cai Be, set off by motor boat to visit the Cai Be floating market and watch the locals trading fruit and many other commodities on board their vessels. Visit a small family business to see how coconut candy and crispy rice popcorn are made. Then wander into the small villages and visit the orchard and fruit plantation, accompanied by traditional southern Vietnamese folk music.
Keep cruising to Vinh Long through a series of small canals to experience the charms of the Upper Mekong Delta. Arrive in Tan Phong Island, the green pearl where you can immerse yourself in nature. Enjoy your cooking experience and learn how to prepare special Vietnamese dishes. Food cooked by yourself and fresh river food served in the heart of the garden. Relax in the hammocks to get back your energy. Cycle around the village path with fruit orchards and bonsai garden. Meet the local islanders to learn more about the local daily life in the Mekong delta. Take a boat ride back to Cai Be and meet your car for the trip back to Ho Chi Minh City.
Meals: Breakfast/ Lunch
Accommodation: Ho Chi Minh City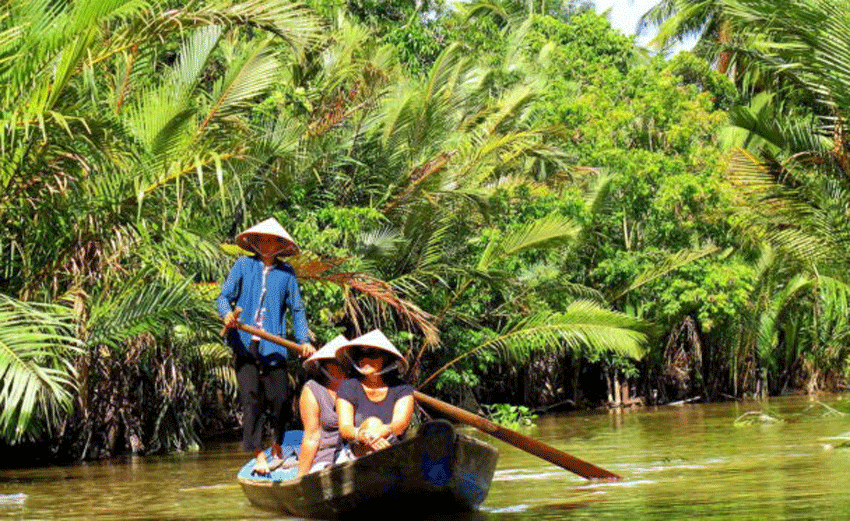 Day 4 : Ho Chi Minh City – Phu Quoc island
Breakfast at your hotel. Free time until pick you up and transfer you to airport for a flight to Phu Quoc island. Arrive in Phu Quoc island, pick you up and transfer you to your hotel. Free time.
Meals: Breakfast
Accommodation: Hotel in Phu Quoc island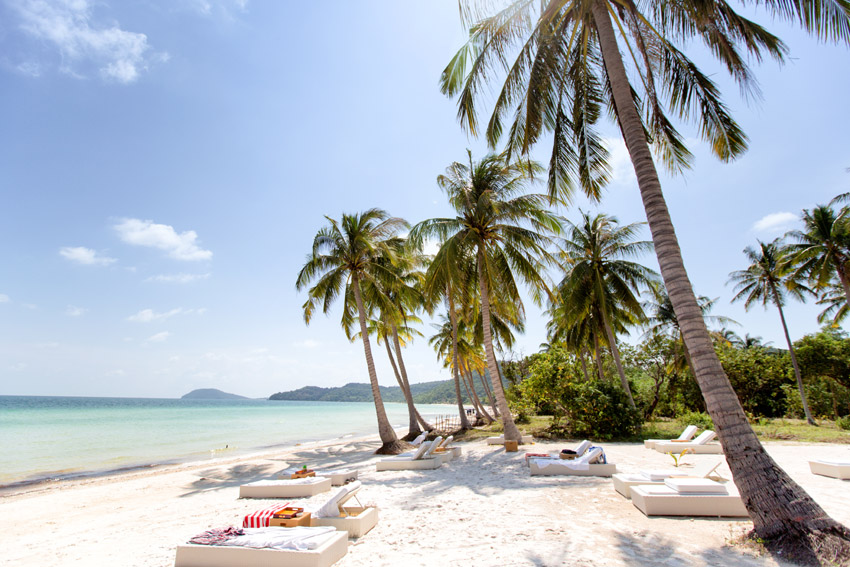 Day 5 : Phu Quoc island Free Time
Breakfast at your hotel. Free time for relaxing on beach.
Meals: Breakfast
Accommodation: Hotel in Phu Quoc island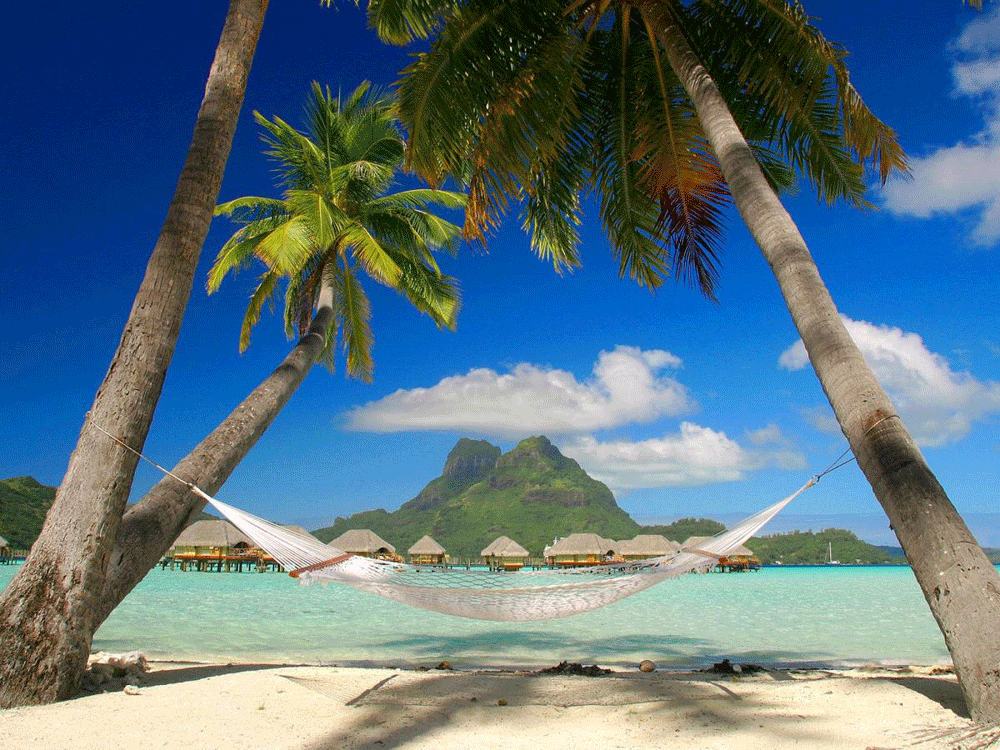 Day 6 : Phu Quoc island - Ho Chi Minh City – Danang - Hoian
Breakfast at your hotel, free time until pick you up and transfer you to airport for a flight back to Ho Chi Minh City. Arrive in Tan Son Nhat airport, transit to an other flight to Da Nang. Arrive in Danang pick you up and transfer you to hotel in Hoian. Free time for shopping or relaxing on An Bang Beach.
Meals: Breakfast
Accommodation: Hotel in Hoian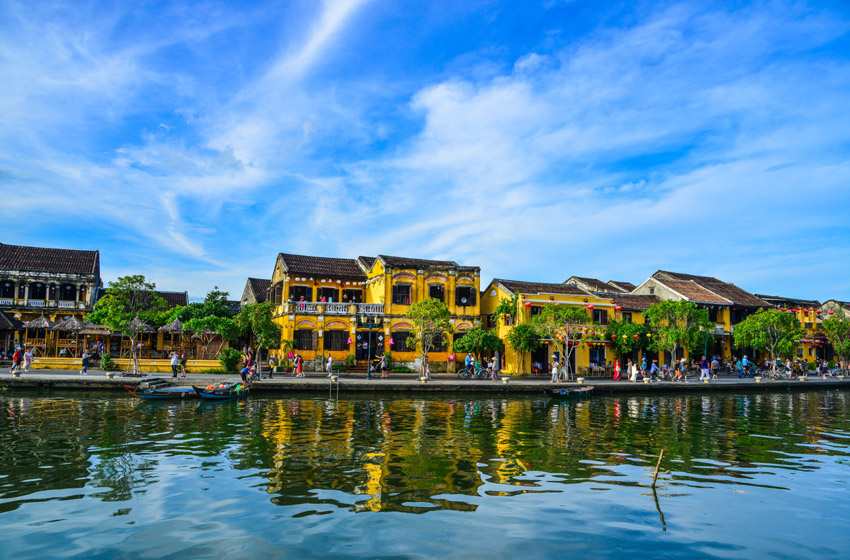 Day 7 : Hoian – Tra Que Village
Breakfast at your hotel, the local guide will see you at your hotel with your bicycle. you will cycle to a local farm in Tra Que village. A short stroll will take you around the vegetable garden and then you can join the farmers in preparing the land and fertilizing it with seaweed from the local lake. following steps are raking the ground, sowing, watering, picking vegetables and many other gardening activities. After all these activities, you will take a short rest and enjoy foot bath before getting to preparing lunch with a local family. Your lunch will consist of many local delicacies including 'tam huu' spring roll, Banh xeo or local pancake of people in vietnam middle region. you can join the cooking with the chef on these meals. After your morning excurtions and your lunch, you will take a vietnamese traditional post-prandial nap before learning how to harvest and wrap the vegetables. Around 13.00: bid farewell to your host family before riding back to Hoi An. Then you will take the time for visiting Hoian Old Quarte, a walking tour of Hoi An's ancient town centre will take you back in time to when its was a major trading port in Asia. Visit old shophouses, the 400 year-old Japanese Bridge, a Chinese communal hall and the colorful market in this well-preserved town. Then free time for relaxing on An Bang Beach.
Meals: Breakfast/ Lunch
Accommodation: Hotel in Hoian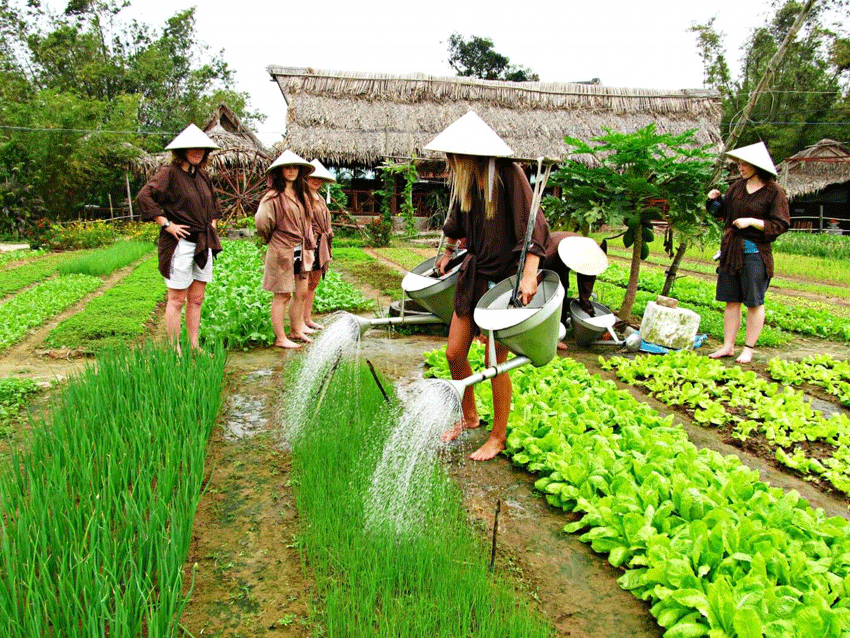 Day 8: Hoian – Danang – Hue
Breakfast at your hotel, the guide pick you up and depart to Hue. On the way to Hue, stop over for visiting Cham Museum, ascending the Pass of Ocean Clouds for panoramic views of the surrounding and visiting  the picturesque fishing village of Lang Co Beach. Arrive in Hue,  check in hotel. Free time.
Meals: Breakfast/ Lunch
Accommodation: Hotel in Hue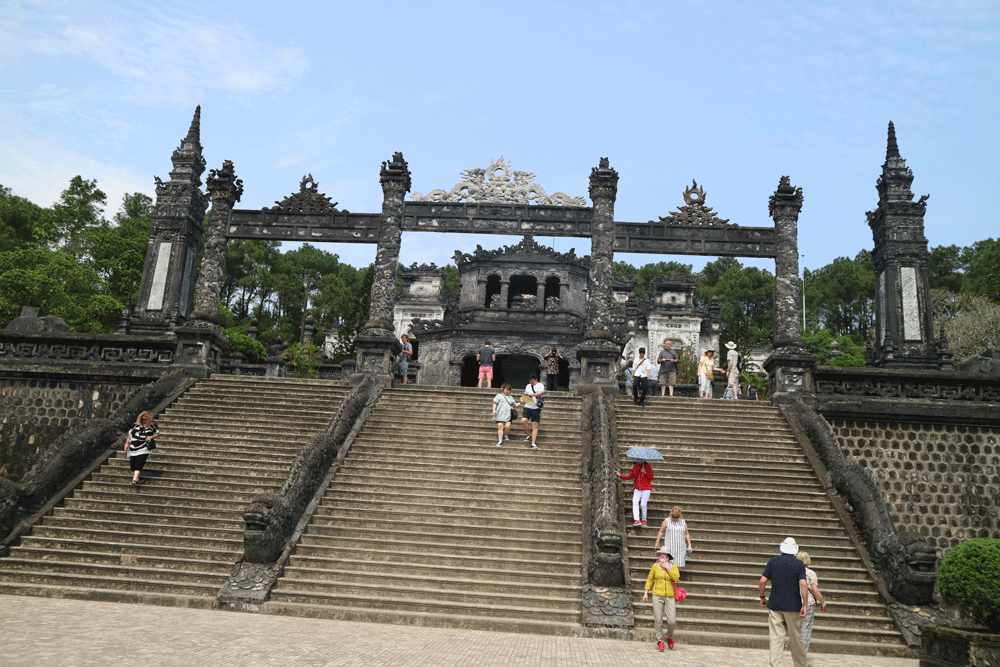 Day 9: Hue – Bike Tour - Hanoi
Breakfast at your hotel, the guide pick you up at your hotel and start a mazing day with these sightseeing. You will bike to visit Tiger Arena – Elephants and tigers battle during the Nguyen dynasty. Elephant Temple – War elephants were buried and honored their riders. Silk painting craft – One of the most famous handicrafts in Hue.
We keep cycling along verdant paths in Thuy Bieu village to the local house for experience of Incense stick craft – The must-have item in every temple, used for ceremonies and general worshipping.
We visit a local family who specializes in making Hue popular specialties; "Banh Nam", "Banh Loc", which are special kind of dumplings made of rice flour or tapioca starch in Hue city. This family will show you how to make these dumplings and you can enjoy.
Keep riding along the roads then leave Thuy Bieu village by dragon's boat on the Huong River, then visit Thien Mu Pagoda – Undisturbed with pagoda bell and discover a lot of stories about one of the famous pagoda under Nguyen Hoang Lord reign.
After having lunch, we visit Imperial Citadel – The home of Vietnam's last royal dynasty – the Nguyen Dynasty. At the end a day, we visit Dong Ba Market – the largest market to Hue people exchange goods.
Then transfer you to airport for evening flight to Hanoi. Arrive in Hanoi, pick you up and transfer you to your hotel. Free time.
Meals: Breakfast/ Lunch
Accommodation: Hotel in Hanoi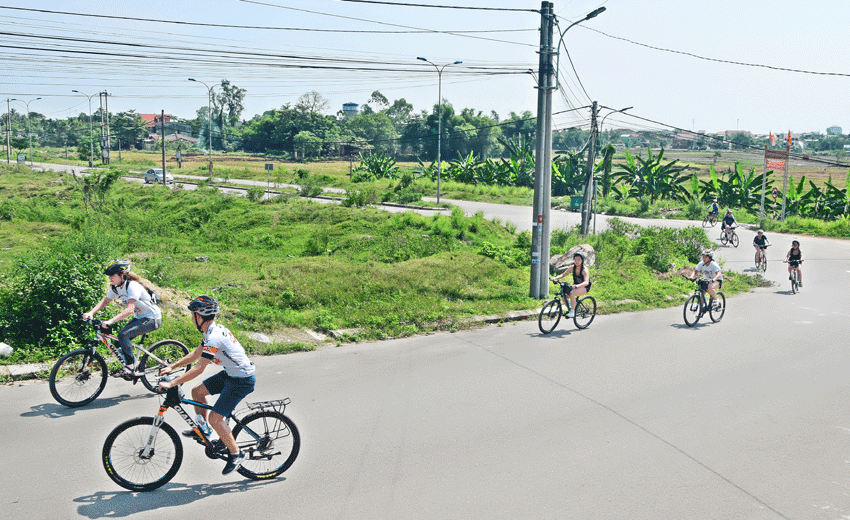 Day 10: Hanoi fully day city tour – Sapa (Take a night train to Sapa)
Today, your journey will to see the capital of Vietnam, a city that celebrated 1.000 years in 2010 has countless fascinating cultural and historic sites and our days' tour will visit the highlights.  See the grand and solemn mausoleum of Ho Chi Minh (viewed from outside; closed Mon and Fri and from Oct-Nov), the 'icon of Hanoi' – The One Pillar Pagoda, the beautiful Temple of Literature, West Lake's Tran Quoc temple and Quan Thanh pagoda as well as the fascinating Ethnology Museum. Enjoy lunch at local restaurant.
Follow your guide, you will weave through the bustling Old Quarter's 36 streets. All named for the producs historically sold here.  After visiting Hoan Kiem Lake and Ngoc Son Temple, you will enjoy a water puppet show for a look at traditional performance art in Vietnam before back to your hotel. Free time for visiting in the evening
8.00 pm – tour guide come to pick you up from your hotel then transfer to Ha Noi Railway Station and catch the night train to Lao Cai (overnight on the train, the cabin with 4 berths, soft sleeper and air-conditioning)., Arrive Lao Cai 5:30 or 6:00am.
Meals: Breakfast/ Lunch
Accommodation: On train to Sapa (4berths soft sleeper/ 1 cabin)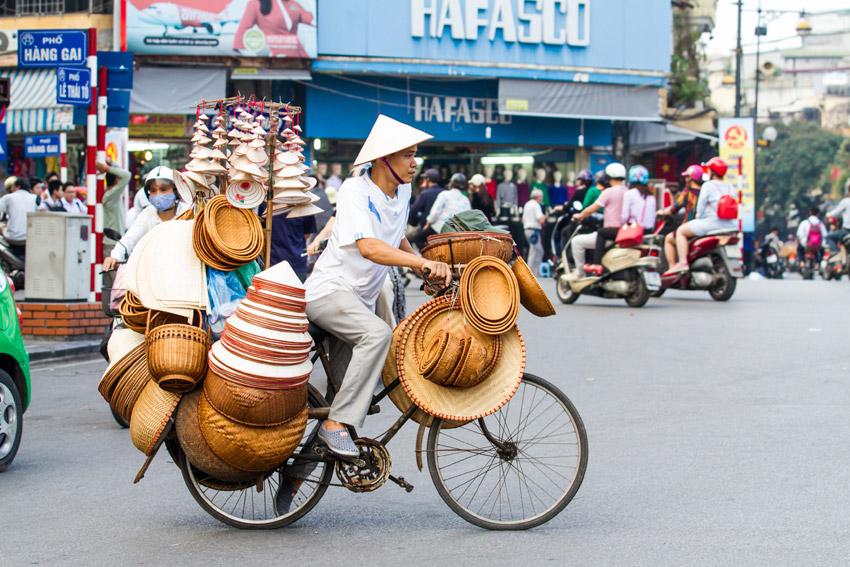 Day 11 : Sapa – Ma Tra – Ta Phin village
The train arrives at around 6:00 am. Look for the "TTJ's Logo & Your Name" sign when you exit the train station, as our guide will pick you up there and transfer to the former hill station of Sapa. In the terraced hills and mountains of this area, the expansive green landscape is enlivened by the colors of its hill tribe population – flashes of shining silver jewelry from the necks and wrists of indigo-clad H'mong and the scarlet hues of the turbans worn by the Red Dao can be seen. It is here you will find hands stained with color from fabric dyes and shades of blue, red and green intricately embroidered and stitched into jackets, waistcoats, pants, skirts, caps, purses and leggings.
After having breakfast at local restaurant, Walking through the town for about 20 minutes before turning to a dirt road to Ma Tra Village, where inhabited by Black H'mong ethic. Continue trekking up the village and getting through paddies fields will lead you to an ancient Catholic abbey, built by French colonists. Walk 2 km more to reach Ta Phin Village for exploring the daily life of Red Dzao. Here you have a good choices to buy woven and textile brocades, which is made by ethic people and having picnic lunch before exploring village and Ta Phin Cave and small hamlet of Black H'mong people. At the end of day, return to Sapa. Rest of the afternoon and evening at leisure.
Meals: Breakfast/ Lunch
Accommodation: Hotel in Sapa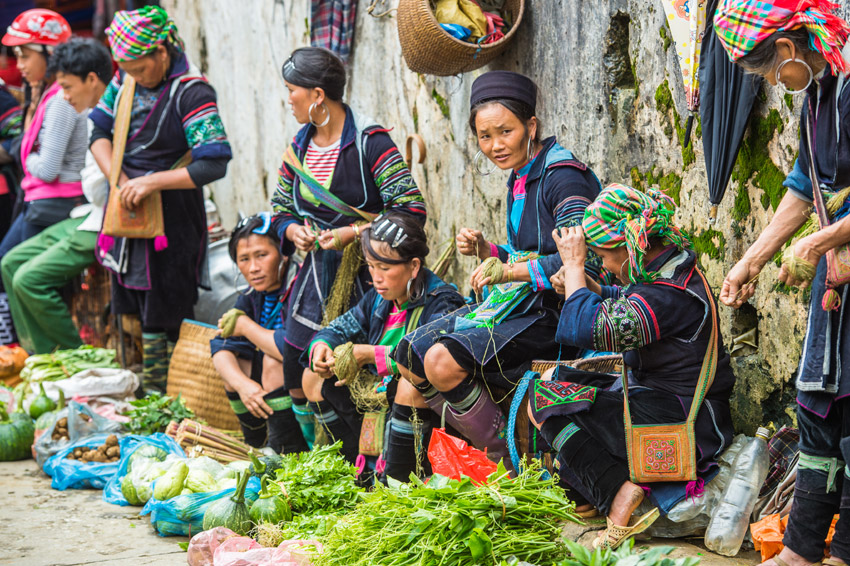 Day 12: Sapa – Lao Chai – Ta Van Village - Hanoi
Following a hotel breakfast, meet your guide in the morning and depart on a second trek from the town of Sapa to Golden Stream valley. Today's trekking offers more stunning views of rice terraces and gardens as well as Mt Fansipan, whose summit rises 10,312 feet (3,143 meters) above sea level.
After crossing a suspension bridge, marvel at the breathtaking scenery as you continue through the Golden Stream valley, stopping at Lao Chai village for lunch. After your meal, follow your guide on a walk through this village where Black Hmong people reside, and continue on to Ta Van village, home to the Dzay tribe. This part of the hike is relatively easy, though the trail can be quite slippery if it rains, so good footwear is recommended. You'll visit with some local families and learn about their daily lifestyle and fascinating culture, before departing to the main road to meet up with your driver and return to Sapa.
A shower is available at the hotel, followed by an afternoon free to explore the town on your own. In the evening, The car will pick you up for the night train back to Hanoi. Arrive at Lao Cai train station and take the night train back to Hanoi.
Meals: Breakfast/ Lunch
Accommodation: On train to Hanoi (4berths soft sleeper/ 1 cabin)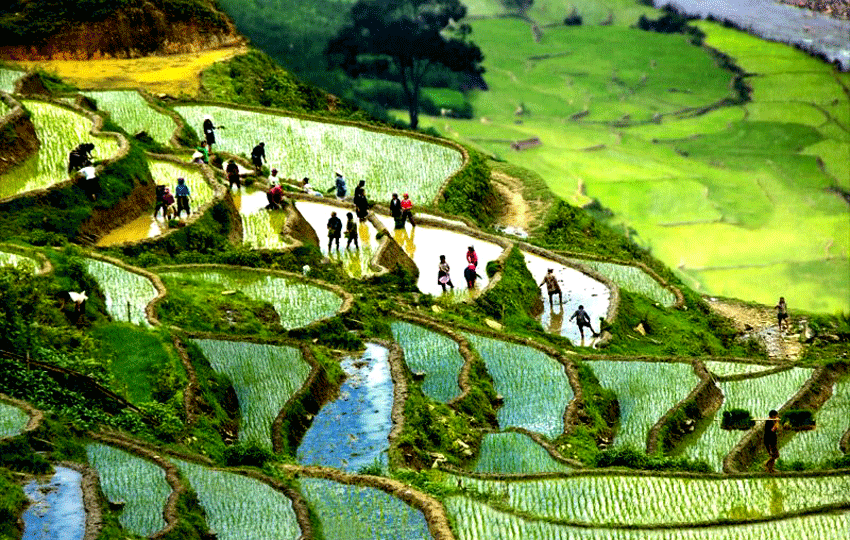 Day 13: Hanoi – Halong Bay
Early in the morning, you arrive in Hanoi. The guide pick you up and transfer you to take day use room for relaxing in some hours
Breakfast at your hotel. We'll pick you up in Hanoi by 8:00am and drive through the verdant Red River Delta to make our way to the famous UNESCO World Heritage site, Halong Bay. You'll board a luxury junk ship for an overnight cruise– while you relax on-board you can marvel at the incredible limestone karsts that jut out of the sea and the thousands of jungle-covered islands that seem to float on the waves. The turquoise waters of the Gulf of Tonkin swirl around hidden grottoes and ancient caves to create an enchanting, timeless world.
We'll serve you a fresh seafood lunch while you sit back and relax as you enjoy the incredible view with a drink in your hand. We'll take you to a traditional fishing village where the locals have created an entire town on the decks of their boats, then you can explore Cave before returning to the cruise for cocktails, canapés, and a spectacular sunset. End your day with a romantic, candlelit dinner.
Meals: Breakfast/ Lunch/ Dinner
Accommodation: Cruise in Halong Bay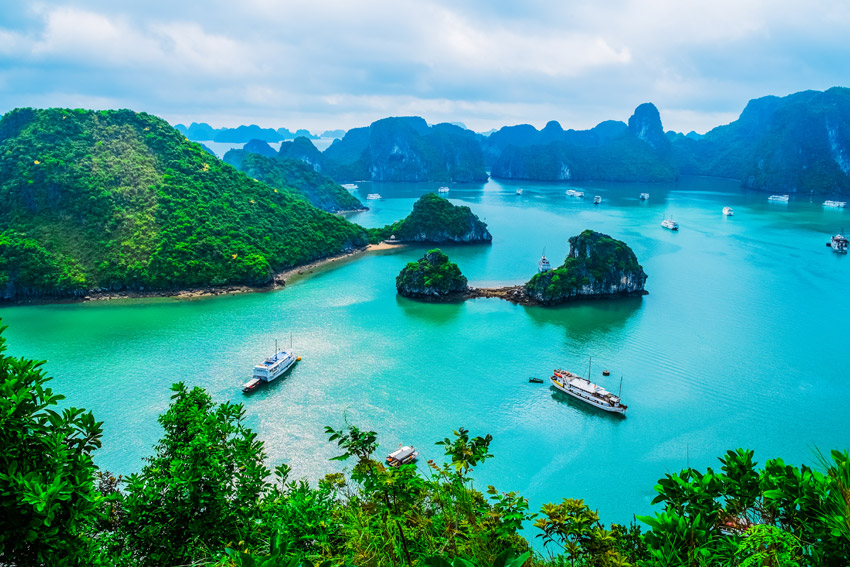 Day 14: Halong Bay – Hanoi
Begin the day with a Tai Chi class on deck in the early morning mist or just admire the beautiful scenery as the sun rises over the azure waters. Choose between an excursion to a secluded island with a sandy beach for a swim or join the chef for a cooking demonstration to learn more about Vietnamese cuisine. Enjoy a leisurely brunch while your junk cruises Halong Bay, passing islets and caves as you make your way back to the dock. Say goodbye to the crew at main harbor and  your driver will meet you when you disembark and transfer you back to Hanoi. Free time in the evening.
Meals: Breakfast/ Brunch
Accommodation: Cruise in Halong Bay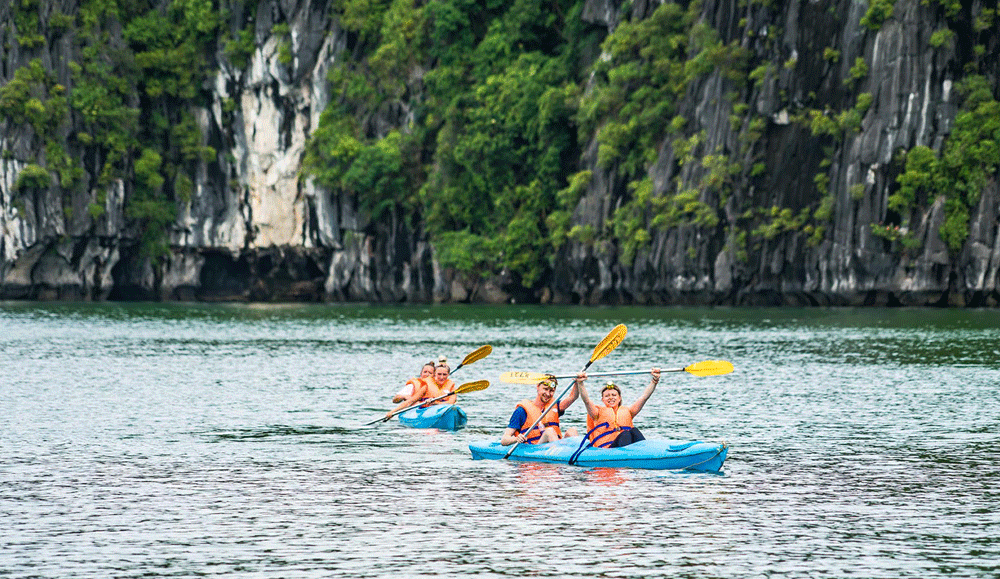 Day 15 : Hanoi Departure
Having breakfast at your hotel. Your time will be your own until your private car and driver arrives to take you to the airport for your flight to next destination. Your journey with The Time Journeys is now complete…
Meals: Breakfast
Accommodation: Time check out is 12:00
Have a nice journey!
The time journeys can arrange additional customized trips for you if the above itinerary does not match your expectations.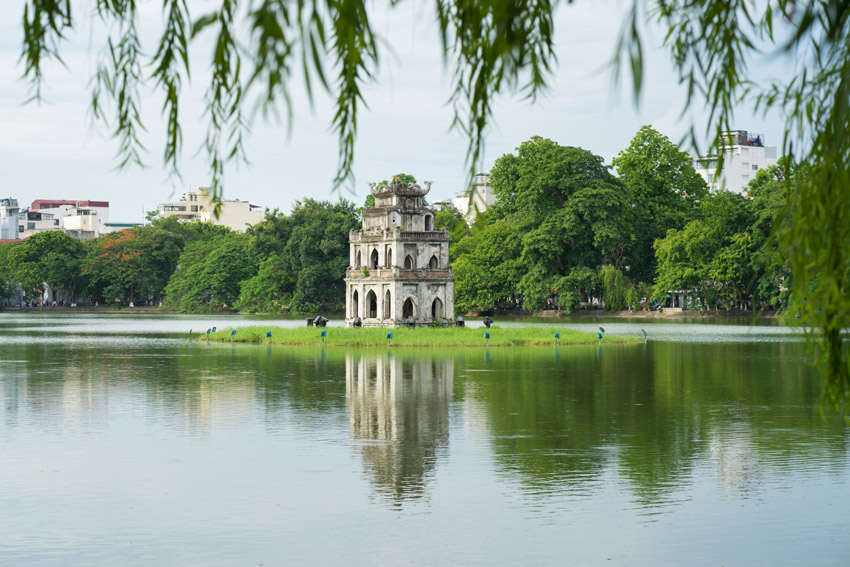 Everything you need to know about Vietnam
Vietnam Insight Tour offer you the vast knowledge and expertise in Vietnam. From the  mysteries of the Mekong Delta & exploring below the sea in Nha Trang and Phu Quoc island to central for visit  UNESCO World Heritage sites such as Hue and Hoian where you visit ancient town or soak up the sun on An Bang Beach. Continue to exploring  the vast emerald rice fieldsin Sapa where you will find the rich cultural diversity. It is one of the main market towns where there are many ethnic minority groups such as Tay, Red Dao, H'mong, Giay and Xa Pho. After that you will visit to many incredible Halong Bay on cruise.
Everything you need to know about Vietnam!
• Hotel accommodation sharing double/ twin room with daily breakfast.
• Meals as mentioned in the itinerary (B = Breakfast, L = Lunch, D = Dinner).
• Tours and transfers by private air-conditioned vehicles.
• English speaking local guide
• All entrance fees as indicated in itinerary.
• Boat trips as mentioned in the itinerary
• Domestic flight: Ho Chi Minh City – Phu Quoc island; Phu Quoc island – Danang Hue – Hanoi;
• Return train ticket: Hanoi – Sapa – Hanoi
• Cruise in Halong Bay
• Cold water and towel during tours
• Visa Arrival to Vietnam
• Visa stamp fee
• International air ticket:
• Other meal, drink, Tip to guide and driver, personal expenses
• Supplement for French, Spanish, Italian and German speaking guide